De Soto boys basketball wins Frontier League title outright with victory over Baldwin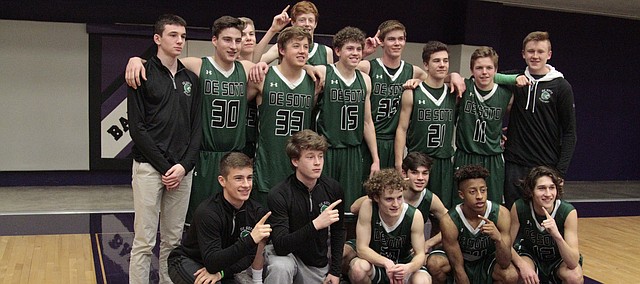 BALDWIN — After the De Soto boys basketball team won two of its final three regular season games last year, coach Matt Rice saw some glimmers of hope for the future after what was a disappointing 2016-17 campaign.
Rice's optimism has grown tremendously in the past few months, as he saw the leadership of seniors Levi Hansen, Jared Baruth, Brannon Bell and Exavier Jackson spark a turnaround season. The Wildcats still have some postseason goals that they want to accomplish, but they saw the fruits of their labor pay off on Friday following a 61-52 win over Baldwin — which clinched the Frontier League title outright for DHS.
"To put together the league season we have, it's a testament to these guys and how hard they've worked. From the end of last year, four seniors and the juniors that have played before said, 'You know what? We're going to work hard and we're going to make something happen this year,'" Rice said. "They never stopped working. Even when we hit a three-game losing streak in the middle of the season they said, 'You know what? It's not over. We're going to make something happen.' I'm just so proud of them."
Three Wildcats scored in double figures in their regular season finale between Hansen (20 points), Baruth (17) and junior Grant Noll (11). Junior Tyler Barkemeyer added eight.
"We've grown a lot as a team," Hansen said. "At the beginning of the year I didn't know if we would be able to succeed this much, but we put in that time and that work and it really showed in this game. It was a tough atmosphere to play in here, but we got the W."
De Soto trailed Baldwin, 28-24, before Baruth drilled a 3-pointer just before the buzzer sounded for halftime. Rice said the Wildcats were able to hold their heads high with only being down by one at the break despite not playing their best.
"We talked at halftime and my assistants and I felt like we just weren't playing with a lot of confidence on the offensive end. We talked at halftime and it was like, 'Fellas, we did not play well and we're down one,'" Rice said. "I wrote the shooting percentages in the first half on the board and I was like, 'Theirs is going to go down because we're going to pick it up defensively. Ours is going to go up because we won't shoot like this.' Man, they came out ready to play."
The Wildcats opened the second half with an 11-0 run and never looked back, as they won for the six time in their last seven games. Hansen led the charge with nine points in the third quarter.
"Those first couple of buckets really gave us the momentum to finish the game," Hansen said. "I don't know if we would've done so well if we wouldn't have got those buckets at the beginning."
Rice has been impressed with Hansen's scoring ability over the past few weeks. Hansen also led De Soto with 19 points on Wednesday in a 57-40 win over Louisburg. The senior guard has had plenty of help, too.
"Levi has really stepped up in the past six or seven games. He's played better and better and better," Rice said. "He's made better decisions. He's shooting better. He's playing better defensively. He's been a huge part of what we've been doing the past few games.
"And all of the guys — we have been balanced. We don't win without all of the guys that play. The starters, Exavier Jackson, Luke Millman, Nate Barnhart — if those guys don't give us the minutes that we need like they have been, we don't win. It's been a team effort all the way through. It's been a lot of fun."
The Wildcats finished the regular season at 12-8, while the Bulldogs posted a record of 8-12. Next up for the Wildcats is a home tilt against Leavenworth (5-15) at 7 tonight in the Class 5A sub-state semifinals.
"I love that we have a home sub-state game. Hopefully we'll have a good crowd," Rice said. "The kids will be comfortable in our gym. Hopefully we'll shoot it well. I like our chances in our first game."
The winner will advance to Friday's sub-state final against Blue Valley Southwest (5-15) or Topeka Seaman (13-7). Tipoff is set for 7 p.m.
DE SOTO (61)
Levi Hansen 6-13 6-7 20, Jared Baruth 5-12 4-7 17, Brannon Bell 1-9 0-0 3, Exavier Jackson 0-1 0-0 0, Tyler Barkemeyer 2-3 4-4 8, Nate Barnhart 0-0 0-0 0, Luke Millman 1-2 0-2 2, Grant Noll 4-6 3-8 11. Totals 19-46 17-28 61.
BALDWIN (52)
Hunter Ramirez 1-6 0-0 3, Henry Letner 1-3 0-1 2, Luke Laskowski 6-12 0-0 12, Kyle Norris 2-4 2-4 6, Parker Wilson 0-3 0-0 0, Kade Kehl 4-5 0-1 8, Jayce Dighans 6-17 5-6 19, Andrew Braun 1-1 0-0 2. Totals 21-51 7-12 52.
De Soto 12 15 18 16 — 61
Baldwin 18 10 6 18 — 52
3-point goals: De Soto 6-21 (Baruth 3, Hansen 2, Bell); Baldwin 3-20 (Dighans 2, Ramirez). Fouled out: None. Turnovers: De Soto 12, Baldwin 12.