Ice hockey team honors school shooting victims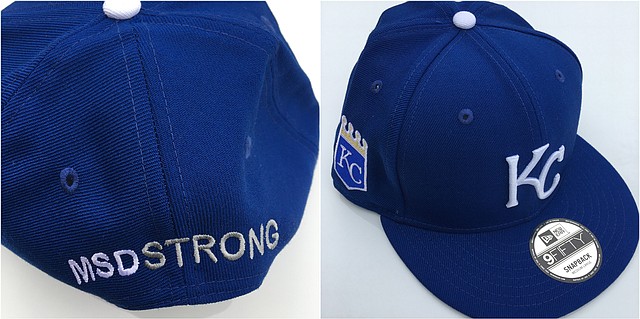 When two rivals hit the ice, competition heats up.
But once that game is over, there's an unspoken bond.
On Feb. 18, a group of ice hockey players from Shawnee proved that sportsmanship goes beyond the game.
The Kansas City Mavericks Bantam AA team played the Florida Junior Panthers twice that day in Dallas.
Upon learning a few of the Panthers had been present during the mass shooting at Marjory Stoneman Douglas High School in Parkland, Fla., just days before, the Mavericks wanted to show their support.
To offer a little Kansas City love, the team had three Royals baseball caps inscribed with the school's hashtag "MSDSTRONG."
The Mavericks presented the gifts to the Panthers after their second game that evening.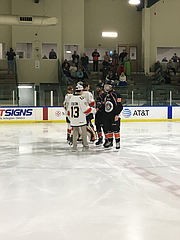 During their practice Thursday evening at the Kansas City Ice Center in Shawnee, Mavericks assistant coach Larry Moore and a few players spoke to the Dispatch about the experience.
"We wanted to let them know, opponents or not, we are one community and we are here for them," said Moore. "What happened that day is bigger than Parkland. It affected all of us, everywhere."
The players agreed.
"I can't even imagine what they're going through," said Kolby Blenden, a 14-year-old from Topeka.
"I wish the best for them in the future and I'm sorry for their losses."
Mason Johnston, an eighth grader from Shawnee, told the Dispatch that while he understands the Royals hats won't undo the trauma the Panthers are facing, he hopes it made them feel a little better.
"I just hope something small like that can make a big impact in their lives," he said.
One of the most eye-opening moments for the youths was when one of the Panthers, who had been shot in the incident, arrived to the Dallas-area ice arena straight from the hospital.
"Everyone was really surprised he showed up, which was cool," said Marshall Moore, a 13-year-old from Parkville, Mo. "I think it meant a lot to his friends and teammates that he was there to support them."
In the midst of the camaraderie, realizing what the Panthers had gone through was a chilling reminder for the Mavericks that mass shootings can happen at any time, anywhere.
Blenden told the Dispatch that the Monday after the shooting, his own school received a threat.
"It's scary to know somebody could be out there, planning something or having those thoughts," he said. "All you can do is trust in your school."
Johnston echoed his sentiments.
"It's scary to think it could happen to us, or to the school next to us," he said.
For other Mavericks, it fueled a desire for change.
"There's always that question of 'what if' and it's become scary because there are so many shootings now," said Ike Prengle, a 14-year-old from Topeka. "I hope something can be done because it shouldn't be happening. We have to stop it somehow."
Moore, a Canadian, couldn't agree more.
He thinks the prevalence of guns in the United States presents a problem, but he understands the weapon's importance to Americans because of the second amendment.
"I think no matter how you feel about the second amendment, everyone agrees something needs to be done, whether it's background checks or better security at schools or banning assault weapons," he said. "It ripped my heart out to know the parents we saw in the stands had to worry about whether their kids were even alive at school that day. No teenager should lose a life, so there absolutely needs to be a dialogue to make change happen."
As for ice hockey, the season is now over for the Mavericks.
The team lost in the semifinals at the Blue Note Cup in St. Louis last weekend.
Now, they're just focused on stepping up their game next year.
"It was a good season," Moore said. "I wish we could have went to the finals, but it wasn't in the cards."
More like this story