Mill Valley bowling teams, Maranatha's Perry qualify for state out of 5-1A regional at Park Lanes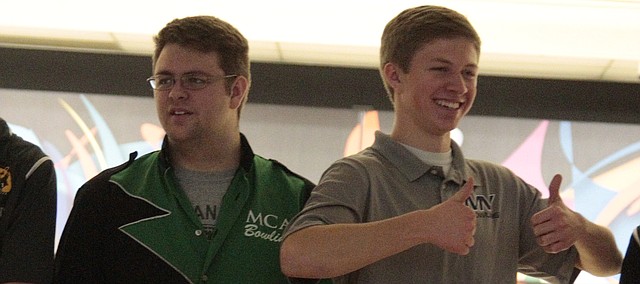 Mill Valley's girls and boys bowling teams both earned top-three finishes at Friday's Class 5-1A regional meet at Park Lanes to qualify for state.
The Mill Valley girls squad was the regional runner-up behind a fifth-place series of 496 from Tori Benson. The Mill Valley senior posted a career-high game of 197, and her series was also a personal best.
"It insane," Benson said. "I'm still processing it. It's great."
Benson threw four straight strikes in Game 2 — which was her high game. Spare pickups powered Benson to a score of 177 in Game 3. Benson started off Game 3 with seven straight spares. She left the eighth frame open, but bounced back on the ninth with a strike.
"We needed that one," Mill Valley coach Rick Pollard said after Benson's strike.
Benson rounded out Game 3 with a spare and a strike on the 10th frame. Every one of Benson's spare pickups were pivotal, as the Jaguars nudged St. Thomas Aquinas by one pin for second. Lansing won the girls regional title behind individual champion Kyah Surriette.
Sophomore Bri Laluk also earned a medal with her eighth-place series of 476.
"It's really exciting," Laluk said. "It will be the second year for me personally."
The rest of Mill Valley's girls team included senior Emily Jackson (18th place, 440 series), senior Bella Hadden (19th, 434), junior Abby Berner (21st, 419) and sophomore Bri Davis (30th, 387).
"We're all super excited," Benson said. "We're just going to go in and have fun and try to do our best."
The Mill Valley boys team got things started on Friday with a third-place finish, as the Jaguars edged Piper by 16 pins for the final state-qualifying spot.
Mill Valley followed Turner and Lansing in the boys standings.
"We weren't exactly sure if we were going to make it, but when we did, we were quite excited," senior Kyle Hirner said.
Hirner led the Jaguars with a ninth-place series of 584. The Mill Valley senior set the tone with scores of 226 and 212 in his first two games.
"I just kept hitting my spots and I found the best oil pattern for me," Hirner said.
Hirner was followed by senior Trey Callahan (13th, 550), junior Jack Matchette (16th, 540), junior Gabriel Hakes (18th, 537), senior Brad Teasley (36th, 474) and senior Brent Stevenson (43rd, 453).
Last season was the first year that both Mill Valley teams qualified for state together, so the Jaguars were glad to have history repeat itself on Friday. The Jaguars will compete at the 5-1A state tournament on Friday at Northrock Lanes in Wichita.
"We're all excited," Hirner said. "We just hope that we all bowl well and have fun down there."
Maranatha's Perry qualifies for state
Maranatha Christian Academy senior Brett Perry was able to breath a little bit easier at the end of the 5-1A regional meet after finding out that his high school career wasn't over yet.
Perry finished one spot ahead of Hirner with an eighth-place series of 595 to qualify for state for a third straight year.
"Honestly, a relief. I've been nervous all year," Perry said. "I've had expectations for the past two years and I'm just glad to be back. I'm just happy."
The Maranatha senior led the Eagles to ninth place. Perry couldn't quite find his spot in Game 1, but was dialed in during Games 2 and 3 with scores of 212 and 216.
"Just hitting my mark, being able to stay calm and keep my ball speed slow," Perry said of his keys to success.
As Perry's time on the lanes with the Eagles is nearing an end, he's excited to turn to the next chapter of his bowling career next fall at Ottawa University.
"I really liked their atmosphere — not only on the campus, but the team atmosphere," Perry said. "I really felt like that would be the best fit for me."
On the girls side, Stephanie Pang paced the Eagles with a 14th-place series of 457. Pang posted scores of 179, 149 and 129 to guide the Eagles to 10th place.