SMNW

girls bowling, Bolin state bound;

SMN

qualifies 4 for state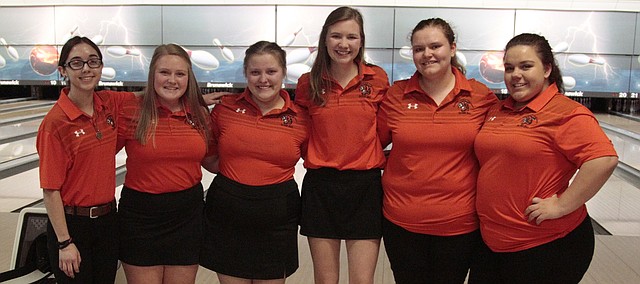 The Shawnee Mission Northwest girls bowling team felt good about its chance of qualifying for the Class 6A state meet following a second-place finish in the Sunflower League Championships, but the Cougars optimism began to fade throughout Monday's regional at Park Lanes.
Going into the fourth and final Baker game, the Cougars were on the outside looking in — trailing Olathe South by 24 pins for the last state-qualifying spot. The Cougars stuck with it, though, despite being frustrated by a blind shot and difficult oil pattern, and saved their best Baker game for last with a score of 167. The Falcons fell off in the fourth Baker game with a score of 126, which catapulted the Cougars into third place.
Despite outscoring the Falcons by 41 pins in the final Baker game, the Cougars weren't confident about the chances of getting a top-three finish while the team scores were being announced. By the time fourth place had been revealed and the Cougars hadn't heard "Shawnee Mission Northwest" called, their emotions completely flipped.
"Oh my gosh. It was the best," SM Northwest senior Hadley Sayers said. "I was just so happy to know that I'd be there with my team and that we could go stay in the hotel together and go down there together. It was so much fun last year and it's wholistically the same team, so I'm really excited."
Sayers paced the Cougars with a 10th-place series of 494 to earn a medal. The SM Northwest senior struggled with splits in Game 1 to finish with a score of 143. Strikes still weren't coming in Game 2, but she left herself easier spare pickups and took advantage of them en route to a high game of 194.
"That was the key. The first game I got a few more strikes than I ended up getting in the second or third games, but I couldn't get spares and I think that hurt a lot," Sayers said. "The pattern was hard and it just made the spare shooting really difficult for me, but I worked on figuring out my marks and which balls I wanted to use in my first game and the second game I made the adjustments and it helped."
Finishing two spots behind Sayers in 12th was fellow senior Alaina Burris with a 487 series. Burris started strong with a Game 1 score of 200, but fell off pace in Games 2 and 3 with scores of 150 and 137. The Ottawa signee felt a lot of pressure between wanting to lead the team back to state, and also personally wanting to become the first bowler in school history to be a four-time state qualifier.
"When we were sitting in our circle, I turned around and I looked at (assistant coach Justin) Peterson when they were announcing fifth and just the way his face looked made it seem like we hadn't made it as a team," Burris said. "When they said fourth, all of us got excited and I just started crying because this year it just means a lot to me since it will be my fourth time going."
The rest of SM Northwest's state-qualifying team included Charlie Queral (20th place, 458 series), Cheyanne Bolin (24th, 436), Emilia Battles (29th, 426) and Emma Reinke (42nd, 392). Sayers said it wouldn't have felt nearly as good to qualify individually for state and not have her teammates there with her. The SM Northwest senior has consistently been the Cougars' No. 2 bowler behind Burris at most meets, and has had plenty of motivation to finish her last season strong.
"I think the knowledge that it's my final year and that I really want to find success and have fun with my friends. We've been accomplished pretty consistently," Sayers said. "Sophomore year, Emilia and I had decent years. Last year we made it to state. So this year to know that we've done those things in the past, I just think knowing where we stood and then just also wanting to finish on a really high note."
Olathe East and Olathe North are also state bound after finishing first and second, respectively. Olathe East's Sydney Miller had the high series of the day out of all of the girls and boys bowlers with a total of 608. Scores were well below average due to the bowlers not knowing the oil pattern going in, which was something that many competitors and fans did not agree with. Thursday's state meet at Northrock Lanes in Wichita will also be a blind shot.
"I really don't think it's fair that they do a blind shot for regionals. I get that some people would be able to practice on it beforehand, but I feel like that's the point of practice is that you want to be able to practice for what you're going to do," Burris said. "It shouldn't be whoever has a lucky day should get it. I'm not saying that everyone who bowled really well today was lucky, but they started doing better than everyone else did. I feel like it's not really fair that we don't get to know the pattern ahead of time to try to practice on it. I get that it's fair going into it and no one knows what it is, but I just don't like it."
SMN duos qualify individually for state
There weren't many bowlers who had a bigger smile on their face at the 6A regional meet than Shawnee Mission North freshman Brianna Hubenett.
Hubenett got off to a slow start with a score of 134 in Game 1, but her frown quickly turned upside down with four straight strikes to begin Game 2. The Indians' top bowler posted a score of 212 in Game 2 on her way to throwing a third-place series of 517.
"That was just so helpful for me," said Hubenett of the string of strikes to start Game 2. "My first game was pretty bad, so start off with that many strikes, it really motivated me."
Having a positive attitude paid off for Hubenett while many bowlers were down in the dumps because of the lane conditions.
"Not getting frustrated with the lanes is a major thing. I was actually with the (Shawnee Mission) South kids when they were talking with their coach," Hubenett said. "(Shawnee Mission North coach Deb) Leonard and him joke around a whole bunch. He was just saying the same thing, 'Don't let the lanes get to you,' so we didn't."
While Hubenett will be making her first trip to state, North senior Jessica Nevins qualified for the third time after finishing 15th with a 477 series.
"It's a great way to finish my senior year. Hopefully it won't be as nerve-racking," Nevins said. "I know what to expect this time, so hopefully I just do better and hopefully she (Hubenett) does good, too. We'll be there together, unlike my first year when I was by myself. That was scary."
Hubenett and Nevins led the Indians to seventh place.
The SM North boys also garnered a seventh-place finish and had two individual state qualifiers. Seniors Brandon Otoya and Daniel Johnson claimed the final two individual-qualifying spots after finishing 11th and 12th, respectively, with series of 545 and 537.
"I'm happy. I'm really surprised," Otoya said. I" didn't think I was going to make state with a 545."
Johnson chimed in, "And a 537. That's never happened."
Otoya and Johnson were both at the best in Game 3 with scores of 209. While the SM North seniors posted the same high game, their keys to success for doing so were different.
"For me, I just started throwing more inside because the outside seemed more oily," Johnson said. "I just threw inside and threw harder and just tried to strike my best."
Otoya added, "Definitely for me it was changing my footing, hitting my marks and staying outside — which helped me get more hook. I slowly progressed better throughout all of the games."
North's bowlers on the far left end of the alley while several of the top bowlers were toward the middle. Otoya and Johnson both felt more in their comfort zone with that setup.
"We couldn't tell how they were doing. I didn't focus on anything down there," Otoya said. "I just focused on my lane and how our guys were doing and was trying to motivate everybody."
Johnson followed, "I don't think it really matters for me. I just do me."
The sport of bowling has been one of Johnson's favorite activities at SM North, and he had a special reason for why he was ecstatic to prolong his career with one more meet.
"My brother (Thomas Johnson) is four years older than me, so he graduated high school when I was going in. With all of my activities, I've kind of been following him," Daniel said. "He made state his senior year, so I really wanted to. It was kind of all leading up to this, so that's nice."
Otoya also noted that school pride was one of the biggest reasons why he's excited to be going to state.
"I'm just happy to be representing my school. I'm just happy to go," Otoya said. "I'm No. 6 on varsity. I was having a really good day and I've been practicing a lot recently. I'm just happy to be there."
Bolin state bound again for SMNW boys
While the SM Northwest girls rallied for a top-three spot to qualify for state, the Cougar boys squad had to experience what it was like to barely miss the cut with a fourth-place finish.
Shawnee Mission South, Olathe East and Olathe Northwest claimed the top three spots. Olathe Northwest's Cameron Kotwitz's first-place series of 606 helped the Ravens edge the Cougars by 25 pins for third.
Senior Garrett Bolin qualified for state individually for the Cougars with a sixth-place series of 587, but he still had a bitter taste in his mouth when all was said and done.
"It was a good day, but I could have shot higher. I'd rather go as a team, of course," Bolin said. "We had a lot more seniors on the team. I rather would have went with the team. That's what I was really hoping for. I'm going to go down there and think of the team and do it for the team."
The morale for the Cougars was low after the sat in sixth place at the end of the three traditional games, but they bounced back to lead all teams with a Baker score of 755 — which included games of 237 and 201.
"I thought we had our hopes up for third place at least, but we missed it by 25," Bolin said. "It's heart-breaking not going as a team."
The downfall for the Cougars' was easy for Bolin to point out, as they struggled collectively in Game 2.
"It was just a weird pattern. The outside was just wet on one lane and then the next lane is different. Our second game — that was the big game-changer for us," Bolin said. "I think we shot a six (643 collective score). It was a low-scoring game. In Bakers we came back a little bit, but still short 25 pins."
Along with keeping his teammates in mind at the state meet, Bolin also has a personal goal that he'd like to accomplish in his third year of qualifying.
"Being a senior this year, I just want to place," Bolin said. "That's one thing I've wanted to do for the past three years."