Voice of a new generation: Shawnee teen wins state essay competition, heads to nationals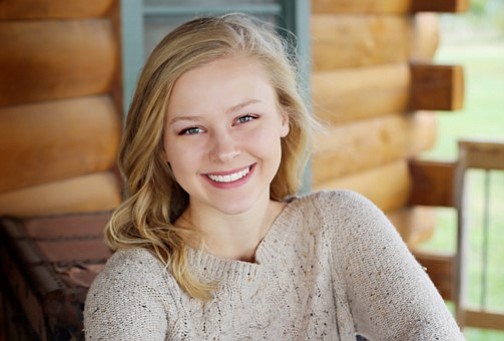 The voices of Generation Z are echoing across the country like a battlecry in recent weeks.
In the wake of a deadly mass shooting at a Florida high school, thousands of teenagers are pouring their passion for change into social media dialogue and calls for action, forcing the rest of the world to take notice.
In the midst of such a revolution, these voices sharpen the relevance of one Shawnee teenager's ponderings: "Even if our names never grace the pages of an American history book, will our generation be known for doing the right thing and be the hope for America's future?"
It's a question Morgan Wilcox asks in her Voice of Democracy essay, which placed first at the statewide level last month.
On Saturday, the 17-year-old will travel to Washington D.C. to represent Shawnee and the state of Kansas at the national competition.
The Veterans of Foreign Wars holds the annual speech scholarship competition, in which students write and record a speech based upon a theme. The 2017-2018 theme is "American History: Hope for the Future."
Wilcox found inspiration for her essay in an unlikely hero: Chester Arthur.
If you're scratching your head, you may not be the only one.
Arthur was the 21st U.S. president, who served from 1881 to 1885, succeeding James Garfield, who was assassinated. His story often gets lost in the shuffle, as more prominent and popular presidents have their tales retold over and over again.
During his presidency, Arthur struggled to overcome a negative reputation, during a time of blatant political corruption, eventually leaving office as a well-respected and much-liked leader.
After learning about him in history class, Wilcox, a junior at Maranatha Christian Academy, was mesmerized by the forgotten president who proved it's never too late to change your moral character or make a difference in the world.
Once she started writing her essay, her words just flowed, she said.
An excerpt from Morgan Wilcox's essay
Chester Arthur was the twenty-first president of the United States of America, yet few know his name. This American president who is neither on any of our currency, nor whose name is a regular answer on Jeopardy stood against the corrupt political machines that cheated people out of office when they deserved to be elected. He also passed an important act that hired government officials based upon merit, not just popularity. He turned his back on the corrupt people he once stood with in order to do the right thing — to be above reproach, yet in a list of presidents or leaders of the free world, few would list him unless they just had to memorize the names of the presidents for history class. Still, this historical figure, when studied, is seen standing for what he believes in. Even if our names never grace the pages of an American history book, will our generation be known for doing the right thing and be the hope for America's future?"
"We are all one nation under God and we should work together to turn away from and overcome the bad things, whether it be corruption or a school shooting," she told the Dispatch. "We need to honor the soldiers who fight for our freedom because it doesn't matter what religion or race we are, we have the freedom as Americans to stand together because of them."
Her history teacher couldn't be prouder.
"Morgan is a young lady who understands that history is more than a utilitarian exercise of memorizing names and dates," said Mark Hoduski, head of the social studies department at Maranatha. "Her insight into the life and transformation of Chester Arthur, from a simple dishonest politician into a man who helped reform the corrupt practice of patronage, demonstrates that she understands a more valuable principle than simply earning a grade–character. The most uplifting aspect of this lesson is that Morgan applies this principle to her own life as a daughter, friend, student, and athlete."
During her Voice of Democracy journey, Wilcox faced her own struggles this year.
In January, her family's Bonner Springs home burned down due to an electrical fire.
Fortunately, no one was hurt, but the family did lose two pets.
They also lost 99 percent of their possessions.
Wilcox told the Dispatch she was living in a Shawnee motel with her family when she received the news her essay won the state competition.
The Wilcox family is currently renting a house in Shawnee while they house-hunt.
"I was really shocked to make it this far (in the competition)," she said. "A lot of bad things were happening, like the fire, and it gave me some hope."
And while she would love to take home the national title and $30,000 college scholarship attached to it, the National Honor Society student admitted she's not putting pressure on herself.
"I'm excited to go to D.C. but I'm not nervous (about winning) because there are a lot of good writers who are going to be there and each one of them deserves a chance to win," she said. "It's in the hands of the judges now. I'd rather enjoy my trip rather than stress about it."
The maturity and talent Wilcox has shown throughout the process impresses her biggest fan, her mom.
Dawn Wilcox, who is also her daughter's English teacher, told the Dispatch she is proud of her daughter's essay theme that Americans should do what is right.
"In a challenging time in our nation, we need a generation of Americans who are willing to seek out what is right and then act upon their beliefs," she said.
She points out that Maranatha's vision statement strives to "develop world-changing young people" and through critical thought and godly character, students are transformed to have an impact to change the world.
And Dawn goes back to that one pertinent question her daughter asks in her essay: "Even if our names never grace the pages of an American history book, will our generation be known for doing the right thing and be the hope for America's future?"
As the mom to two Generation Z daughters and as a high school teacher, she thinks the answer is a resounding yes.

"I believe this generation has young people who will change the world positively," she said. "Morgan represents her, family, school, and relationship with Jesus Christ well, and I hope she makes wonderful memories in Washington, D.C."