Celebrating the sound of silence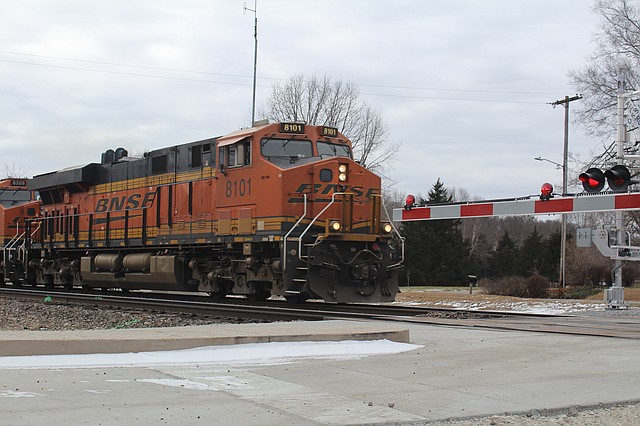 The silence is deafening.
And it is very, very welcome for one western Shawnee neighborhood.
At one point, nearly a thousand train horns used to blast per day as 89 trains chugged down the railway tracks along Martindale Road.
After 13 years of working hand-in-hand with the city of Shawnee to solve the problem, a group of neighborhood activists are celebrating a 'quiet' victory.
The trains still go by, of course, but the horns now remain silent for the stretch of track along the Brittany Ridge subdivision and surrounding neighborhoods.
It wasn't an easy battle.
The progress took many years and a series of detailed steps to meet federal regulations.
There were initially three railroad crossings where trains had to legally blare their horns.
Those sat along Martindale at 71st Street, 73rd Street and 75th Street.
Eight years ago, neighborhood activists were able to get the 71st street crossing closed, with the plan being to also close the 75th Street crossing and turn the 73rd Street crossing into a safety crossing.
A safety crossing, with arms and flashing lights, meant trains could pass by without blaring horns.
But, there was a snag.
Closing the 75th Street railroad crossing meant nearby landowner David Hoehn wouldn't have access to a portion of his property.
So, neighbors raised around $45,000 of their own money to build a bridge on his property, which would give him access to that piece of land.
The 75th Street crossing was closed and a safety crossing was put at 73rd Street, which leads right into Hoehn's driveway.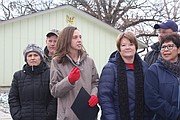 To celebrate their hard work and perseverance, now that the trains are silent, neighbors held a party on Hoehn's property on Saturday afternoon, with warm chili and hot cocoa.
City officials, elected officials, neighbors and the leading activists, such as Jack Tredinnick, who helped spearhead the neighborhood's railroad committee, attended.
Shawnee Mayor Michelle Distler even presented the neighbors with a proclamation declaring Dec. 30, 2017 as "Rails and Trails Day."
As she handed them the certificate, she thanked them for their tenacity and patience.
She was also impressed with the residents' willingness to work with the city rather than fight it when it came to solving the problem.
"They didn't come out as an angry mob with their pitchforks," she said, with a laugh. "They came to us with a problem and asked, 'Can we find a solution?'"
While she's thrilled the noise issue has finally been resolved for the neighborhood, she admitted to the Dispatch that she's going to miss interacting with the neighborhood activists.
She hopes they find other ways to be involved in the community.
The respect is mutual.
"The city says 'good starts here' and it really does," said Michael Konan, a nearby resident and member of the railroad committee. "The city worked with us every step of the way and they even met with us when there was no update. They sympathized with us and that really meant a lot."
The noise also brought a silver lining to the neighborhood.
By banding together to solve the problem, it allowed the residents to bond in a unique way.
"It brought us closer as a neighborhood and we really got to know each other," Konan said. "We're more than neighbors now, we're all friends."
He's delighted to finally enjoy being out in his backyard and he's looking forward to sleeping better at night.
His sentiments were echoed by Jennifer Hudson, who lives with her husband and their 6-year-old daughter in Brittany Ridge.
"If you were talking to someone in your driveway, you would have to stop talking and just wait for the train to go by," she said. "When we watched movies, we'd have to put the captions on so we wouldn't miss anything when a train went by."
Now, the silence is welcoming to their ears, but the normalcy of it still doesn't seem real.
"We watched a movie last night and we didn't need the captions," she said. "I didn't even know a train went by. It was weird but it was nice."
And like most of her neighbors, she's looking forward to the warmer weather when she can finally open her windows and sit on the patio to enjoy the peace and quiet of western Shawnee.
To learn more about the neighborhood's journey to silence, visit the Brittany Ridge railroad committee's blog at railsandtrailsshawnee.wordpress.com.