Mill Valley turns up defensive pressure in second half of 46-32 win over St. James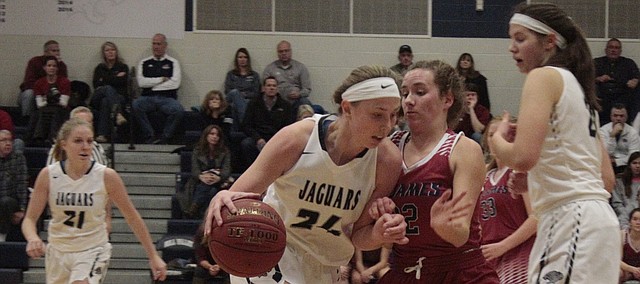 It wasn't the best shooting night for the Mill Valley girls basketball team on Wednesday against St. James Academy, but that didn't bother the Jaguars.
Mill Valley has taken a lot of pride on the defensive end this season, and it helped the Jaguars create some separation from the Thunder in the second half of a 46-32 victory.
"You're going to miss shots, even easy shots. But keeping them to 32 and bearing down after halftime and only giving them 14 after half, that's what I'm a little more proud of," Mill Valley coach Drew Walters said. "You're going to make and miss shots. We have a lot of people who can shoot the ball. We kept attacking and got into the lane once they got some fouls. We were trying to get to the line and earn it that way."
After the Jaguars had some issues with turnovers in the first half, they were able to get the Thunder to cough the ball up in the second half. The Jaguars capitalized on the Thunder's miscues with a 10-1 run to end the third quarter after St. James had pulled within three.
"We know defense turns into great offense and that's really what we were trying to do most," Mill Valley junior Claire Kaifes said. "That's what we work on in practice a lot. We know great defense can help us in the long run."
When the Jaguars were executing on the offensive end, Kaifes was usually involved. The 5-foot-10 junior scored a game-high 15 points and added five assists and five rebounds. Kaifes frequently fed junior Trinity Knapp and senior Evan Zars in the high post, which created scoring opportunities for the Mill Valley posts or backdoor layups and kick-outs for the Jaguar guards. Zars joined Kaifes in double figures with 12 points.
"We get a lot of great looks out of it, especially with Trinity and Evan cutting on big and little screens. We have a great offense," Kaifes said. "It's just teamwork. We're moving the ball really well this year. We're just moving the ball around and we know that if it's not your shot that someone else can have a better shot. That's kind of our mind-set this year."
While the Jaguars were able to pull away in the second half, Walters credited the Thunder for contesting a majority of his team's shots. The Jaguars shot 16-for-46 (34.8 percent) from the field, but were efficient from the charity stripe — knocking down 10 of their 14 free throws (71.4 percent).
"We have the ability to play a lot of different ways. They play a pretty in-your-face pressure style and they're really up on you and forcing some things. Really we try to take advantage of where we think we have advantages," Walters said. "We're doing a better job of reading how other teams are playing us. Some of that is the girls just playing basketball and cutting on their own. We're not trying to be robots and doing everything through our offense. Some of that is a little bit of them playing and reading the defense and taking what they give us."
Moving without the ball was also a big key to success for the Thunder. St. James coach Samantha O'Malley was pleased with the Thunder's offensive execution in the first half, but acknowledged that turnovers were a major problem in the second.
"We've been working extremely hard on our offensive game. The last four practices we've really been biting down on what we need to do with our ball movement," O'Malley said. "They're really starting to understand. Unfortunately in the third and fourth quarter, it did not ripple into that."
While the Thunder struggled to find a rhythm offensively in the second half, O'Malley said it wasn't because of a lack of effort. Senior Mary Goetz paced the Thunder with 10 points and added six rebounds. Goetz normally serves as a dynamic defender on the perimeter for the Thunder, but has had to go up against some taller players in the post the past two games after freshman Abby Dunsmore went down with a knee injury right before winter break against St. Thomas Aquinas.
"I definitely want to talk about Mary Goetz and how extremely proud I am of her as a senior and her leadership and her ability to play with just complete heart and intensity the entire game," O'Malley said. "I just gave her giant kudos in front of the whole entire team about how they better respect this kid because I'm so very proud of her. When I talk about having favorite players, this kid is one of my favorite players and I absolutely love every bit of what she leaves out on that floor and I'm proud to be her coach."
The Thunder (2-3) will be back in action against Olathe South (4-1, ranked No. 9 in Class 6A) at 11:30 a.m. Saturday at St. Thomas Aquinas. O'Malley wants her team to build on what they did well in the first half against the Jaguars, and is hopeful that they can develop some consistency as the Thunder continue to grow in her first season at the helm.
"It's learning a whole new coach, learning a whole new program and developing a whole new atmosphere," O'Malley said. "The girls are jumping on board as quickly as they can, but each game we're getting better and better and hopefully we can turn it into a full game soon."
The Jaguars (6-0, No. 3 in 5A) will put their perfect record on the line again at 6 p.m. Friday for another home game against Bishop Miege (3-1, No. 1 in 4A-I). It's a matchup that the Jaguars have been looking forward to for a while now.
"Miege we know every single year is going to be a great game," Kaifes said. "It's going to be a battle."
ST. JAMES (32)
Claire Worthington 1-8 0-0 3, Claudia Russell 1-2 0-0 2, Claire Kearney 2-4 0-0 4, Torri Kempf 3-9 0-0 8, Mary Goetz 4-9 2-8 10, Katelyn Hall 2-8 0-0 5, Anna Feldkamp 0-0 0-0 0, Brianna Streeter 0-1 0-0 0, Regan Bruggeman 0-1 0-0 0. Totals 13-42 2-8 32.
MILL VALLEY (46)
Presley Barton 1-5 2-2 4, Ella Shurley 0-0 0-0 0, Adde Hinkle 4-8 0-0 8, Trinity Knapp 3-11 1-2 7, Lexi Ballard 0-0 0-0 0, Claire Kaifes 4-9 4-4 15, Evan Zars 4-11 3-4 12, Payton Shurley 0-2 0-2 0. Totals 16-46 10-14 46.
St. James 10 8 6 8 — 32
Mill Valley 14 10 12 9 — 46
3-point goals: St. James 4-19 (Kempf 2, Hall, Worthington); Mill Valley 4-13 (Kaifes 3, Zars). Fouled out: None. Turnovers: St. James 12, Mill Valley 16.
More like this story