Wittenauer's clutch shot, big night from Mason lead Mill Valley past St. James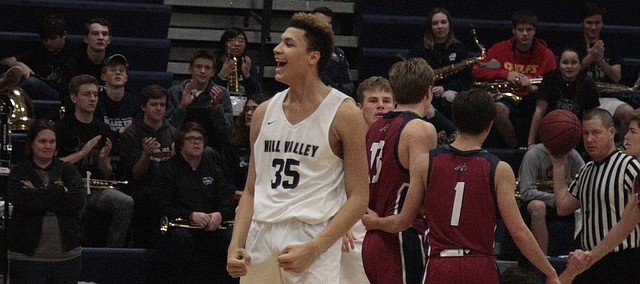 In the final two-and-a-half minutes of the Mill Valley boys basketball team's 43-41 win over St. James Academy on Wednesday, the Jaguars had the chance to put the game away at the free-throw line.
Despite four straight missed free throws — including two front ends of 1-and-1s — the Jaguars still had the ball with a minute left in a tie game. Rather than hold the ball for the final shot, though, junior Matty Wittenauer stepped up to hit a mid-range jumper with 50 seconds left to end the Thunder's 6-0 run and put the Jaguars up 40-38.
The Jaguars followed up Wittenauer's jumper with a couple of defensive stops, and senior Cooper Kaifes made three free throws in the final 20 seconds to keep the Thunder at arm's length. St. James sophomore Jack Moellers drained a long 3-pointer with three seconds left, but it was too little too late.
"Matty did well all night. He had a bucket early and he just played really well defensively. He did some good things," Mill Valley coach Mike Bennett said. "He hit a really big shot for us that put us up two. It's great to have. (We need to) keep building on that."
With guards Logan Talley sidelined following a sinus surgery and Tanner Moore still out of action after suffering an injury to his collarbone in football, Wittenauer was called upon by Bennett to get the start despite only seeing significant varsity playing time in one game before winter break. Wittenauer has felt comfortable while stepping up to the varsity level, and didn't feel any pressure to take the go-ahead jumper in crunch time.
"I was open, so I just took the shot," Wittenauer, who finished with five points, said. "I didn't hit a lot of jumpers early or make a lot of easy baskets early, but my teammates just tell me to keep on shooting. The ball got in my hands late and I made a play."
Both teams struggled out of the gates with only one field goal apiece in the first six minutes, but Keeshawn Mason got the Jaguars rolling in the second quarter. The freshman forward established himself down low and scored eight of his game-high 16 points in the second quarter.
"Just getting out there and getting my motor running," Mason said. "When my motor gets running, it's hard to stop me."
Mason powered Mill Valley to a 24-14 halftime lead, but the offense disappeared for the Jaguars in the third quarter. St. James senior Casey Worley sparked the Thunder with two offensive rebounds to prolong possessions early in the third quarter. The first offensive board came after his own missed 3-pointer, and he put it back in for two. Worley was active on the glass again on the following possession when he corralled a missed free throw by Jack Moellers. Senior Josh Spradlin went on to knock down a 10-foot jumper to pull the Thunder within four at 24-20.
"Going into halftime, we were a little embarrassed because this is a team we feel like we could have beat and we were down 10 to them," Worley, who scored five of his nine points in the third quarter, said. "We kind of just played desperate basketball in the second half and getting those offensive boards and playing hard-nosed on D. That really helped."
After a Worley 3-pointer, the Thunder tied it up on a free throw by Moellers at the 3:52 mark of the third. Moellers came up with a big offensive rebound on the next possession when Jake Dunsmore missed the second of his two free throws. Moellers made Mill Valley pay by drilling a 3-pointer, which capped a 14-0 run.
"When they made their run in the third quarter, they just played harder. They played harder," Bennett said. "They played smarter. They did what they normally do in transition to get out and score a little bit and attack the basket, and we didn't play very hard.
"We had to settle in. I think we were kind of shell-shocked and thought that maybe they would roll over. They came back and they played hard. That's a credit to their coaches and their kids. (It was) a good game."
Kaifes put an end to the Thunder's run when he scored the lone two points of the quarter for the Jaguars after nearly six scoreless minutes. The Loyola Chicago signee kept on firing to begin the fourth, and put Mill Valley back up 29-28 when he knocked one down from long range.
Mason and senior Sammy Rebeck both converted traditional 3-point plays to help push the Jaguars' lead to 38-32. The Thunder rallied to tie it with layups from Worley and Dunsmore and two free throws from junior David Hornung, but St. James couldn't quite get over the hump.
The two-point loss was an all-too-familiar feeling for the Thunder, who dropped to 1-3 in games decided by three points or less. Worley was encouraged by how the Thunder rebounded after struggling in that category in a three-point loss to St. Thomas Aquinas before winter break, but it was some missed layups that he felt cost St. James against the Jaguars. St. James (2-5) will try to bounce back against Hogan Prep (7-3) at 1 p.m. Saturday at Aquinas.
"Sometimes it's offensive rebounding and in that game I think it was layups. We missed a lot in the first half," Worley said. "I missed one late in the game that I usually make. If we just clean that up, it's think it's a W."
The Jaguars won their second straight game to move back to .500 at 3-3. Mill Valley will play at home again at 7:30 p.m. Friday when the Jaguars play host to Bishop Miege (4-0, No. 1 in Class 4A-I).
"We've got a big one coming up on Friday," Bennett said. "We've just got to be ready to play every night in our league. Getting the first one of the second half is a good momentum-builder."
ST. JAMES (41)
Josh Spradlin 2-6 0-0 5, Michael Cahill 0-1 0-0 0, Casey Worley 4-13 0-0 9, Reed Wilkinson 0-0 0-2 0, David Hornung 3-7 2-3 8, Jake Dunsmore 4-7 1-3 9, Gus Lechtenberger 0-0 0-0 0, Jack Moellers 3-8 2-5 10, Sean Ziesman 0-2 0-0 0, Zach Flax 0-0 0-0 0, Ryan Holton 0-0 0-0 0. Totals 16-44 5-13 41.
MILL VALLEY (43)
Sammy Rebeck 2-5 2-3 6, Mason Little 0-2 0-0 0, Kyle Bonstetter 0-1 0-0 0, Ben Weigel 0-0 0-0 0, Cooper Kaifes 3-6 4-11 11, Ike Valencia 0-2 0-0 0, Brody Flaming 2-4 1-2 5, Matty Wittenauer 2-4 1-4 5, Keeshawn Mason 6-7 4-8 16. Totals 15-31 12-28 43.
St. James 5 9 14 13 — 41
Mill Valley 7 14 2 17 — 43
3-point goals: St. James 4-23 (Moellers 2, Worley, Spradlin); Mill Valley 1-6 (Kaifes). Fouled out: None. Turnovers: St. James 6, Mill Valley 11.