SMN

swim and dive 3rd,

SM

Northwest 6th at

SMNW

Invitational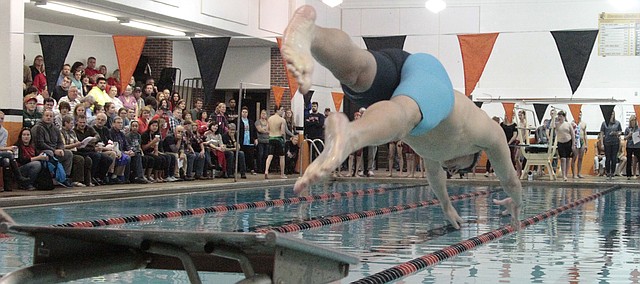 Shawnee Mission Northwest swimmer Scott Klein has had one primary goal in mind throughout his sophomore season, and he wanted nothing more than to achieve that in front of a home crowd at the SMNW Invitational on Saturday.
Klein coasted to a victory in the 50-yard freestyle, but one wouldn't have known it by his post-race reaction. The SM Northwest sophomore standout finished with a time of 22.19, which was 0.1 seconds off of matching the school record and 0.05 seconds from his personal best.
"I didn't have a good feeling after I started, but hearing everybody just go, 'Ooo …' I didn't even have to look (at the scoreboard)," Klein said. "I just knew it didn't happen."
After Klein finally took a glance at the scoreboard to see his time, he leaned his shoulders and head back into the water before being consoled by his teammates. Klein then listened closely to a few pointers from first-year coach Ryan Lee on how he could improve his start.
Klein has spoken highly of Lee with the work he has done with him and all of SM Northwest's swimmers. The 50-yard freestyle was one of the best individual events for the Cougars, who finished sixth in the team standings. Ben Harrell tied for eighth and Eric Gonzales followed in 12th with respective times of 24.26 and 24.58.
Klein showcased his versatility as a strong long-distance swimmer, too, by taking second in the 500-yard freestyle with a time of 5:08.36. His second-place finish was one of two for the Cougars. Jaden Karnes was the runner-up in the 1-meter dive, which was held at SM West, with a score of 209.45.
Benny Alpert added two top-10 finishes in the 200-yard freestyle (ninth place, time of 2:16.91) and 100-yard butterfly (10th, 1:07.33). Will Gross was close behind Alpert in both events with 11th-place finishes in the 200-yard freestyle (2:18.39) and 100-yard butterfly (1:08.92). Will Vanderbos gave the Cougars' their last top-10 individual performance with a 10th-place time of 1:14.57 in the 100-yard breaststroke.
The Cougars rounded out the meet with a fifth-place finish in the 400-yard freestyle relay. Harrell, Klein, Matt Nolan and Gonzales clocked in at 3:41.99.
"We're all working really hard," Klein said. "Hopefully we can get some other guys qualified for state."
The 200-yard freestyle relay was one of the biggest highlights for SM North at the SMNW Invitational. The Indians were short-handed without one of their best sprint freestylers in James Cameron, but they showed off their depth by still swimming to a third-place finish. Clayton McMillin, Harden Boldt, Trey Smith and Luke Guthrie clocked in with a time of 1:38.00.
The Indians were in Lane 1 and went down to the wire against Lawrence High, Free State and SM East's 'B' relay that were in Lanes 4 through 6. Guthrie was able to out-touch the anchor legs for Lawrence High and Free State to help the Indians finish behind both of SM East's teams.
"I was thinking I would need to go a lot hard because I knew the competition was really steep," Guthrie said. "I knew we had a lot of competition against East and Lawrence Free State, so I knew I had to give it my all towards the end there."
Guthrie also anchored the Indians' 200-yard medley relay, which included McMillin, Caleb Sostarich and Smith, to a third-place finish. The two third-place relay finishes helped the Indians take third overall behind SM East and Free State.
"We're working them together. We've had a lot of people missing and one person missing can really ruin a relay as for getting first or second," Guthrie said. "But I say we still held it together with who we had in the relays."
McMillin had the top individual finish for SM North after placing second in the 100-yard breaststroke with a time of 1:06.09. Sostarich followed in seventh with a time of 1:12.52.
The Indians also had two top-10 finishers in the 100-yard freestyle between McMillin (fourth, 51.93) and Guthrie (eighth, 54.69). Guthrie felt that his performance in the 50-yard freestyle could have been better, but he was happy with how he bounced back in the 100-yard freestyle and the 200-yard freestyle relay.
"My 50 was all right. It wasn't my best, but these last two my I have been getting out of a funk and I wasn't doing too well," Guthrie said. "But my 100 was my best, so I thought it was a really good race."
Smith collected two top-10 finishes between the 200-yard freestyle (fourth, 1:58.50) and 100-yard butterfly (sixth, 58.03).
The Indians' depth was apparent in the 200-yard IM and the 100-yard backstroke with multiple top-10 finishers. Cole Schmidt and Sam Cramer took seventh and eighth, respectively, in the 100-yard backstroke with respective times of 1:06.01 and 1:08.05. Luke Cramer was close behind in 10th at 1:09.90. In the 200-yard IM, Sostarich (2:28.90), Ryan McMillin (2:38.80) and Oliver Sanem (2:38.88) finished ninth through 11th. Levi Williams chipped in a ninth-place finish in the 500-yard butterfly with a time of 6:20.97.
North also had a top-five finisher in the 1-meter dive with a fifth-place score of 157.35 from Ryan Taylor.
"Individually I think we're all doing well and I think we're where we need to be in order to do well at state and league and stuff," Guthrie said. "I think we're on track and I don't think we're necessarily nervous, but I know that we all know we need to work hard at practice."
More like this story