Shawnee teacher announces candidacy Kansas House District 17
Shawnee resident Laura Smith-Everett announced today her intention to run for the District 17 seat in the Kansas House of Representatives.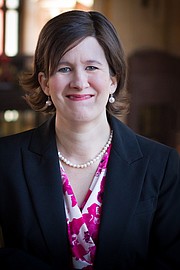 The educator and mother-of-three said she is running because she has seen her family, neighbors and friends negatively impacted by policies implemented by Gov. Sam Brownback and carried out by the current legislators.
After volunteering for multiple local campaigns, Smith-Everett decided to declare her own candidacy and fight for the change she feels the state of Kansas needs.
"As a mother and an educator I care deeply about creating a prosperous future for our children," she said. "It is imperative that we elect service-minded representatives with the courage to take a stand for working families and build a stronger Kansas."
As a student at William Jewell College, she interned for Senator Kit Bond (R-Missouri), an experience she said fueled her passion for politics.
She completed her Bachelors in Elementary Education at William Jewell and a Masters in Curriculum and Instruction with an emphasis on Teaching English as a Second Language (TESOL) from the University of Kansas.
The Ottawa native spent 15 years teaching in Title 1 schools and she stated in a news release she believes the public education system transforms students, families and neighborhoods, while also building the foundation for a stronger economy and vibrant communities.
in her current role as an Instructional Coach, Smith-Everett collaborates with teams of teachers to solve challenging and complex problems.
As a Democratic Moderate, she has voted on both sides of the ticket and she said she will focus on bipartisan solutions to some of Kansas's most pressing issues.
District 17 includes parts of Shawnee, Lenexa and Lake Quivira.