Local state representatives provide insight into new legislative session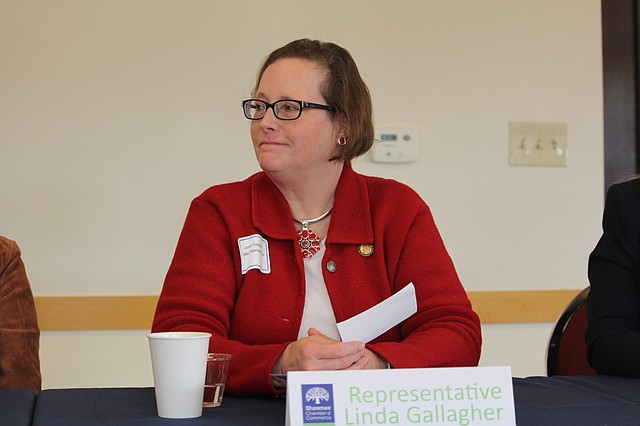 The new 2018 Kansas legislative session kicked off this week.
To give a glimpse of what's to come this year, a few Shawnee area state representatives sat down for a special forum on Friday morning.
Reps. Tom Cox, Cindy Neighbor, Linda Gallagher, and Shelee Brim answered questions and provided brief insight into the upcoming session during the Shawnee Chamber of Commerce's Eggs and Issues Breakfast at Tomahawk Hills Golf Course.
All of them agreed school funding was going to be a major issue this year.
The Kansas Supreme Court ruled in October that the state's education funding is insufficient under the state constitution.
Finding a way to boost funding for education, however, is going to be an extremely difficult task for lawmakers.
For Brim, a retired educator who represents District 39 in western Shawnee, the problem is a very grave one.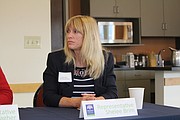 "We've got to fund more schools," she said. "They're the most important thing and we've got to give every kid in the state a quality education, whether it be a young learner or the students going to some type of technical school."
Gallagher, a Lenexa Republican who represents District 23, agreed.
She said while it's currently unsure where the money is going to come from, she has heard talk of various ideas, such as possibly raising the cigarette tax.
One solution she absolutely does not want to see is the funding being taken from other departments.
"We can't pit K-12 funding against social services, prisons, you name it," she said. "All other areas need funding as well. It's going to be a difficult year to figure it out."
Another area of focus will be on child welfare services.
Gallagher serves on the child welfare system task force, which was formed over the summer.
The work the task force did last year dominated media headlines across the state.
There were reports of more than 70 children missing from the child welfare system and children sleeping in child placement agencies offices overnight, among other eye-opening issues.
Gallagher said her task force recently came up with a preliminary report for the legislature and it will be issued later this month, with the final report to be issued in a year.
"There are record numbers of children coming into the welfare system, about 7,000 kids now," she said. "That is a tremendous increase over the years. Children are not leaving the system as fast as they're coming out, so it's putting a tremendous burden on the whole system.
"The case managers have loads that are too high and they're overstressed and burned out and they have high turnover. It's one of the big problems with the system."
That problem may be on its way to being solved.
The Lawrence Journal World reported that Lt. Gov. Jeff Colyer announced Monday the administration will seek a $16.5 million funding increase over two years to bolster child welfare services at the Department for Children and Families.
Colyer listed several areas where the new funds would be focused, including the hiring of 20 additional child welfare staff; the hiring of investigative staff to help track down missing children; fingerprinting and background checks for foster care providers; improvements to a center where people can report suspected abuse and neglect; and more funding for family-preservation programs that are designed to prevent at-risk children from being taken into foster care.
In addition, the administration is asking to hire an outside consultant to perform a top-to-bottom review of the agency.
Colyer said about half of the $16.5 million would come from the state general fund, with matching funds from the federal government.
DCF Secretary Gina Meier-Hummel said if it's approved, it would be the biggest single one-time increase in child welfare funding in the state's history.
At the Chamber forum last week, the topic of growing business in Kansas, to promote wealth and population growth, also came up.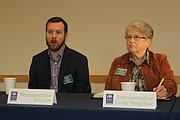 Neighbor, a Democrat who represents District 18, said it was important for Kansans to find that balance of supporting urban, suburban and rural communities across the state.
She told the audience how last summer she spent a day on a dairy farm in Allen County.
"They used to have more than 100 dairies there and now they're down to two," she said. "That's how much we've lost. That hits those communities very, very hard. Part of the reason for that is that it is a 365 day a year job. You can never leave it. Or you need somebody who knows the work itself.
"And a lot of times you have children who don't want to stay there, they want to leave. I think as time goes by, we can't afford to lose all of those because it is our daily supply of food."
In addition, one of the main challenges that needs to be addressed is finding out how to expand suburban and urban type amenities to rural areas, to draw much needed employees from various fields, she added.
"We say we want to grow our doctors and teachers and dentists out there in those small towns, but there has to be an incentive for them," she said. "We need to make wise decisions to draw people to all parts of Kansas. That's not easy."
Despite the challenges that face them in Topeka this year, all the representatives agree on one thing: they're looking forward to making a positive difference.
-Peter Hancock, state reporter for the Lawrence Journal World, contributed to this report.