Seibold steps up for
SMNW

in 47-31 win over

SM

North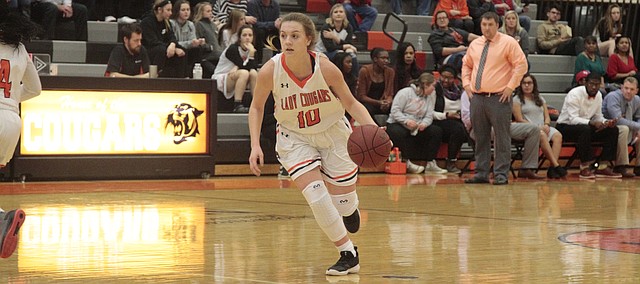 With seniors Jordann Nachbar and Sarah Petersen and junior Hannah Black all battling foul trouble in the first half of the Shawnee Mission Northwest girls basketball team's 47-31 win over SM North on Friday, the Cougars were in need of a spark on the offensive end.
Enter junior Rachel Seibold.
Seibold went into attack mode — scoring 12 of her game-high 21 points in the second quarter — to power the Cougars past the Indians.
"I had a lot of confidence just because I knew they were out and we really had to step it out and score," Seibold said. "But once we got rolling as a team, we started running our offense really well and executing plays. It was really fun."
The 5-foot-8 guard didn't care about who was in her path to the basket. Most of Seibold's shots from the field came around the rim, as she showcased her slashing abilities. Seibold made 8 of her 16 shots from the field and 5 of her 8 free throws.
"I've never really been much of a shooter," Seibold said. "I just drive and attack and get to the rim and get fouled."
Seibold helped the Cougars push their lead from 9-4 to 26-15 in the second quarter. Junior Megan Formwalt logged some key minutes off the bench and scored the Cougars' other five points in the second quarter.
"She's really stepping up and shooting," said Seibold of Formwalt. "Same with Megan Hanson. That was really fun to see."
Despite Seibold's big second quarter, the Indians were able to hang around and cut the deficit to six on two different occasions in the third quarter. Sophomore LeLe Love was held in check for the first quarter-and-a-half with Black face-guarding her. Love's aggressive played a big role in getting the Cougars into foul trouble, though, and she was able to get a few more open looks with Black, Nachbar and Petersen on the bench.
Love ended up leading the Indians with 17 points, but it was the lack of help that she got on the offensive end that frustrated North coach Amanda McNeill.
"There are some learning points and we are getting better game-by-game. It's baby steps, but we've got to learn to finish a game," McNeill said. "We got within six again in the third and then they went on a little run to put them up 10 going into the fourth and they made the first opening bucket. Our girls just dropped their heads instead of counteracting and coming back with their own little run. They don't have that mentality yet, but they will."
McNeill was hoping to see her team build off a nail-biting road win over SM East on Friday. While Love lifted the Indians' over the Lancers with a game-winning shot, the offensive effort was much more balanced than it was against the Cougars.
"Playing together (and) not putting all of the pressure on one person. I felt like it was a pretty evenly-distributed game," said McNeill of the Indians' win over SM East. "It was a good road win, it really was. We got up 11 and we're still learning how to finish a game. They came back and went on a little run, but thank goodness LeLe was able to grab an offensive board and make a game-winner."
Love scored six of her 17 points in the third quarter against the Cougars — including both buckets the cut the deficit to six at 28-22 and 30-24. The Cougars closed the third with a free throw from Seibold, a bucket from Nachbar and another freebie from Hanson to push the lead to double digits. Seibold, Black and Nachbar made a basket apiece to continue the SM Northwest run in the fourth quarter, and the Cougars never looked back.
McNeill was proud of the Indians for being about to contain Nachbar (seven points), Black (six) and Petersen (two), but they weren't able to slow down Seibold. The first-year SM North coach has been pleased the progress the Indians have been making defensively.
"Honestly, that is what is keeping us in games is our defensive tenacity. We hold teams to below their scoring averages normally, but what we've got to learn to do better is execute on the offensive end," McNeill said. "Scoring 37 points a game is not going to win us many ball games, so we've got to learn to be more aggressive. We can't just put the entire offensive load on one person."
The Indians (2-6) will try to get back in the win column at 5:30 p.m. Friday when they return home to play Lawrence High (5-2, No. 7 in Class 6A).
The Cougars (4-3) will go for their third straight victory when they play host to SM East (1-5) at 5:30 p.m. Friday.
SHAWNEE MISSION NORTH (31)
Noel Watkins 0-0 2-2 2, Kylie Dunn 0-7 1-2 1, Mackenzie Vielhauer 1-2 2-2 4, Kiara Williams 2-4 1-3 5, Hannah Redick 0-4 0-0 0, Tiana Lee 0-1 0-0 0, Keagan Stiers 1-2 0-0 2, LeLe Love 6-20 5-9 17, Danielle Scaduto 0-0 0-0 0, Allison Dowd 0-0 0-0 0, Madison Koller 0-0 0-0 0. Totals 10-40 11-18 31.
SHAWNEE MISSION NORTHWEST (47)
Abby Winter 0-1 0-0 0, D'Asya Collier-Williams 1-8 0-0 2, Megan Formwalt 2-3 0-1 5, Rachel Seibold 8-16 5-8 21, Hannah Black 2-6 1-2 6, Jordann Nachbar 3-10 1-2 7, Megan Hanson 1-2 1-2 4, Sarah Petersen 1-6 0-0 2, Reis Laster 0-0 0-0 0, Maggie O'Neill 0-0 0-0 0, Jackie McKay 0-0 0-0 0, Makayka Fisher 0-1 0-0 0. Totals 15-43 7-13 47.
SMN 4 11 9 7 — 31
SMNW 9 17 8 13 — 47
3-point goals: SMN 0-9; SMNW 3-12 (Black, Hanson, Formwalt). Fouled out: None. Turnovers: SMN 17, SMNW 10.