Shawnee college student assists with cancer research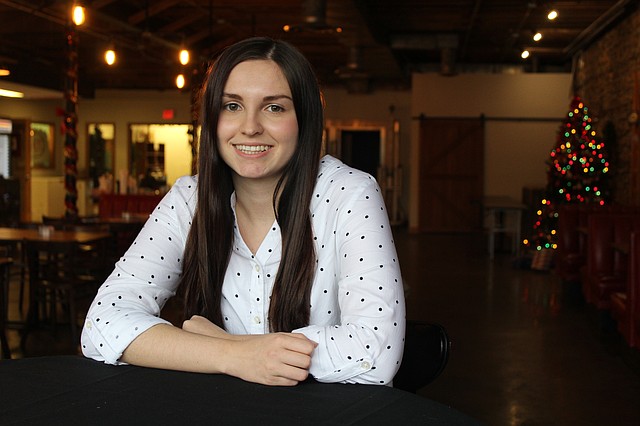 Marta Stetsiv is part of the scientific quest to find a cure for cancer.
It's a remarkable feat for a 20-year-old.
As a biochemistry major and researcher at Kansas State University, she is assisting in exploring the functions of a conserved protein in fruit fly muscles.
Spending long hours in a lab on campus, her research involves dissecting flies, analyzing specimens under microscopes, creating and analyzing graphs filled with complex data and a ton of writing.
At the end of the semester, her research will be unveiled during a major presentation at K-State.
Her impressive work hasn't gone unnoticed.
She was recently one of 33 students selected to participate in K-State's Johnson Cancer Research Center undergraduate research mentoring and awards program.
As a result, she was awarded $1,000 for tuition, plus $1,000 to buy equipment or lab materials needed for her research.
The program is open to students interested in doing cancer-relevant related research.
"These are some of the university's — and the state's — most outstanding science students, working closely with excellent faculty on real research projects," said Stephen Chapes, the center's interim director and a professor of biology. "This opportunity gets students more engaged in their education, a critical factor in their success.
"Many of these future cancer researchers and medical workers will undoubtedly go on to be some of the top professionals in their fields."
Stetsiv, a 2016 Shawnee Mission Northwest High School graduate, is currently pre-med, with hopes to someday pursue cardiology or neurology.
It's a career choice close to her heart.
Although Shawnee is her hometown, she actually grew up in Ukraine. Her family moved to the United States when she was 9 years old, so she and her older sister could have a better life and education.
When her grandfather died of a heart attack in Ukraine, she knew she wanted to be a doctor.
"Healthcare in Ukraine was pretty awful and I don't think he (my grandfather) received the proper care he needed," she said. "And ever since I was in elementary school, I wanted to be in a white lab coat with a stethoscope around my neck. I also wanted to find the cure for cancer."
She never imagined the latter part of her dream, helping towards that cure, would one day be a reality.
She credits her newfound passion for research to her K-State mentor, Erica Geisbrecht, an associate professor of biochemistry and biomolecular physics.
And she's even toying with the idea of pursuing a joint MD and PhD program, which would allow her to continue research as a doctor.
She thinks more pre-med students would benefit from pursuing research in college.
After all, she pointed out, it's more eye-opening to see what happens behind-the-scenes, rather than read about it in a textbook.
Plus, she said the scientific community is fascinating and diverse, filled with students pursuing degrees outside science, such as technology or coding.
Which in turn, she said, allows for various perspectives in the research process.
"It's a nice community to be a part of because I've made a lot of friends and I'm close to my mentor," she said. "The nice thing about science is that we (students) are not competing against each other.
"We're collaborating towards the same goal."
The past year has been a promising one for Stetsiv.
In addition to her cancer research award, she is collaborating on an article for Genetics Journal and as a first-generation college student, she was awarded the Davis Research Scholarship for Developing Scholars.
She is also part of the National Society of Collegiate Scholars, among many other honors.
At the end of the spring semester, Stetsiv will be among the cancer research awardees honored at a banquet attended by their families and faculty mentors, cancer research center supporters and university administrators.
For more information about the Johnson Cancer Research Center, visit cancer.k-state.edu.