Shawnee resident celebrates 104th birthday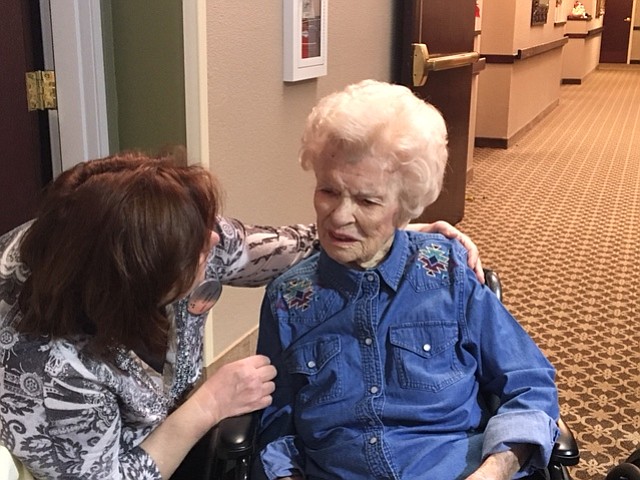 In 1914, World War I began, the cost of bread was 6 cents per loaf, milk was 32 cents per gallon, and gas was 12 cents per gallon. It was also the year Ellen Mabel "Becky" Jeffery was born.
The Shawnee resident, who lives at Brookdale Rosehill assisted living center, celebrated her 104th birthday on New Year's Day.
Friends and family members came out for the afternoon event at Brookdale Rosehill, which included a cake.
Jeffery grew up in Lanagan, Mo., which is 40 miles south of Joplin.
She was named after both her grandmothers, but her dad gave her the nickname "Becky" when she was one-day-old because he didn't like either name.
As a child, Becky liked swimming at the Ozarks on the banks of the Indian River before it was actually the Lake of the Ozarks.
When she was older, her family moved to Kansas City, Mo., where Becky went to Paseo High School.
After her junior year in high school, she went to work for Southwestern Bell in the middle of the Depression in 1930 at the recommendation of her cousin and made $13 per week.
She started dating a neighborhood boy, Wade Grossman, when they were teenagers and they married 13 years later.
She worked at Southwestern Bell for 50 years.
She attributes her longevity to good genes.