Third-quarter run helps
SMNW

past

SMN

, 57-48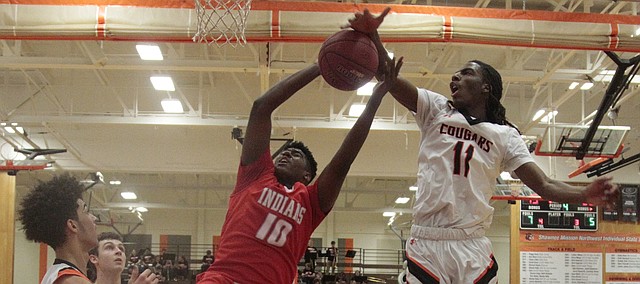 After losing four straight games going into winter break, Shawnee Mission Northwest's boys basketball team was eager for a chance to get back on track in 2018.
The Cougars have done just that with two straight victories — including a 57-48 win over SM North on Tuesday.
"That was big. We've played a lot of games this year where it's been the other way around and we've been calling the timeouts to stop runs," Northwest coach Mike Rose said. "We talked about it in the timeout huddle. They were calling timeouts to stop our run and then they went on a quick little burst so we had to get a timeout to stop their run. I didn't know they'd go on quite the burst like they did late there in the game, but thankfully we did enough to come away with a win."
Northwest took a 22-16 lead into the locker room after a low-scoring first half, but the Cougars came out firing in the second. The Cougars opened the second half with a 13-0 run before holding off a late charge from the Indians to improve to 3-4 on the season. Senior C.C. Ghilardi knocked two of his five 3-pointers during the third-quarter surge and led all scorers with 23 points.
"The team threw me some good looks and I just had to knock them down," Ghilardi said. "My shot was falling, so it just feels good to be back in rhythm."
While Ghilardi grinned from ear to ear while lighting up the scoreboard, Rose was just as happy about SM North not being able to do so for the first three quarters. The Indians did catch fire late in the third, though, with a 10-2 run to close the quarter. Jarrett Hensley cut the deficit to double figures with a bucket to begin the fourth for SM North, but the Cougars went on another 8-0 surge with a 3-pointer from Ghilardi and five straight points from Verlee McCullough — who is back on the court about being out before winter break.
"We feel really good. I feel like we're back on track now," Ghilardi said. "Now that we've got Verlee back, it helps a lot having him back in the lineup. We just feel a lot better now after getting two games in a row."
The Indians still did not go quietly despite trailing by 17 early in the fourth. Hensley led the charge as the Indians whittled the Cougars' lead down to down five in the final minute, but it was too little, too late.
"We really defended well — as well as we have all season at least for three quarters. That was tough there late," Rose said. "I think a lot of those 3s they hit we still had a hand in their face. It was just kids making shots.
"But we did a lot of things there in the fourth quarter that we've got to fix. I think we turned the ball over like nine times in the second half. Those are things that our guys kind of have to learn from. Thankfully we came out with a win, but there is still a lot of stuff we have to take from that game."
Hensley started off strong in the first quarter with six points, but was scoreless in the second and third before netting 14 in the fourth. Rose had some high praise for Luke Towler's defensive effort on Hensley. Towler also joined Ghilardi in double figures with 12 points.
"That's good to see from him. Luke has been pretty good for us offensively the last couple of games and we decided to give him that matchup," Rose said. "We told him not to go very far from and stay close to him at all times. He did a very nice job. The kid hit a couple of 3s late, but all in all, I thought Luke defended him really well."
The Cougars (3-4) will try to get back to .500 when they play host to SM East (5-2) at 7 p.m. Friday.
The Indians (3-4) will attempt to do the same when they return home to play Lawrence High (5-3, No. 7 in Class 6A) at 7 p.m. Friday.
SHAWNEE MISSION NORTH (48)
Tremaine Jackson 0-2 1-2 1, Zach Nelson 2-5 0-0 4, KT Harris 3-5 0-0 7, Amari Williams 2-4 2-2 8, Jackson Bell 1-2 0-2 2, Tommy Faseru 0-0 2-2 2, Peyton Downey 1-2 0-0 2, Ray Verdugo 1-1 0-0 2, Jarrett Hensley 7-17 4-4 20. Totals 17-38 9-12 48.
SHAWNEE MISSION NORTHWEST (57)
Dale Talley III 1-2 0-0 2, Verlee McCullough 3-10 2-3 9, George Specht 3-7 0-1 7, Logan Skeens 0-0 0-0 0, CC Ghilardi 6-11 6-6 23, Evan Higgins 1-2 0-0 2, Luke Towler 6-9 0-0 12, Dylan Brunner 1-1 0-0 2. Totals 20-41 8-10 57.
SMN 10 6 10 22 — 48
SMNW 10 12 15 20 — 57
3-point goals: SMN 5-12 (Hensley 2, Williams 2, Harris); SMNW 7-19 (Ghilardi 5, Specht, McCullough). Fouled out: None. Turnovers: SMN 12, SMNW 15.