SMNW

wrestlers continue to "Love the Process" following dual loss to Olathe East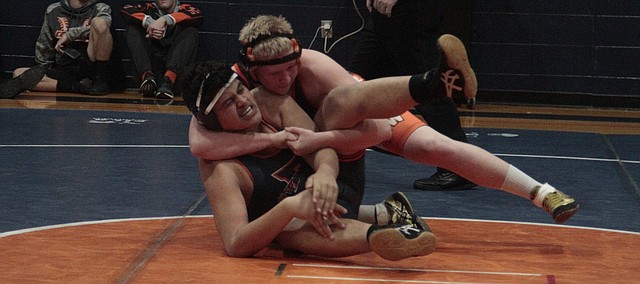 Olathe — As the dynamic duo of Jerad Habben and Charles Brockmann watched from mat side, the message was clear for the young Shawnee Mission Northwest wrestling team that Wednesday's dual against Olathe East was a chance to shine in the spotlight.
There have been a lot of growing pains for the Cougars with a majority of the lineup seeing varsity action for the first time this season, but they have bought into the slogan of "Love the Process" that coach Howard Newcomb borrowed from Iowa State football coach Matt Campbell. A few of SM Northwest's wrestlers were able to reap the benefits of loving the process during the Cougars' 42-33 loss to the Hawks. The trio of Caleb Rosebaugh, Alvin Horner and Will Heitman all won by fall, and Tyler Munsaykhan won by decision to highlight the dual for the Cougars.
"It was really nice to see these guys kind of step up and compete. There were a few matches where we were just overwhelmed, but for the most part I enjoyed watching those younger guys," Newcomb said. "I'm starting to see some of those things we've been working on in the practice room. It was a lot of fun tonight."
The Cougars jumped out to a 12-0 lead before a match was even wrestled since the Hawks had open spots in their lineup at 106 and 113 pounds. Northwest pushed its lead to 15-0 when Munsaykhan won an 11-4 decision over Christian Shives at 120 pounds.
The Hawks were able to cut the deficit to 15-12 after Liam Delancy pinned Andres Aguire in the first period in the 126-pound match and the Cougars had an open spot at 132 pounds. Rosebaugh was next on the mat for the Cougars, and was able to swing the momentum back to Northwest by pinning Patrick Tayari late in the first period.
Rosebaugh notched the win by fall in one minute in 58 seconds, but didn't realize that Tayari was just two seconds away from extending the match to the second period.
"I didn't know the clock was ticking down, really," Rosebaugh said. "I just was like, 'I'm better than this guy. I don't want to end the first period with him pulling my hair and not getting a pin because of it.' I just wanted to end it fast."
Newcomb said that Rosebaugh's teammates were just excited about his pin as he was.
"It took away some push-ups, that's for sure," Newcomb said. "If they scored on in the last 10 seconds, they get some. But if one of their teammates scores in the last 10 seconds, that takes some away."
While Rosebaugh pushed the Cougars' lead to 21-12, the Hawks recorded four straight pins — Matt Ogle over Julian Gutierrez at 145 pounds, Mitchell Cardello over Nick North at 152, Josh Musick over Colby Johnson at 160 and Wyatt Mackley over Andrew at 170 — to surge in front, 36-21.
Northwest freshman Alvin Horner was able to snap Olathe East's four-match winning streak, though, with a pin in the second period against Logan Van Dyke.
"To get the pin it makes me feel good inside, but I don't really care if I win or lose," Horner said. "I just care about how much effort I put in."
Horner faced a 2-1 deficit at the end of the first period, but recorded an escape and reversal early in the second before getting the pin. Although Horner's in his first season at SM Northwest, he wrestled at Trailridge and understands Newcomb's expectations.
"To step up on the varsity level, it's like a little kid going into the candy store. It's just amazing," the SM Northwest 182-pounder said. "The process is very hard, but you just have to learn to love it. Once you get in and you get that routine, you keep going and you just keep building up."
The SM Northwest freshman cut the Cougars' deficit to 36-27, but the Hawks got the six points right back since SMNW was open at 195 pounds.
Since both teams were open at 285 pounds, the dual ended with Heitman squaring off against Olathe East's Frankie Moss. Heitman seized control early and held a 5-2 lead after the first period. The SM Northwest 220-pounder recorded a reversal and two near falls in the second to help push his lead to 13-2 in the second period before pinning Moss in the third.
"I feel like it went pretty well," Heitman said. "Overall I thought it was probably my best match of the year. I stayed in good position the whole time."
Heitman is in his second year of wrestling, and Newcomb said that he epitomizes what loving the process is all about.
"Will is one of those guys that the process … He loves the process. Eventually the process will love you back, right? He's one of those guys that keeps battling," Newcomb said. "He struggles just like everybody else. It's a tough sport. It's hard to stay after it every time. It's good for him to get a win tonight."
The Cougars will be off this weekend and return to action for another dual at 6 p.m. Wednesday at Free State.
"For the most part because we have so many inexperienced guys this year, my biggest goal right now is just seeing these guys get better. Win or lose, I want to see them get better." Newcomb said. "You start trying things and stuff. You can't fix what you don't know how to do. They got to go out and try stuff. If they try stuff and they fail, at least we know what to fix."