Court testimony: Topeka feud led to 'mayhem' that left 3 dead on Massachusetts Street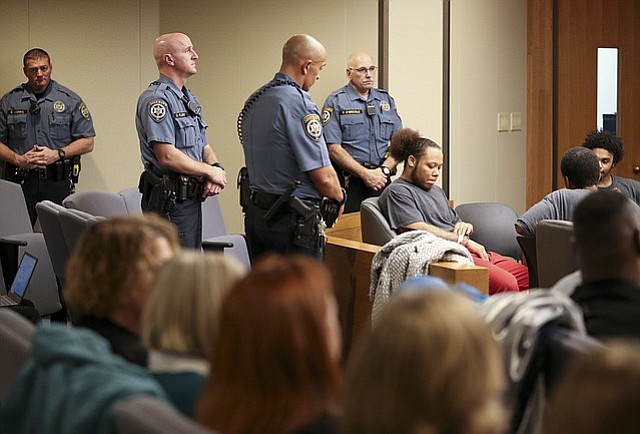 As hundreds of downtown Lawrence bar-goers spilled onto Massachusetts Street about 1:40 a.m. Oct. 1, two comparatively small groups of feuding young men from Topeka collided — and some of them had guns.
They brawled, first with fists. Then came gunfire that killed three people and wounded two others in a matter of minutes.
Witness testimony presented Thursday in Douglas County District Court began to piece together a picture — for the first time, publicly — of the bloodshed that rocked this college town's beloved entertainment district.
"I play it over and over in my head," said witness Robert Wheeler of Topeka, who was involved in the fight. "I seen my cousin get killed right in front of me, and I seen a friend get killed, and there was a girl there. I mean, I'll never forget it."
Some of the bad blood brewing before the encounter stemmed from suspicions about another triple homicide — the 2016 slayings of a man and a pregnant woman in Topeka, testimony revealed. Also, a fight a witness said happened earlier that night in Lawrence left at least one man looking for revenge.
Hostility and unease remain, with at least one witness who took the stand Thursday "very afraid of being injured over his testimony today," a detective told the court.
Wheeler said he had issues with the defendants but when he approached them on the corner, he didn't expect things would escalate.
"We on Massachusetts Street," he said. "... I didn't think nothing like that would ever occur."
All the defendants and victims were connected in some way, either by acquaintance or blood, except one — 22-year-old Leah Brown of Shawnee, who by all witness accounts was an uninvolved bystander fatally shot by a stray bullet.
Three Topeka men were arrested later in October, and Thursday's court event was a joint preliminary hearing for them. Judge Sally Pokorny will determine at the hearing's conclusion whether probable cause exists to bind over the three defendants for trial.
That will take a while.
Thursday's testimony moved slowly, and the state has "a large number of witnesses yet to go," District Attorney Charles Branson said. The hearing is now slated to continue all day Jan. 19, plus the morning of Feb. 8 and the afternoon of Feb. 9.
On Thursday, more than 50 people filled Pokorny's courtroom, including relatives and friends of the victims and the three defendants:
Anthony L. Roberts Jr., 20, is charged with one count of first-degree felony murder, for allegedly killing Brown while attempting to kill others; two counts of second-degree intentional murder in the deaths of Colwin Lynn Henderson, 20, of Topeka, and Tre'Mel Dupree Dean-Rayton, 24, also of Topeka; and one count of attempted second-degree murder for allegedly shooting Tahzay Rayton.
Topeka-based attorney Jennifer Chaffee is representing Roberts. He remains jailed on $1 million bond.
Ahmad M. Rayton, 22, of Topeka, is charged with one count of attempted second-degree murder for allegedly shooting Royelle Hunt. He's also charged with being a felon in possession of a firearm.
Rayton, whose appointed attorney is Michael Clarke, is jailed on $1 million bond.
Dominique J. McMillon, 19, of Topeka, is charged with one count of aggravated assault for allegedly threatening Wheeler with a gun, and one count of battery, also against Wheeler.
McMillon is being held on $25,000 bond. His appointed attorney is J.C. Gilroy.
On Oct. 1, the three defendants and two other friends from Topeka drove to downtown Lawrence.
Hanging out on the northwest corner of 11th and Massachusetts, outside the Watkins Museum, the group encountered a number of people they knew from Topeka, including Wheeler and some of his friends.
An encounter between members of the two groups turned into a brawl, then, according to police, two people started shooting.
One of those was Roberts, who had been flashing a semi-automatic handgun with an extended magazine, witnesses said. Rayton also fired a gun, and McMillon pulled one out, according to testimony.
Wheeler said Henderson, who was his cousin, intervened to help him in the fight and was fatally shot. Wheeler said he also saw Dean-Rayton, a friend, fall.
Two Lawrence police officers stationed less than a block away heard a string of shots, then saw a man firing additional shots as he ran from the corner.
Dash cam video from their patrol car revealed two people were shooting, police testified. One of the officers testified that he saw at least two people shooting as he drew his gun and ran toward the corner.
"I saw multiple shooters, I saw people scattered, and I saw muzzle flashes," Officer Tyler Haney said.
When Haney realized there were casualties, he radioed for backup and changed his focus from catching the gunman to rendering aid.
Here are some highlights from each witness' testimony.
Witness No. 1
The first witness on the stand was a Topeka man who said he was ordered to testify involuntarily. The Journal-World isn't publishing his name because of concerns expressed for his safety.
He met the three defendants and another friend in Topeka earlier that night, and they took two cars to Lawrence.
"We came to Lawrence to have some fun," he said.
They were headed for the Granada, but a concert there had ended, and they sat down to hang out in front of the Watkins Museum.
Wheeler came up to the group and, according to the witness, started a fistfight. Then shots rang out.
The witness ran to the SUV that the three defendants had driven to Lawrence. The defendants jumped in with him, and the group drove back toward Topeka.
The witness said he didn't see anyone firing a gun. After being asked repeatedly by Branson, he reluctantly admitted — with the utterance "mmm hmm" — he did previously tell detectives he saw his friend Roberts shooting.
The witness said Wheeler was close with the 2016 Topeka homicide victims, and holds those victims' deaths against the witness and his friends.
The witness said he assumed that when Wheeler came up to them on the corner, there would be trouble.
Witness No. 2
Lawrence police Detective M.T. Brown previously interviewed the reluctant witness and got a somewhat different story.
Brown said police did not pressure the witness to talk. Rather, the witness is afraid of people known both to the defendants and the opposing group.
"(The witness) is under a lot of pressure, but not by us," Brown said. "He's afraid for his own life. He's been shot 3 times prior to us talking to him, and he's very afraid of being injured over his testimony today."
The witness told Brown that the other friend in his group had been jumped earlier that night in Lawrence, and returned to Topeka to get him and the three defendants.
"He wanted some assistance going back to Lawrence to take out revenge on whoever had hit him," Brown said.
The fight on the corner involved the defendants' group and a group of about eight other men from Topeka, Brown said.
"Once that started, then it was like mayhem," Brown said.
The witness told Brown he saw Roberts on the corner "firing in an easterly direction." Back in the car, Rayton said he'd been shooting, too, the witness told the detective. According to multiple witnesses — in all, police interviewed some 200 people — McMillon also had a gun, the detective said.
Two kinds of bullets were found at the crime scene, Brown said: 9 mm and .40 caliber.
He said the three people who died were shot with 9 mm bullets. Of the two people shot who survived, one was wounded by 9 mm, the other with .40 caliber.
Roberts' attorney, Chaffee, asked the detective: "How many people do you believe shot guns that evening?"
Brown answered: "Two."
Witness No. 3
Tahzay Rayton of Topeka, who was shot twice that night, said he also was ordered to testify involuntarily.
He'd come to Lawrence with his cousin Dean-Rayton and planned to go to the Granada concert but never actually went inside.
Rayton said he went across the street toward the bar Brothers, saw a couple people he knew and "gave out handshakes." He was headed back across the street when he was felled by two gunshots.
He saw his cousin Dean-Rayton shot on the sidewalk. "He wasn't breathing."
Rayton said he took a couple steps, fell again, then reached his cousin and rolled him over, as a woman started CPR. Rayton said he was taken to a hospital with a broken pelvis among other injuries, and stayed a couple of days.
Witness No. 4
Wheeler said he went to the concert at The Granada, where he met Henderson and other friends inside.
Afterward, Wheeler saw the defendants outside the Watkins Museum. He said Roberts was holding and waving a handgun next to his hip — a semi-automatic with extended magazine — and they exchanged words.
"We just kept walking across the street," Wheeler said. "We ain't got no gun."
Wheeler also saw Tahzay Rayton and Tre'Mel Dean-Rayton out in the street, shook hands with them, laughed and kept walking toward Brothers.
Instead of going in the bar, Wheeler returned to the corner where the defendants were, exchanged more words, and said McMillon punched him.
"It stunned me a little bit, and he punched me a second time," Wheeler said. "He tried to pull his gun out on me, and that's when I hit him and his gun dropped."
Wheeler said defendant Ahmad Rayton then joined in the fistfight and tried to pull a gun, so Henderson jumped in to protect Wheeler. Then Roberts started shooting, and Wheeler saw his friend Dean-Rayton "go down."
Wheeler ran.
"I heard bullets, like, whistling past my head," he said.
When Wheeler got to his car — where he'd left his own gun because guns weren't allowed in the Granada — he got a call that Henderson had been shot, and ran back to the scene.
"He was just laying there and he wasn't moving," Wheeler said. "I lay on top of him and squeezed his hand and repeatedly told him to fight, and fight. And he looked me dead in my eyes and kept saying that it hurt."
Wheeler said he used to be friends with the defendants years ago but had a falling out, which had to do with loved ones being killed in Topeka — including the 2016 homicide victims, who he said were his cousin and godsister.
Witness No. 5
Lawrence police Sgt. Michael McLaren said he and another officer were standing next to their patrol vehicles in the Allen Press parking lot when he heard 12 to 15 shots. Probably 200 or 300 other people were outside in the area.
After moving forward to get a better view down the block, he saw a black man in a green shirt fire four or five shots from the northwest corner of 11th and Massachusetts, then take off running toward Vermont Street.
McLaren said he jumped in his patrol car to follow the shooter but lost sight of him near 11th and Vermont.
Witness No. 6
Officer Tyler Haney was next to McLaren when shots rang out. He took off toward the corner to chase the shooter in green on foot.
But as he made his way there, he said, he saw there were "multiple casualties" — or people down — and switched gears.
Haney encountered Brown first.
"I knew that my objective then was to try and save her life," he said.
Instead he believes he heard her last breaths, or perhaps "agonal" breaths as the last bits of air left her body, there on the pavement.
"I tried to perform first aid, tried to locate the bullet wound, unsuccessfully," the officer said. "I did as much as I possibly could."