De Soto boys basketball surges past Holton in first round of Tonganoxie Invitational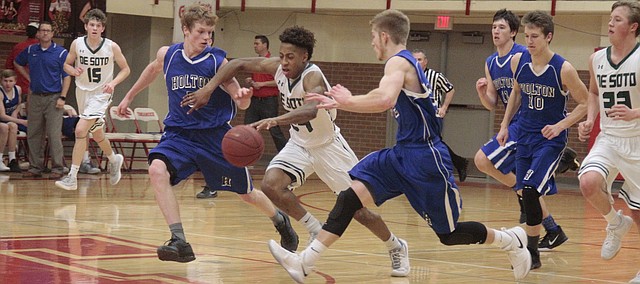 TONGANOXIE — Shots simply weren't falling for the De Soto boys basketball team in the first round of the Tonganoxie Invitational on Monday against Holton, but Matt Rice's players knew that there were other areas of the game that they could excel in to come away with a victory.
Although De Soto struggled from the free-throw line, the Wildcats in green and white had more than twice as many attempts (17 for 29) as the Wildcats in blue (11 for 14). De Soto's defensive pressure also forced Holton to commit 16 turnovers en route to a 37-34 win.
"At halftime we talked about how we weren't attacking. When the ball is not falling, we've got to get the ball into the paint — either by penetration or by the pass — and get to the free-throw line," Rice said. "We talked specifically about getting to the free-throw line in the second half.
"I said, 'Listen. If it's not going to go in, we've got to find a way to win anyway. We've got to pick it up defensively.' And I thought we did. I thought our defensive effort and intensity was a ton better in the second half with guys flying around, getting on the floor and getting their hands on the ball. It was much better."
Senior Jared Baruth paced De Soto (6-4) with 11 points and was one of the most effective DHS players at getting to the charity stripe. Baruth only knocked down 2 of his 10 shots from the field, but made 7 of 8 from the free-throw line. A free throw from Exavier Jackson gave De Soto a 33-32 with 3:49 remaining, and DHS led for the rest of the way. It was De Soto's first lead since 8-7 after Baruth hit a jumper to end the first quarter.
Jackson and Baruth were right in the mix defensively as well. Jackson paced De Soto with three of its 10 steals. Baruth and senior Brannon Bell also had two takeaways.
"It was everything. At halftime, we talked about making a conscious effort to just buckle down and that's what kept us in the game," Baruth said. "If it wasn't for defensive intensity and pumping up the level, there was no way we were going to get back in that game."
De Soto's hustle paid off on the offensive end as well. Rice wasn't pleased with how his team went after it on the glass in the first half, but that changed after the break, too. After getting out-rebounded, 5-0, on offensive boards in the first half, De Soto turned the tables on Holton in the second. De Soto out-rebounded Holton, 6-1, on the the offensive glass in the second half with most of them coming late in the fourth quarter. Three of junior Grant Noll's six rebounds were on the offensive end, and sophomore Luke Millman grabbed two offensive rebounds in the fourth.
"That's one of the stats we talked about at halftime is that they had five offensive rebounds and we had none," Rice said. "I challenged them. I said, 'Fellas, you're standing around watching instead of trying to make plays.' It was huge. There were a couple of times — Luke Millman, Grant Noll both with huge offensive rebounds in the last three minutes that kept possessions alive and made them have to work on defense a little bit longer. It was good."
Noll is still trying to get back into the swing of things after being sidelined in the first semester with a hand injury, but Millman, freshman Nate Barnhart and junior Tyler Barkemeyer were able to step up in his absence. Rice noted that the next three days of practice will be very important for the Wildcats as they continue to try to incorporate Noll back into the lineup.
"We need to practice in a major way. We're still finding our stride with Grant back and finding lineups that will work and a rotation that works best for us," Rice said. "It's a good problem to have. I'm not complaining, but we need some practices to work on some things specifically and to get ready to play likely a really good Wamego team on Friday."
Tonganoxie (1-6) nearly pulled off the upset against Wamego (8-0, No. 3 in Class 4A-I), but the Red Raiders edged the Chieftains, 38-37. De Soto and Wamego will meet at 7:30 p.m. Friday in the semifinals.
DE SOTO (37)
Joseph Schnieders 0-0 0-0 0, Levi Hansen 2-3 2-2 6, Jared Baruth 2-10 7-8 11, Brannon Bell 2-9 0-0 6, Exavier Jackson 1-2 3-8 5, Tyler Barkemeyer 2-2 3-4 7, Nate Barnhart 0-2 0-0 0, Luke Millman 0-0 0-0 0, Grant Noll 0-2 2-7 2. Totals 9-30 17-29 37.
HOLTON (34)
Trey Wright 1-2 0-0 3, Mason Strader 1-9 0-0 2, Parker Gilliland 0-0 0-0 0, Mason Chanay 0-5 7-10 7, Brady Mulroy 0-0 0-0 0, Eli Prine 0-0 0-0 0, Zane Moylan 3-6 0-0 6, AJ Haussler 5-11 4-4 16, Brett Brees 0-0 0-0 0, Brock Forrester 0-0 0-0 0. Totals 10-33 11-14 34.
De Soto 8 2 15 12 — 37
Holton 7 9 10 8 — 34
3-point goals: De Soto 2-14 (Bell 2); Holton 3-17 (Haussler 2, Wright). Fouled out: None. Turnovers: De Soto 7, Holton 16.
More like this story