De Soto girls basketball stifles Silver Lake, 61-42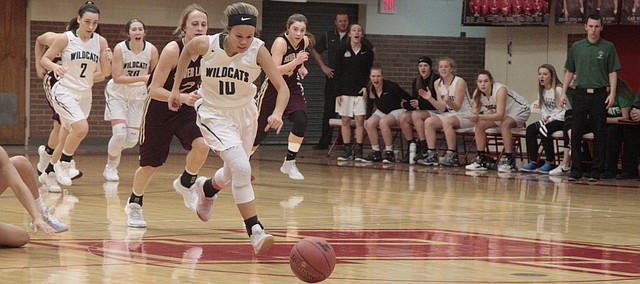 TONGANOXIE — After getting her feet wet at the varsity level last year on a senior-laden team, De Soto guard Mackenzie Shupe has taken her game to the next level in her sophomore season.
Shupe went on one of her patented scoring surges on Tuesday in the Wildcats' 61-42 win over Silver Lake in the first round of Tonganoxie Invitational with 10 of her game-high 19 points in the second quarter.
"Everyone was just finding the open person, swinging the ball, being patient and just waiting for the good shot," Shupe said.
While Shupe has been the go-to option for the Wildcats since senior Mariah Grizzle went down early in the season with a torn ACL, the key to De Soto's recent success has been spreading the wealth offensively. Sophomores Emily Fuhr and LaMyah Ricks joined Shupe in double figures with 13 points apiece.
"We know that she (Shupe) has the capability to score in bunches. She is a phenomenal scorer and if she gets her feet set, she gets hot," De Soto coach Ryan Robie said. "She's really good. They did a nice job in the second half on her and trying to neutralize her and take her away, but then LaMyah and some of our other kids really stepped up and found seems and attacked and got to the rim like we've been talking about."
The sharp-shooting sophomore knocked down back-to-back 3-pointers before driving in for a layup to push the Wildcats' lead to 26-12 in the second quarter, and De Soto led by double digits for the rest of the way.
"I love having someone to count on the entire game," said Ricks of Shupe. "If I have the ball, I can always look for Mackenzie to score."
The Eagles swarmed to Shupe more in the second half, which forced other De Soto players to step up. Ricks did just that by attacking the basket and also helped set the tone defensively by getting her hands in the passing lanes. Shupe led De Soto with four steals, while Ricks, senior Mara Montgomery and sophomore Jordan Diehl added three apiece.
"Defense has always been my strong suit, so helping out on defense a lot usually really helps with the team," Ricks said. "Then everyone else pitches in on defense."
Robie was impressed with the Wildcats' effort on the defensive end — especially in the last three quarters. Despite holding a 13-8 lead at the end of the first quarter, De Soto was whistled for nine fouls to Silver Lake's two. Fuhr and junior Linnea Searls (five points) were whistled for two fouls apiece in the first quarter, but Robie was pleased with how his team kept its poise while still playing solid defense.
"I challenged the kids early on and I said, 'Look, sometimes foul calls don't go our way.' We've got to play with poise and maturity," Robie said. "It's hard to say that to a bunch of sophomores. They rose to the challenge tonight. I told them in the locker room that if we play like that, we're going to be really tough to beat."
Foul trouble was the only thing that was able to slow down Fuhr, who had seven points in the first quarter. Fuhr's teammates have enjoyed feeding her the ball in the post.
"She's gotten so much stronger and more confident with the ball," Ricks said. "It helps a lot after losing Mariah because she's stepped in and took a big part of leadership."
The Wildcats (8-2) advanced to the Tonganoxie Invitational semifinals, where they will take on Bonner Springs (3-7) at 3 p.m. Friday. Silver Lake (1-8) will play Metro Academy (7-8) in the consolation semifinals.
"They pose a different challenge," Robie said of the Braves. "They've got a nice big kid and some guards that can shoot the ball. We're going to have to show up, but I feel good with my group as long as they're playing how they're supposed to be playing."
DE SOTO (61)
Mara Montgomery 0-2 0-0 0, Jordan Diehl 1-3 6-6 8, Olivia Collins 0-0 0-0 0, LaMyah Ricks 5-12 3-8 13, Linnea Searls 2-7 1-3 5, Ellie Bream 1-5 0-2 3, Mackenzie Shupe 7-13 3-3 19, Katelynn Ostronic 0-0 0-0 0, Emily Fuhr 4-5 5-8 13. Totals 20-47 18-30 61.
SILVER LAKE (42)
Taylor Burkhardt 1-2 0-2 3, Marissa Bates 4-16 2-3 12, Saylor Steele 1-2 0-0 3, Saige Steele 2-3 0-1 4, Jayme Lindstrom 0-0 6-8 6, Lyndsey VandeVelde 1-2 2-3 4, Daryn Lamprecht 2-8 2-4 6, Nicole Gerber 2-3 0-0 4, Macey Clark 0-1 0-0 0. Totals 13-37 12-21 42.
De Soto 13 20 14 14 — 61
Silver Lake 8 7 14 13 — 42
3-point goals: De Soto 3-14 (Shupe 2, Bream); Silver Lake 4-12 (Bates 2, Burkhardt, Saylor Steele). Fouled out: Mackenzie Shupe, DHS. Turnovers: De Soto 14, Silver Lake 23.
More like this story