Gillian Flynn honors English teacher, inspires students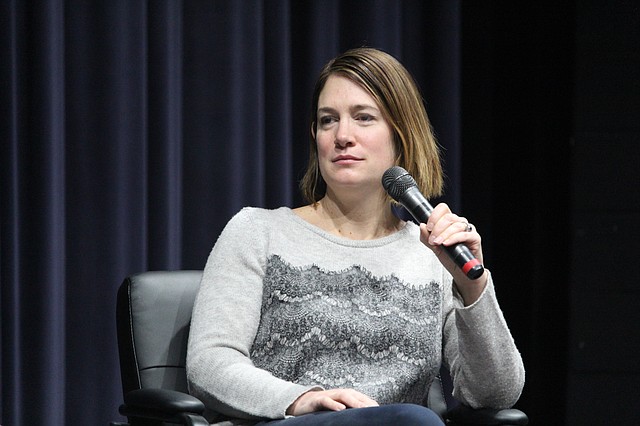 "Thank you."
It's such a simple phrase, but for an educator, the sentiment behind it means everything.
When those words are uttered by one of the most famous writers in the world, it may also seem a bit surreal.
Just ask Craig Ewing.
The St. Thomas Aquinas High School English teacher came face-to-face with one of his former students, bestselling novelist Gillian Flynn, last week. In the main lobby of St. Thomas Aquinas, she gave him a big hug and thanked him for encouraging her to pursue a writing career.
Overcome with pride and emotion, Ewing couldn't stop smiling.
The #1 New York Times Bestselling author of "Gone Girl" was in Ewing's Honors English class back when he taught at Bishop Miege High School in the mid-1980s.
He has been following her career diligently over the past decade and to this day he insists she remains one of the strongest writers he's ever taught in an English class.
"She definitely stood out because her words had a wonderful rhythm," Ewing told the Dispatch. "She was the type of student where you had to put her pages at the bottom of the pile because you knew none of the others you read beforehand would compare."
Flynn dropped by St. Thomas Aquinas on Friday morning to catch up with her former English teacher and also discuss her career and writing process during an exclusive Q&A presentation.
Honors English students from St. Thomas Aquinas, Bishop Miege, St. James Academy, Sumner Academy, Maur Hill Mount Academy, Hayden, and Blue Valley West were in attendance.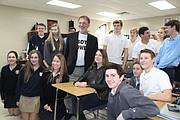 Flynn, who graduated from Bishop Miege in 1989, told the Dispatch she was thrilled to be able to honor Ewing, who she said made a huge impact on her life.
"He inspired me and made me feel special," she said. "It was nice to be able to thank him in person."
She also felt it was important to show young writers from the Kansas City area that someone from their neck of the woods can have success.
After all, she pointed out, you don't need to live on either coast to have a pathway to a literary career.
Flynn grew up in Kansas City, Mo. and she currently lives in Chicago.
She told the Dispatch she was impressed by the caliber of questions asked during the presentation. Many of the questions focused on her writing process.
"I thought the questions were absolutely brilliant," she said. "I've been asked questions over and over again for 10 years or so and some of their questions actually made me stop and think."
The admiration was mutual.
Kelli Byrd, a St. Thomas Aquinas senior, said she wasn't expecting Flynn to be so friendly and down-to-earth because of the dark material in her novels.
It was a pleasant surprise for the 17-year-old writer who is a current student of Ewing.
"I have a passion for English and writing, so I was really excited to meet her," Byrd said. "I connect with her style of writing because it is very character-based and conversational."
Andrew Schoonover, the St. Thomas Aquinas senior who helped lead the panel discussion, agreed it was amazing to have the thriller novelist take time to visit the school and meet with students.
"She's a big deal and she's a hometown hero, which makes her a great inspiration for so many young writers," he said. "I've heard so much about her, I felt like I already knew her. She's a great person."
Here are a few key moments from the Gillian Flynn panel discussion:
Surviving high school
She's now one of the most famous novelists of the 21st century.
But 30 years ago, Flynn was an extremely shy high school student who avoided being the center of attention.
It's a quality that allowed the young writer to find her inner voice.
Plus, it helped her become a natural describer, a quality that would one day engage readers around the world.
"I wasn't a hand-raiser and I think I got overlooked a lot," she said. "I was someone who watched a lot. If you want to know what's going on in any situation, whether it be classroom, school or party, find the quiet person. The quiet person has not been yammering the whole time and not trying to get everyone's attention. That person has been watching what's been going on."
She told the students not to feel bad if they're not the star of the show or always the biggest voice in the room.
After all, she added, you don't need a giant voice to be heard. It's about finding out what you love and doing it well.
From journalist to novelist
Flynn received journalism degrees from the University of Kansas and Northwestern University, and afterwards, she was hired by Entertainment Weekly.
It was the perfect career for Flynn, a self-proclaimed pop culture geek.
Her fiction writing career catapulted when she was laid off from the magazine in 2008.
The mother-of-two credits her reporting career for demystifying the whole writing process.
It taught her how to write every single day, a practice vital for aspiring novelists.
More importantly than talent, a writer needs to be stubborn, she said, because writing a book is just like any other job. It requires long hours and dedication.
"I don't know if I would be a novelist if I hadn't been a journalist first," she told the audience. "Writing really is like exercise. You can't do it once or twice a week and expect it to happen. You need to be committed."
Writing 'Gone Girl'
A husband accused of murder. The Midwest.
Before she even put pen to paper, or fingers to keyboard, those were two themes swirling in Flynn's head.
As a Kansas City area native, who has ties to both sides of the state line, it may not be a surprise Flynn chose to set her novels in Kansas or Missouri.
But her decision to set her novels in the Midwest is more than just honoring her roots.
It's about tackling un-chartered thriller novel territory.
Not many books take place in either state, and she wanted to change that fact.
As for the plot, it wasn't that easy.
Flynn's fascination about husbands being the main suspect when their wife disappears fueled her vision for the book.
But she wrote 14 versions of 'Gone Girl' before settling on what was eventually published.
Embracing the 'darkness'
It's a question Flynn frequently faces: what inspires her to tackle such dark subject matter?
In "Gone Girl," a husband is the prime suspect in his wife's disappearance. In "Dark Matter," the novel's protagonist is the sole survivor of a horrific massacre. In "Sharp Objects," the main character investigates the murder of two pre-teen girls.
Friendly and down-to-earth, Flynn appears to be a far cry from the twisted characters in her mystery novels.
As the daughter of a film professor, she grew up watching Alfred Hitchcock movies. As a teenager, she was heavily influenced by "In Cold Blood" and Edgar Allen Poe's work.
In the end though, it just comes down to her own preference.
"Some people are born wanting to see what's under the rock," Flynn said. "To me, that's always been more interesting. When I was growing up and playing with my cousins, I didn't want to be the princess, I wanted to be the witch. She has more of a back story."
She also advises budding writers to never censor their work.
"Write what you need to write," she said. "Give yourself that first draft. It's really dangerous early on to worry if something is too dark or 'what is grandma going to think?'"
Starting a new chapter
Flynn has a busy year ahead. She is currently working on the first draft of her next novel.
The HBO series, "Sharp Objects," based on her novel, is set to hit television screens this summer.
She also helped write a screenplay for the film "Widows," which is being directed by "12 Years a Slave" director Steve McQueen. It is set to be released late this year.