"

It's we score, not who scores": Unselfish Jaguars upend Lansing in top-two showdown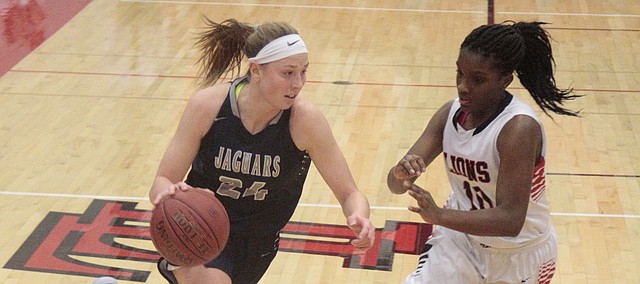 LANSING — With nearly three minutes gone in the third quarter of the second-ranked Mill Valley girls basketball team's showdown against top-ranked Lansing, Jaguar junior Claire Kaifes still hadn't taken a shot, but one wouldn't have known it by the huge smile she had on her face.
Kaifes had the opportunity to change that when she had an open look at a 3-pointer at the top of the key, but she instead found senior Evan Zars down low for a layup. The bucket from Zars pushed the Jaguars' lead to 20 with 5:12 remaining in the third quarter and forced a Lansing timeout. The Jaguars kept right on rolling, though, on their way to a 55-36 victory.
"It's hard to fathom sometimes in this day and age. I don't think any of them really care (about personal stats)," Mill Valley coach Drew Walters said. "It's taken us a long time to get there, but at the end of the day they just care about winning. Yeah, they like to score, but they don't care. We share the ball really well. It's we score, not who scores."
Right after the timeout, the Jaguars (8-1) forced a turnover and they cashed in on it when Kaifes fed Zars in the post again for two. The Lions (8-2) ended the 8-0 run to begin the second half when senior Megan Ernzen knocked down a free throw with 3:53 to play in the third. But once again, the Jaguars had an answer. This time when Kaifes got the ball on the wing, she finally took her first shot and drained it from behind the arc. Kaifes finished with five points, five assists, eight rebounds, two steals and a block.
"I feel like that's kind of the mentality of our team," Kaifes said. "You know once you get a good shot and even if you're not a part of it you know, 'Oh, that's a great shot.' It just boosts your offense more."
The Jaguars did a bulk of their damage in the paint between Zars and junior Trinity Knapp with 14 and 11 points, respectively, but junior guard Presley Barton led the way with 16. Barton drained three of the Jaguars' four 3-pointers.
"I thought we played really well for the majority of the game. We're doing a lot of good things — both offensively and defensively," Walters said. "Right now we're just really together and we keep sharing the ball really well. It's a different person every night it seems like that steps up for us in terms of different areas. We keep continuing to play well on both ends. It's nice."
While the Jaguars spread the wealth on the offensive end, they also made life difficult for the Lions with their defensive pressure. The Jaguars held the Lions to 18 points through the first three quarters.
"We really worked on jumping to the pass because they run a lot of read and react, so we had to take away the initial cut," Zars said. "After that we just had to work on help defense and move our feet."
Tuesday's contest against Lansing marked the first of two games for the Jaguars this week against state-ranked teams in out-of-league play. Next up for the Jaguars is a road tilt with Washburn Rural (6-2, No. 4 in Class 6A) at 7 p.m. Thursday.
"I've seen them a few times. They have a very talented forward — Carly Bachelor," Walters said. "They've got some shooters around her. It will be a great test. We're going to travel to Topeka to find out. I think they're really good and hopefully we come to play that night because we'll need to."
Although the Jaguars see a lot of stiff competition in the Eastern Kansas League, they're excited about going up against different teams that will pose them different challenges.
"I think that's why we like playing out-of-league games because it really shows our weaknesses more and shows what we need to get better at," Kaifes said. "In practice it will help us."
LANSING (36)
KenaDee Sommerla 0-0 0-0 0, Trinity Richardson 0-1 0-0 0, Megan Ernzen 1-9 3-4 6, Taylor Lang 5-16 0-1 12, Gerenda Smith 4-10 2-4 10, Regan Gatson 2-8 2-3 6, Kennedy Farris 0-1 0-0 0, Samantha Moburg 1-1 0-0 2. Totals 13-46 7-12 36.
MILL VALLEY (55)
Avery Altman 0-1 0-0 0, Presley Barton 5-10 3-5 16, Lexi Crocker 1-1 0-0 2, Ella Shurley 0-1 0-0 0, Adde Hinkle 1-4 0-0 2, Trinity Knapp 5-8 1-1 11, Lexi Ballard 0-2 1-2 1, Sydney Stuke 0-0 0-0 0, Claire Kaifes 2-2 0-0 5, Evan Zars 6-8 1-3 14, Payton Shurley 1-3 2-2 4. Totals 21-40 8-13 55.
Lansing 4 8 6 18 — 36
Mill Valley 9 17 18 11 — 55
3-point goals: Lansing 3-13 (Lang 2, Ernzen); Mill Valley 5-12 (Barton 3, Kaifes, Zars). Fouled out: None. Turnovers: Lansing 11, Mill Valley 13.
More like this story