Mill Valley wrestling falls to
BVSW

, 33-29, in top-five dual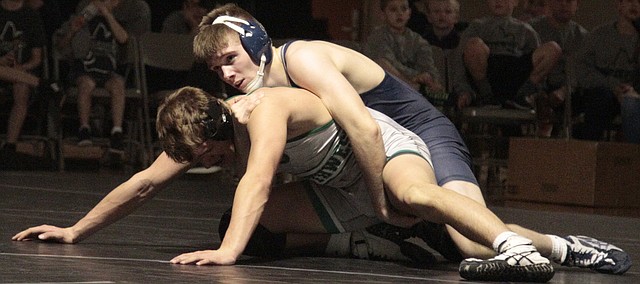 OVERLAND PARK — After Blue Valley Southwest earned a one-point dual victory over the Mill Valley wrestling team on the Jaguars' senior night last year, Travis Keal's squad hoped to turn the tables on the Timberwolves on Wednesday at their place.
The Jaguars (ranked No. 5 in Class 5A) went down to the wire with the Timberwolves (No. 3 in 5A) again on Wednesday, but they came up just short — falling to their Eastern Kansas League foe, 33-29.
While the Jaguars were disappointed to drop another close dual to the Timberwolves, Keal saw the progress he was hoping for from his wrestlers in most of the matches.
"We had some matches where we were the underdog and we just scrapped with them and dang near beat them at a couple of weights," Keal said. "They're a good team and we were right there with them. It's January 17th and we've got to continue to get better."
Mill Valley won six of the 14 matches and owned a 29-24 lead with two weight classes remaining. The Jaguars had momentum on their side, too, with freshman Ethan Kremer earning a last-second pin against Jaren Williams at 195 pounds. Kremer had a 3-2 lead at the time, but the pin gave the Jaguars six points instead of the three he would have had with the win by decision.
"He just keeps wrestling. That's what happens when you keep wrestling and someone stops," said Keal of Kremer, who is ranked No. 5 in 5A at 195 pounds. "He got a pin and it gave us a chance."
Although the five-point lead put the Jaguars in a good position, the Timberwolves still had senior Cordel Duhart looming in the 285-pound match. Duhart is ranked No. 1 in 5A at 220 pounds, but wrestled up a weight class on Wednesday.
Keal made a late lineup change to have junior Christian Roth wrestle against senior Evan Ludwig at 220 pounds and Derek Wiedner take on Duhart. Roth jumped out to a 2-0 lead in the first period against Ludwig, but the BV Southwest senior took control from there to win the match by an 8-2 decision. Ludwig's victory cut the Jaguars' lead to 29-27 entering the final match between Wiedner and Duhart. The BV Southwest heavyweight pinned Wiedner late in the first period to clinch the dual for the Timberwolves.
"I thought we wrestled with intensity. I thought we wrestled hard," Keal said. "It was a good environment, hostile environment. To come in and wrestle a good team and compete hard is what I like to see."
Keal's sons, Zach and Austin Keal, started off the dual for the Jaguars at 106 and 113 pounds, respectively. After a scoreless first period, Zach Keal got a reversal after starting the second on bottom to take a 2-0 lead against Daniel McMullen. With Keal and McMullen ranked third and fourth, respectively, in 5A at 106, the Mill Valley coach figured the first match would go the distance. Zach ended up getting a third-period pin, though, to jump-start the Jaguars.
"I knew that was going to be a close match. Those kids have wrestled together in the summer," Travis Keal said. "Zach, he competes. You've got to wrestle all the way through or he's going to find a way to get you."
In the 113-pound match against Justin Williams (No. 3 in 5A), Austin Keal nearly kept the Jaguars rolling as he jumped out to a 4-2 lead in the first two periods. Williams got an escape to cut the deficit to 4-3 to begin the third and then notched his first takedown midway through the period to pull out the 5-4 win by decision.
"He lost to that kid, 8-2, back in December and that kid is a state-placer and a senior. He wrestled him hard," said Travis Keal of Zach Keal. "I thought a lot of guys did that. Max Whisler wrestled a hard match and Brodie Scott. Those guys are a little bit better than them. They're state placers, but I thought they wrestled really hard. Eli Midyett wrestled hard."
The Timberwolves then sent their third straight state-ranked wrestler to the mat in sophomore Brandon Madden (No. 4 in 5A at 120 pounds) to go up against Mill Valley senior Devon Handy. The Mill Valley senior trailed 9-0 in the third period, but Madden earned the Timberwolves two more points when he pinned Handy with 28.5 seconds left.
Southwest junior Joseph Dennison pushed the Timberwolves' lead to 12-6 with a 9-4 win by decision over Whisler, but the Jaguars were able to get back on track with the heart of their lineup coming up. Seniors Bryson Markovich (No. 6 in 5A at 132 pounds) and Jarrett Bendure (No. 1 in 5A at 152 pounds) both won by major decision, while senior Conner Ward (No. 1 in 5A at 145 pounds) won by injury default.
Markovich got a late takedown to earn his major decision with a 13-4 victory over junior Jacob Boone. The Timberwolves did get three points back when Seth Nitzel (No. 4 in 5A at 138 pounds) edged Scott by a 5-0 decision, but Ward and Bendure turned in dominant performances to put Mill Valley up 20-15 through eight matches. Ward won by injury default at the end of the second period when Riley McCall (No. 3 in 5A) was unable to continue. Bendure shut out Matthew Stack, 8-0, for his major decision.
The Timberwolves surged back in front, 24-20, following Drew Hill's 7-3 win by decision over against Midyett at 160 pounds and Nick Arend's first-period pin of Mill Valley junior Travis Babcock at 170 pounds.
That set the table for another Mill Valley senior Hayden Keopke to get the Jaguars back on track in the 182-pound match against Adnan Bayazid. Keopke became the fourth Mill Valley senior to walk off the mat victoriously when he won a 10-3 decision.
"It's great. They're just great leaders and great kids," said Travis Keal of his seniors. "They want to do good. We've got about a month-and-a-half to get them to reach their goals."
While the Jaguars came up short against the Timberwolves, they'll get a chance to honor, Keopke, Bendure, Ward, Whisler, Handy and the other seniors at 6:30 tonight in Mill Valley's senior night dual against Leavenworth. It will be the third and final dual for the Jaguars this season as they start to start up for postseason tournament action. The Jaguars are 1-1 in duals this season after defeating Blue Valley, 55-8, on Jan. 3 and falling to BV Southwest on Wednesday.
More like this story