Officers testify about chaos, life-saving measures in aftermath of downtown Lawrence shooting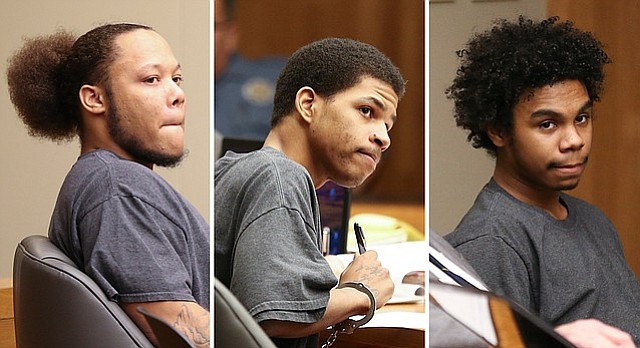 The first Lawrence police officers to reach two men fatally shot on a Massachusetts Street sidewalk described a scene of chaos, panic and hostility during testimony Friday morning at a hearing in the downtown triple-murder case.
"It was one of the most chaotic situations I've ever actually been in," said longtime Lawrence police Officer Michael Shanks, who pushed through a crowd to reach Colwin L. Henderson III in the minutes after the shooting.
"People were surrounding him, there was a mass of people who both appeared to be trying to help him, trying to revive him, a lot of people were just standing around videotaping, using their cell phones to record him and his surroundings. There was a mass of people who were standing around just looking."
Friday was the second day of a joint preliminary hearing for three men charged in connection with the incident, in which gunfire left three dead and two others wounded about 1:40 a.m. Oct. 1 at the intersection of 11th and Massachusetts streets.
Witness testimony will be continued, tentatively on Feb. 8, in Douglas County District Court Judge Sally Pokorny's courtroom. At the conclusion of the hearing, Pokorny will determine whether there's probable cause to bind over the defendants for trial.
At Friday's hearing, close to 50 people, including relatives and friends of both the defendants and the deceased, filled the courtroom. Additional law enforcement officers have been positioned in the courtroom for security throughout hearings so far.
• • •
Shanks' push through the crowd to reach Henderson happened on the 11th Street sidewalk just west of the former Englewood Florist building.
Meanwhile, across the street at the northwest corner of 11th and Massachusetts streets outside the Watkins Museum of History, Lawrence police Officer Matt Roberts rushed into another crowd of people and discovered Tre'Mel D. Dean-Rayton on the ground with a gunshot wound to his chest and no signs of life. Lying next to Dean-Rayton was Tahzay Rayton with a gunshot wound to his leg.
"I instructed others to perform first aid on Mr. Rayton while I was doing chest compressions on Mr. (Dean-Rayton)," the officer testified Friday.
Roberts said he continued chest compressions until medics arrived and took over, then began helping cordon off the area and man the perimeter of the crime scene.
Shanks made an under-pressure decision to take a different approach with Henderson.
With help from a couple bystanders, he and another officer picked up Henderson and put him in the back of Shanks' patrol car.
"We had to actually push people over in order to get past them in the crowd," Shanks said.
Shanks drove Henderson to the Lawrence Memorial Hospital, and said he arrived in less than 3 minutes and helped medics put Henderson on a gurney.
On his way into the crowd, Shanks said he had his weapon drawn because he'd heard people screaming and comments about somebody having a gun.
After pulling people away to get through, instead of finding a gunman in the fracas, Shanks found Henderson on the ground with a gunshot wound to his upper chest.
Shanks said he tried to assess Henderson for signs of life on the sidewalk, but could not do so with certainty because too many people were touching him, crowding in and refusing orders to back off. At one point he said he saw Henderson's eyes flutter.
"The individual was being touched by so many other people, I couldn't assess a pulse," Shanks said. "I couldn't tell whether it was actually him or other people touching him ... It was difficult."
Shanks said he felt he couldn't wait to get Henderson to the hospital.
"He was on what I believed to be the edge of life, and this would be his only chance of survival," Shanks said.
"The crowd was so hostile and so crowding in, I was concerned about all of our safety, in terms of the officers," he said. "I thought we needed to get the individual out of there."
• • •
Officer Brett Schneider also headed for the scene as soon as the shots fired call went out, at 1:39 a.m.
He parked his patrol car to try to block vehicle traffic from the intersection, he said, and encountered hundreds of people on foot.
He, too, described the crowd as "chaotic" and unruly, with people running and things being thrown. It took him a while to spot anyone else in uniform.
"It was so loud, the volume of voices was so loud I couldn't hear my radio," Schneider said. "Nobody was listening to any orders."
Schneider said he located the officer who was tending to the third mortally wounded victim, Leah E. Brown, and stood behind that officer to ensure his safety, as that officer had been solo until that point.
Schneider noted that, even as a uniformed police officer wearing a rifle, he had difficulty securing the area around Brown.
"It took me probably 15 minutes to tell people to back away from a deceased body that was lying on the street," Schneider said.
• • •
The scene at Lawrence Memorial Hospital also was chaotic, police officers testified.
Shanks said another large group of people had gathered in the hospital waiting room as shooting victims arrived.
He spoke with a number of people but not all were cooperative, he said. Shanks said some were asking about the conditions of victims but refusing to provide police with their names.
One person Shanks interviewed was Royelle Hunt of Topeka.
Hunt, one of the two gunshot victims who survived, had been shot in the leg and was not forthcoming with information, Shanks said.
"He told me he was just standing in the area, he didn't know anything at all," Shanks said.
Shanks said he also talked to Topekan Robert Wheeler at the hospital, who testified last week that he was involved in a fistfight with the defendants that turned into a shooting. Wheeler also testified that Henderson was his cousin, and that he was one of the people who helped get him in the patrol car at the scene.
Shanks said that while Wheeler seemed "distraught" and "broken up" at the hospital over Henderson being shot, he told the officer at that time that he didn't know what had happened on Massachusetts Street.
• • •
Day 1 of the preliminary hearing, on Jan. 11, revealed that a fistfight and the ensuing gunfire involved more than a dozen young men from Topeka who knew each other — and some of them had bad blood stemming from past violence and social or family connections in Topeka.
According to testimony several of those men and Lawrence police officers gave on Jan. 11:
The three defendants and two other friends from Topeka drove to downtown Lawrence. Hanging out on the northwest corner of 11th and Massachusetts streets, outside the Watkins Museum of History, the group encountered a number of people they knew from Topeka.
An encounter between members of the two groups turned into a brawl, then a string of close to 20 gunshots was fired.
Though some testimony was contradictory, witnesses statements indicated that all three defendants had guns and that at least two of them were shooting. The group ran to an SUV and headed back toward Topeka.
Two police officers stationed on foot across the street when the shooting happened tried to chase suspects but did not catch anyone at the scene. Police quickly turned their focus toward life-saving measures for the victims left bleeding on the pavement.
All the defendants and victims were connected in some way, either by acquaintance or blood, except one — 22-year-old Brown of Shawnee. According to family and witness accounts, she was an uninvolved bystander fatally shot by a stray bullet.
Henderson, 20, and Dean-Rayton, 24, were both Topeka residents.
The defendants and the charges against them are as follows:
Anthony L. Roberts Jr., 20, of Topeka is charged with one count of first-degree felony murder, for allegedly killing Brown while attempting to kill others; two counts of second-degree intentional murder in the deaths of Henderson and Dean-Rayton; and one count of attempted second-degree murder for allegedly shooting Tahzay Rayton. Topeka-based attorney Jennifer Chaffee is representing Roberts. He remains jailed on $1 million bond.

Ahmad M. Rayton, 22, of Topeka, is charged with one count of attempted second-degree murder for allegedly shooting Royelle Hunt. He's also charged with being a felon in possession of a firearm. He is jailed on $1 million bond, and his appointed attorney is Michael Clarke.

Dominique J. McMillon, 19, of Topeka, is charged with one count of aggravated assault for allegedly threatening Wheeler with a gun, and one count of battery, also against Wheeler. McMillon is being held on $25,000 bond. His appointed attorney is J.C. Gilroy.
• • •
Lawrence police stopped the SUV with all three defendants inside heading west out of town less than 15 minutes after the shooting, but let the group go, two officers testified Friday.
Officer Ian McCann said he pulled over the black Kia SUV for a traffic violation, specifically an invalid tag, on West Sixth Street almost to Kansas Highway 10.
After seeing four men inside, including one who had a gun on his hip, McCann had the occupants put their hands on the ceiling and radioed for backup. Officer Narissa Dunn arrived shortly.
The men cooperated as officers asked them to get out of the car, got their IDs, frisked them and asked them to sit on the curb.
They all gave the same story, that they'd been in town visiting one of the men's aunts.
The officers took the gun from Roberts, disarmed it and kept it throughout the stop. The gun, a Glock 9 mm, was fully loaded, with 10 bullets in the magazine and one in the chamber, Dunn testified. She checked the serial number in the national database, which indicated the gun was not stolen, she said.
Notably, other officers previously testified they saw a man in a green shirt shooting on Massachusetts Street. McCann said Roberts was wearing a navy blue shirt and Ahmad Rayton had on no shirt and was "sweating profusely" when he first stopped the car, then put on a white one.
No one else in the car had a gun on them, and the officers said they did not see any guns or additional ammunition as they looked inside the SUV. They did not ask for consent to search the interior of the vehicle.
McCann said he did not have "reasonable suspicion" to delay the men further.
Dunn said the officers found no "specific ties" to the shootings reported shortly before the stop.
"I had no further reason to detain the subjects at that point, and we had calls for service pending, so it was resource management," Dunn said.
Roberts' gun and bullets were returned to him, and the four men were released to go on their way.
• • •
One witness Friday underlined previous testimony about a fistfight that happened in Lawrence hours before the fatal shootings on Massachusetts Street — but did so reluctantly.
Toiyonte Hunt is the brother of Royelle Hunt, one of the men who was shot but survived. Toiyonte Hunt, currently incarcerated in Shawnee County in a different case, told the court he was not testifying voluntarily.
Toiyonte Hunt said he and two other cars of people had come from Topeka to go to a concert at the Granada that night. In addition to Royelle Hunt, shooting victim Henderson was in that group.
Around 10 p.m., one of Toiyonte Hunt's friends hit another man they knew from Topeka, "'cause they don't like each other, I guess," Toiyonte Hunt said. He said this happened behind him and he didn't see it. He did see the man his friend hit lying on the ground afterward, he said.
Last week's testimony indicated that the man who got punched outside the Granada prior to the concert then went back to Topeka, where he met up with the three defendants and returned with them to downtown Lawrence later that night to get revenge.
Toiyonte Hunt said he saw all three defendants on the corner of 11th and Massachusetts streets that night, but was reluctant to identify them in the courtroom, despite being prodded multiple times by prosecutors.
Parts of Toiyonte Hunt's statements were unintelligible, but he repeatedly said that after the 1:40 a.m. fistfight he only heard gunfire and never saw anyone shooting.
• • •
Friday's witnesses also included Douglas County Coroner Erik Mitchell.
Each of the three homicide victims was killed by a single gunshot wound to the chest, causing "massive" internal injuries and blood loss, Mitchell said.
One victim, Henderson, also had a second gunshot wound, which went through his calf, Mitchell said.
Mitchell said he could not tell from the medical examinations whether a single weapon caused all of those wounds.
The gunshot wounds were perforating — meaning bullets entered and exited, and did not remain inside the bodies, Mitchell said.
Mitchell said he retrieved two metal fragments from Henderson's leg but no bullets from any victim.