SMNW

's Burris 2nd at

FSHS

Invitational;

SJA

's Lawrence,

MV

's Laluk lead respective teams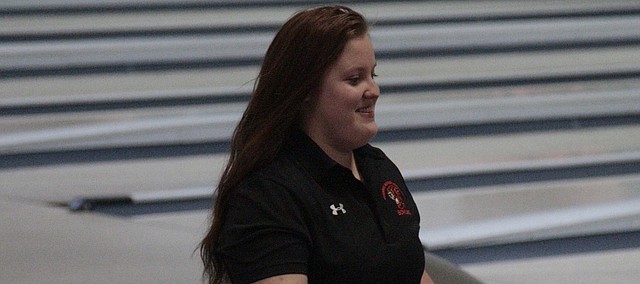 LAWRENCE — The Free State Invitational girls bowling tournament mixed the best of both worlds for Shawnee Mission Northwest senior Alaina Burris on Friday at Royal Crest Lanes.
Burris finished as the individual runner-up with a three-game series of 629 to help the Cougars clinch a spot in the match play portion of the tournament. The only bowler who bested Burris in the three traditional games was Topeka West senior Makaila Cowdin, who rolled a 638 series. Burris won't have to worry about competing against Cowdin for much longer since they will be teammates at the next level at Ottawa University. After the three traditional and four Baker games, Burris and Cowdin went head-to-head in the quarterfinals of match play in the No. 4 vs. No. 5 pairing.
"Bowling against Topeka West, I'm bowling with one of their bowlers next year at Ottawa," Burris said. "Just going head-to-head with them and actually being in match play this year, it was nice."
The fourth-seeded Cougars got off to a fast start by winning the first Baker game in the best-of-three series, but the Chargers rallied for a 149-161, 195-157, 143-118 victory. The loss to the Chargers didn't take away from how Burris felt the Cougars bowled throughout the tournament.
"We're all improving. Everyone is getting better and more consistent," Burris said. "We're working on more spares at practice so we stay more consistent. Everyone is just moving up and stepping up from last year."
That consistency was evident with the individual game scores of the Cougars' top three bowlers. The difference between the high and low games for Burris, Hadley Sayers and Cheyenne Bolin was 15 pins or less. Sayers joined Burris in the top 25 after placing 22nd with a 496 series. Bolin was four pins away from cracking the top 25 with a 483 series.
The Free State Invitational girls tournament was originally scheduled for Jan. 11, but was postponed to Friday due to inclement weather. The schedule change meant three straight days of competition for the SM Northwest girls. The Cougars started off the three-day grind with a first-place finish in their triangular on Thursday at Park Lanes. The SM Northwest boys also won to make it a sweep for the Cougars.
Burris won the triangular with a 556 series after posting a Game 1 score of 263 — just five pins off of matching her career-high.
"It was good. I like it, especially since it was my very first game for this year," Burris said. "Bowling that, I was like, 'That's a great start to senior year.' It's a great way to start off my last year for Northwest."
The SM Northwest senior had to battle through an ankle injury in the second and third games on Friday, but showed no ill effect of it on Saturday. Burris posted scores of 213, 204 and 212 at the Free State Invitational.
"I went home, I wrapped it and I put ice on it and I got a lot of sleep last night to be ready for today because we needed to be at school by 6:30," Burris said.
The Cougars are wrapping up their three-day stretch today at Olathe Lanes East.
Mill Valley 10th, St. James 11th
The Mill Valley and St. James Academy bowling teams finished 10th and 11th, respectively, at the end of the three traditional and four Baker games — just missing the top eight for match play.
Bri Laluk and Abby Berner led Mill Valley with respective series of 459 and 451, and Emily Jackson was close behind with a 443 series. Laluk got better as the tournament went on with scores of 141, 151 and 167, but was hoping that she would have gotten off to a better start.
"Today was rough, but I feel like if I practice more that I'll get better, hopefully," Laluk said.
The Free State Invitational marked the third meet of the season for the Jaguars. Laluk highlighted a strong start to the season for the Jaguars by leading them to first place at their first meet on Jan. 9 at Park Lanes. The Jaguars had a little bit of a harder time finding their marks on Tuesday at Crown Lanes and Friday at Royal Crest Lanes, but Laluk believes that more pins will fall as they get into the swing of things.
"We're getting used to it," Laluk said. "I feel like we're going to get better as the season continues and as we practice more, but we're just starting off."
Laluk has some goals that she's set for herself to serve as some motivation going forward.
"I'm really trying to get my average up and hopefully get a 600 series as much as I can," Laluk said.
The Jaguars will be back in action at 3:15 p.m. Monday at Olathe Lanes East.
St. James finished 49 pins behind the Jaguars to finish 11th out of 16 teams. Carey Lawrence cracked the top 25 for the Thunder with a 12th-place series of 534, which served as a pleasant surprise for St. James' top bowler.
"It was really cool. I was not expecting it," Lawrence said. "I was so tired coming in, but I was like, 'You know what? I'm just going to bowl my best and just hope that it's good enough.'"
Lawrence's best game came in Game 1 with a score of 210. She fell off in Game 2 with a score of 143, but bounced back with a Game 3 total of 181 to round out her series. While Lawrence was pleased with her personal performance, the four Baker games were her favorite part of the tournament.
"We really like Baker because it's not as individual," Lawrence said. "It's all team and we get so loud. It's so fun."
Lawrence, Meredith Bierbaum and Marion Farnet are all varsity returners for St. James. Bierbaum and Farnet finished as the second and third best bowlers for the Thunder with respective series of 452 and 408. Lawrence has enjoyed leading the team with Bierbaum and Farnet.
"We've only had a couple of practices, so it's really cool to see our JV grow and have such a passion for wanting to learn how to be good," Lawrence said. "It's really cool."
St. James also returned to action today with SM Northwest at Olathe Lanes East.