Maranatha wins McLouth Invitational boys basketball tournament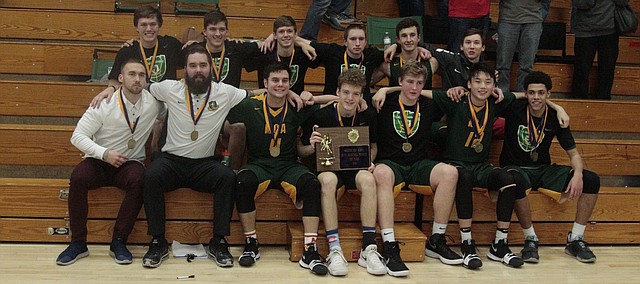 McLouth — There was no stopping Maranatha Christian Academy sophomore Jonathan Jackson in the first half of the McLouth Invitational championship game on Saturday.
Jackson torched the nets with four 3-pointers in the first quarter and then attacked the basket in the second to score 26 of his 30 points in the first half of the Eagles' 77-64 victory over McLouth.
"My teammates got me open and I started hitting," Jackson said. "I was just trying to do my best."
While the mid-season tournament championship meant a lot to Jackson and the Eagles, they're more focused on becoming the best team that they can be by the time postseason play begins. Jackson knows that he has the ability to put up some eye-popping numbers, but he believes the Eagles will be a better team if everyone is contributing.
The Maranatha sophomore didn't even take a shot in the second half until the 1:30 mark of the third quarter, but the Eagles extended their lead anyway.
"That's just the way we play. We don't really care about who scores," Jackson said. "We're just trying to go out and win."
Fellow sophomore Brock West did most of the heavy lifting for the Eagles after Jackson's scorching start. The 6-foot-1 guard scored 11 of his 17 points in the third quarter to join Jackson in double figures.
West picked up a lot of the scoring slack for the Eagles in the McLouth tournament after junior Jax Holland went down with an ankle injury. Mitchell Peacher also stepped up to knock down three 3-pointers in the championship game.
"It's really encouraging to know that we have that deep of a bench and just to know that we can depend on more than just one or two players," West said.
The Eagles have been confident in their offensive abilities throughout the season with Andrew Fortin and Nate Raydo handling the point guard duties and Jason Friesen and Roland Hou being active down low. The main point of emphasis for the Eagles during their 8-2 start, though, has been taking care of business on the defensive end.
A lot of the Eagles' offense came in transition following missed shots by McLouth. Friesen highlighted Maranatha's defensive effort with eight blocks. The Maranatha center nearly had a triple-double with 10 points, 17 rebounds and the eight rejections.
While the Eagles were more proud about winning the tournament then their individual statistics or honors, Jackson and Hou were both named to the all-tournament team. Maranatha's Maggie Friesen and Aaliyah Buckner were named to the girls all-tournament team after leading the Eagles to fourth place in the girls tournament.
As the Eagles soar into the second half of the season, head coach Travis Thompson wants them to remember to gives thanks for all of their success.
"Obviously it's awesome to win and it's incredible to see the fruit of your labor, but I want the focus off of us and back on God. All glory to Him for blessing us with the opportunity to be able to make history at MCA," Thompson said. "His power is truly made perfect in our weakness and it's evident with all the things we've gone through as a team, and for us to be champions is only a testimony to His grace in our lives."
Maranatha will try to keep rolling at 7:30 p.m. Friday in a home tilt against a Bishop Ward squad that is still searching for its first win with a record of 0-10.
MARANATHA (77)
Nate Raydo 0-0 0-0 0, Brock West 7-8 2-2 17, Mitchell Peacher 3-4 0-0 9, Jonathan Jackson 11-17 3-4 30, Roland Hou 1-5 4-6 6, Andrew Fortin 2-5 2-3 5, Jason Friesen 5-9 0-4 10. Totals 29-48 11-19 77.
MCLOUTH (64)
Jeremy Carlton 6-12 2-5 15, Garrison Pope 6-18 0-0 16, Caleb Richardson 8-10 0-1 16, Jonah Willits 3-8 2-4 9, Tayshawn Barfield 1-3 2-3 4, Asher Robbins 2-4 0-0 4. Totals 26-55 6-13 64.
Maranatha 22 20 19 16 — 77
McLouth 13 15 11 25 — 64
3-point goals: Maranatha 8-14 (Jackson 5, Peacher 3, West); McLouth 6-20 (Pope 4, Willits, Carlton). Fouled out: Roland Hou, Maranatha. Turnovers: Maranatha 8, McLouth 6.