Slow start dooms De Soto girls basketball in Tonganoxie Invitational title game against Jeff West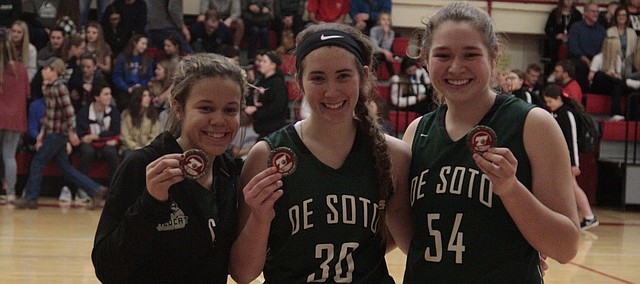 TONGANOXIE — After trailing by 16 points early in the second quarter of the Tonganoxie Invitational championship game on Saturday, not much was going right for the De Soto girls basketball team against Jefferson West.
The Wildcats couldn't buy a bucket, but they knew in order to have a chance that they would have to buckle down defensively the rest of the way. De Soto did just that, but the Wildcats weren't able to overcome the slow start in a 42-27 loss to Jeff West.
"Credit to them. They're a really, really good basketball team — there's no doubt about it," De Soto coach Ryan Robie said. "They've got all the pieces, No. 21 (Aaliyah Negonsott) is in my opinion one of the best players we've played this year and (Mariah) Murdie in the middle. She probably had five to seven blocks. Part of our game plan was to attack. We've just got to be able to find the open man when she comes and helps. We wanted to get an up-tempo game and we just started really, really slow."
Robie's squad trailed 20-4 with five minutes left in the first quarter and didn't have an answer for Murdie. The Omaha signee and Most Valuable Player of the tournament was two blocks shy of a triple-double with 17 points, 13 rebounds and eight swats.
While Murdie made her presence felt on both ends of the floor, Robie was encouraged by the play of his center as well. Emily Fuhr led the Wildcats with seven points and six rebounds.
"Over the summer, we had high expectations for her. She grew tremendously over the summer. There was a learning curve for her early in the year, but she's quickly figuring it out," Robie said. "She's becoming a major player for us coming off the bench. She brings energy, she brings leadership and she is just a kid that every team wants to have. She just works her tail off and we're lucky to have her, for sure."
Fuhr joined Mackenzie Shupe and LaMyah Ricks in being named to the all-tournament team. Ricks' tenacity on the defensive end and fearlessness in attacking the paint earned her the honor of Most Inspirational Player of the tournament.
"To me, that was the most spot-on award," Robie said. "There were a couple of girls that could have been MVPs. Aaliyah could have been the MVP right there with Mariah, but when it comes to a kid that just works hard and just does things right, LaMyah does it on both ends."
The Wildcats (9-3) had their seven-game winning streak snapped by Jeff West (11-2, No. 5 in Class 4A-II). De Soto will try to get back in the win column at 6 p.m. Friday at Pittsburg (4-8).
"This is a good opportunity as long as we can learn from it," Robie said. "This is a great tournament for us, but we've got to build off of this loss, for sure, and I think we will. We'll get back out in practice on Monday and then Pittsburg on Friday."
DE SOTO (27)
Mara Montgomery 1-1 0-0 3, Jordan Diehl 1-5 0-0 3, LaMyah Ricks 2-10 1-2 6, Linnea Searls 0-5 0-0 0, Ellie Bream 2-10 0-1 4, Mackenzie Shupe 2-8 0-0 4, Katelynn Ostronic 0-0 0-0 0, Emily Fuhr 3-7 1-4 7, Loren McQueeny 0-0 0-0 0. Totals 11-46 2-7 27.
JEFF WEST (42)
Heather Kahler 1-1 0-2 2, Cheyenne Starr 0-1 0-0 0, Gabrielle Overstreet 0-0 0-0 0, Aaliyah Negonsott 2-7 1-2 5, Zoe Holthaus 3-8 3-4 9, Jordon Negonsott 3-9 3-6 9, Mariah Murdie 7-12 3-3 17. Totals 16-0 10-17 42.
De Soto 3 3 9 12 — 27
Jeff West 14 10 10 8 — 42
3-point goals: De Soto 3-16 (Montgomery, Diehl, Ricks); Jeff West 0-6. Fouled out: Mackenzie Shupe, DHS. Turnovers: De Soto 18, Jeff West 21.