De Soto's Cauthron, Pingry win bowling triangular at
KC

Bowl;

DHS

girls edge

ONW

for team title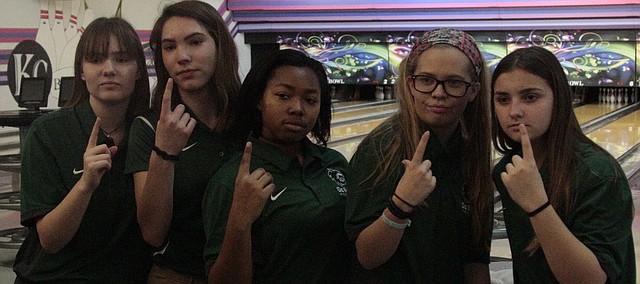 KANSAS CITY, Kan. — De Soto sophomore Sean Cauthron and freshman Maddy Calvello weren't quite feeling 100 percent at Monday's bowling triangular at KC Bowl, but that didn't stop them from receiving some accolades.
Despite rolling his ankle on Sunday, Cauthron won the meet after posting a three-game series of 654 to lead the Wildcats to second place. Calvello was dealing with some soreness from a pinch nerve in her hand, but gutted it out to finish as the individual runner-up to teammate Amaya Pingry. The duo of Calvello and Pingry led the Wildcats to first place over Olathe Northwest and Washington.
"We did great," Pingry said.
Pingry started strong out of the gates with a turkey on the second through fourth frames of Game 1. The first game went on to be Pingry's best with a score of 163. The De Soto senior finished with scores of 150 in Games 2 and 3 to end up with a 463 series — edging Calvello by one pin for first place.
Calvello paced the Wildcats in the second and third games. The pain in Calvello's hand kept her from getting into a rhythm in Game 1, but the De Soto freshman got rolling after her mom gave her some ibuprofen.
"It helped a lot because my nerve is pinched between my two knuckles, so I was in a lot of pain," Calvello said. "Then my mom showed up with ibuprofen and I figured it out."
After knocking down 123 pins in Game 1, Calvello bounced back with scores of 180 and 159 in Game 2 and 3. Calvello had five strikes in Game 2 and a turkey on third through fifth frames of Game 3.
"It felt really good to help out the team and help each other out," Calvello said.
Between Pingry, Calvello and a fourth-place series of 405 from Tiye' Kindred, the Wildcats were able to top the Ravens by just nine pins for first place. Calvello has enjoyed the healthy competition between herself, Pingry and Kindred to be the Wildcats' top bowler at each meet.
"I really want to get first more often and kind of do better for myself personally and not have so many bad games for myself."
Savannah Miles and Ella Fixsen rounded out the bowlers for the Wildcats with series of 262 and 258 to take 11th and 12th, respectively.
On the boys side, Cauthron won the triangular by 67 pins.
"For me it's great because I haven't lost a meet yet," Cauthron said.
Cauthron has consistently flirted with 300 games this season, but bowled below his season average due to the pain in his ankle. The De Soto sophomore got in a groove in Game 2 with strikes on Frames 2, 3, 4, 5, 7, 9 and two on 10 to finish with a score of 245.
"The second game I pulled out a different ball and moved way left and just tried to hook it a little more," Cauthron said. "Throw DVA bowling balls. They work."
Game 2 was a big bounce back performance for Cauthron after posting a score of 193 in Game 1. Cauthron rounded out the meet with a score of 216 in Game 3.
Tyler Lovegren joined Cauthron in the top five with a 532 series, which was good for third place. Lovegren's scores improved as the meet went on, as he rolled games of 168, 170 and 194.
Cauthron and Lovegren both qualified for state in their freshman seasons, but would love to go as a team this year.
"If you get me and Tyler out there bowling good and you get a couple of our other guys to pick it up, we can have a good day."
Robert Stallbaumer (11th place, 440 series), Brayden Baxter (12th, 439), Alex Bates (14th, 399) and Alex Wright (15th, 361) also helped the Wildcats to a second-place finish. Olathe Northwest won the triangular on the boys side by 74 pins.
The Wildcats will be back at KC Bowl for a quadrangular against Sumner, Blue Valley North and BV Northwest at 2:30 p.m. Wednesday.