New Shawnee barbershop embraces community values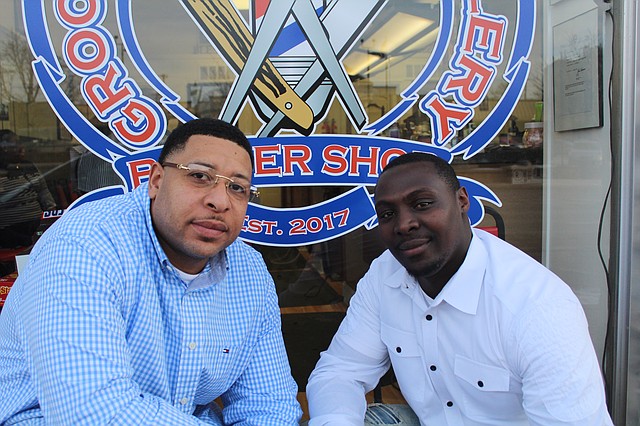 The downtown Shawnee shopping strip has featured a barbershop for many years, but now two best friends are bringing new heart and soul into the location.
Co-owners Ron Jones and Anthony Chege recently opened J.C. Barbershop, 11109 Johnson Drive, which features traditional services such as haircuts, beard trims, hot lather shaves and facials.
"I like the Shawnee area a lot and I'm comfortable with the area," said Jones, of Kansas City, Kan.. "I like the people and the atmosphere. Everyone is a lot friendlier around these parts and once you get to know them, they treat you like family."
The men chose to open their first joint venture in downtown Shawnee because it is the heart of the city, in the midst of exciting changes.
One of those changes being the much anticipated reopening of the Aztec Theatre, currently undergoing renovation.
"I can't wait for it to open because it's going to help us a lot," said Chege, of Piper, Kan. "It means more traffic."
So far, the barbershop's popularity has spread via word-of-mouth.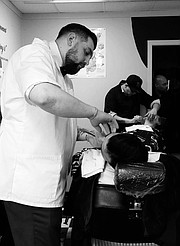 Many of their clients are local businessmen and students from nearby St. Joseph Catholic School.
On Thursday afternoon, 5-year-old Bryce Theuri, of Kansas City, Mo., patiently sat in the barber seat while Chege gave him a trim.
His mom, Rebecca, was pleased with the experience.
She normally cuts Bryce's hair at home, but brought her son to J.C.'s this time, thanks to the recommendation of a friend.
"He normally doesn't sit still, so I'm happy he seems to be doing okay," she said. "They're very good with kids. We'll definitely be back. It's worth the drive."
Maintaining a family-friendly atmosphere is important for both Jones and Chege.
They strive to keep a calm, friendly and relaxing vibe at J.C. Barbershop.
After all, they want to become a staple in the Shawnee community. The two businessmen are here for the long run.
And while they are both new to the city, they are definitely no strangers to the world of barbery.
Jones owns Headlines Barber Academy in Kansas City, Kan.
Anthony, who has a 20-year background in professional cosmetology, was a nurse's aid before attending barber school last year.
When the two met, they instantly became best friends.
And with Chege's friendly and outgoing demeanor, plus his barbery talent, Jones said he immediately knew he had found the perfect business partner.
When they set up shop in Shawnee, however, there was a lot of work to be done.
Although the space they're renting has been a long-time barbershop spot downtown, it required a facelift.
Major renovations included adding a bathroom, installing new flooring, chairs and countertops and painting the walls. They also made the spot ADA accessible.
"We brought it back to life and we're really happy with how it turned out," Chege said.
Now, they're busy making friends in the community and establishing themselves as small business owners.
A third barber, Air Force veteran Matt Gordon, also works at J.C. Barbershop.
When clients stop by, the shop livens with good conversation and friendly banter.
And that, the men agree, is what makes an old-fashioned barbershop the best place to be.
It's also the reason they love their jobs.
"I like to make people look good, it's important," Jones said. "I'm living out my dream."
For more information about the barbershop, visit jcbarber.com.