Community rallies around
SM

Northwest after death of two students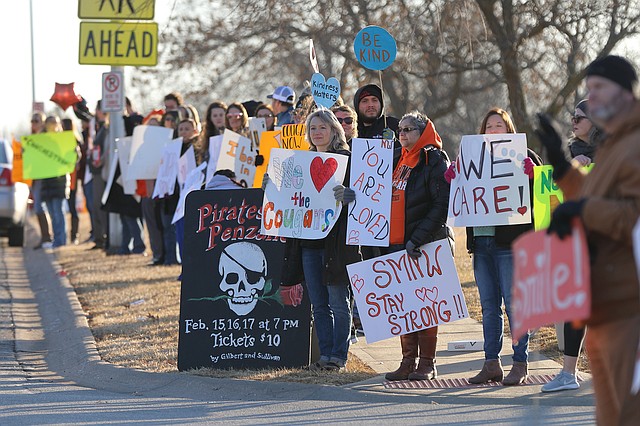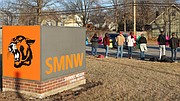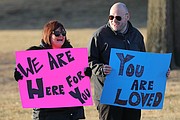 "You are loved."
"We care!"
"Tomorrow is fresh."
Those were just a few of the hand-written, encouraging statements greeting students outside Shawnee Mission Northwest High School on Thursday morning.
Standing in the chilly wind, dozens of parents and neighbors held up colorful signs and waved at students driving into the school's parking lot. Many students honked their appreciation or even rolled down their window to smile and say "thank you."
It was a glimmer of hope in the midst of heartbreak.
This week, the SM Northwest community was shaken by the news of two students who died by suicide this week.
On Monday, word hit students that freshman Steven Cohenour had taken his life.
On Tuesday, the high school released a statement, confirming his death.
On Wednesday, a second email was sent out with more bad news: a second student, not identified, had also died. Links to a suicide hotline, and other resources, were provided.
After news of the second victim was released, hundreds of parents joined forces on Facebook to organize a support rally at the school.
For many of them, it was an opportunity to simply show the students they were loved.
It was also a chance to raise awareness for the alarming uprise in teen suicides.
"These kids need to realize they are not alone," said Kristal Ryan, a Shawnee mom who has a SM Northwest sophomore daughter. "There are so many outlets and so many people who love them. As parents, we need to listen and notice the signs of change and don't be afraid to ask questions."
If we want to save young people's lives, the subject of suicide needs to be addressed openly and without hesitation, she added.
"We can't push suicide under the rug anymore," Ryan said. "We need to talk about it, which is hard. It's ugly, it's messy but it needs to be done."
Standing nearby, fellow SM Northwest mom Jan Redeker agreed.
Being part of the crowd, showing love and support to the students, held heartbreaking significance for the Shawnee area native.
She told the Dispatch her 25-year-old daughter committed suicide in October.
"It's devastating," she said. "It rips your entire soul apart as a parent and you feel very, very alone. Every emotion I went through three and a half months ago is coming back. It's very raw for me. But I had to be here to show my support. I have to be here to show these students they matter."
She also wishes there wasn't a societal stigma about mental health.
"There is no difference between having a mental illness and having cancer," she said. "Yet there are many people who don't take mental health seriously because it seems invisible. But mental health is so important; it's just as important as a dental check-up."
Her sentiments were echoed by SM Northwest PTSA president Sara Crafton, who told the Dispatch the school's community is facing two chapters right now.
First, the community needs to grieve; second, it needs to figure out how to care for mental health.
"The district is doing a good job, but I definitely think there are ways we could bolster our efforts," she said. "And now, it's important to get the rest of the community involved in the outreach."
After the rally on Thursday morning, the district tweeted its appreciation to the sign-holders who enveloped the school with positivity.
"Our hearts are with students at Shawnee Mission Northwest," it stated. "Thank you to parents and community members for welcoming the students to school today and for your ongoing support."