Mill Valley boys basketball falls to Free State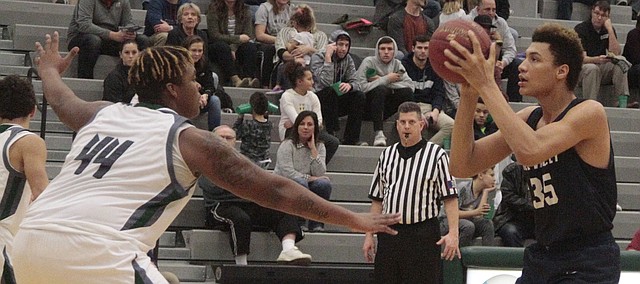 LAWRENCE — After scoring a season-high 75 points on Saturday in a win over Pembroke Hill, Mill Valley boys basketball coach Mike Bennett hoped that the Jaguars' offensive success would carry over into Wednesday's road tilt against Free State.
Bennett didn't have to watch for very long to see that that would not be the case in the Jaguars' 67-40 loss to the Firebirds.
Free State (7-3, No. 3 in Class 6A) opened the floodgates with an 11-0 run to begin the game, and led by as many as 21 in the first half. Mill Valley (4-8) did not get on the board until the 4:01 mark of the first quarter when senior Sammy Rebeck drove in for a layup.
"We struggle to put the ball in the basket. That's been something that we've been struggling with," Bennett said. "We used to lean on our defense a little bit. Lately that's gone downhill, too. Finding a way to have a complete game is really what we're struggling with — offense and defense."
The Jaguars went on a 6-0 spurt to close the half after back-to-back buckets from senior Ben Weigel and another from Rebeck to cut the deficit to 32-17. The Firebirds' lead went right back to 21 after the break, though, following 3-pointers Simon McCaffrey and Zach McDermott. McCaffrey scored a game-high 14 points, and McDermott, Garrett Luinstra and Jalan Robinson added 12 apiece.
While Free State continued to build its lead in the second half, Mill Valley freshman Keeshawn Mason was able to find some success down low. Mason scored six of his team-high eight points in the third quarter. The Mill Valley forward also played a big role in the Jaguars' victory over Pembroke Hill on Saturday.
"We just had some good performances by people. We shot it OK," Bennett said. "Keeshawn had a really nice game. Overall we played OK. We were able to shoot it an make baskets. That was the difference."
Mill Valley will gear up for one more out-of-league game at 7 p.m. Friday at Lansing (3-9) before returning to Eastern Kansas League play on Tuesday against Blue Valley Southwest.
"We've got to sharpen up. We've got to get back to the basics," Bennett said. "It's as simple as passing and catching and shooting, setting screens and being in the right positions — stuff we were teaching at the very beginning of the season. We've got to get back to that, unfortunately. If we don't have that, we're not going to be very good. We've got to get back to the very basics and see what happens."
FREE STATE (67)
Jared Hicks 0-1 0-0 0, Garrett Luinstra 6-11 0-0 12, Avant Edwards 1-3 0-1 3, Simon McCaffrey 5-8 1-1 14, Reece White-Downing 1-6 0-1 2, Bansi King 3-4 0-0 7, Noah Butler 1-5 3-4 5, Zach McDermott 5-7 0-0 12, Turner Corcoran 0-0 0-0 0, Jalan Robinson 5-10 2-3 12, Charlie Newsome 0-0 0-0 0, Ethan Lincoln 0-0 0-0 0, Alyus Wisdom 0-0 0-0 0. Totals 27-55 6-10 67.
MILL VALLEY (40)
Matty Wittenauer 0-3 2-4 2, Sammy Rebeck 2-3 0-0 4, Mason Little 0-1 0-0 0, Logan Talley 1-5 0-0 3, Connor Nekola 1-4 2-2 5, Kyle Bonnstetter 1-2 0-0 2, Ben Weigel 2-3 0-1 4, Cooper Kaifes 2-7 0-0 6, Ike Valencia 0-2 2-2 2, Brody Flaming 2-2 0-0 4, Keeshawn Mason 3-6 2-2 8. Totals 14-38 8-11 40.
Free State 20 12 21 14 — 67
Mill Valley 7 10 11 12 — 40
3-point goals: Free State 7-16 (McCaffrey 3, McDermott 2, King, Edwards); Mill Valley 5-15 (Kaifes 2, Talley, Nekola). Fouled out: None. Turnovers: Free State 5, Mill Valley 16.