Maranatha girls basketball falls to Bishop Ward despite big night from Friesen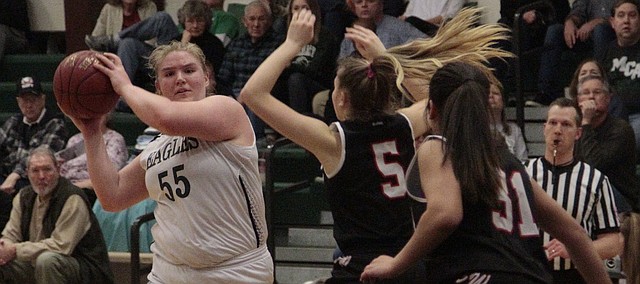 Maranatha Christian Academy senior Maggie Friesen was anything but down in the dumps after the Eagles' 60-53 loss to Bishop Ward on Friday.
Would Friesen have felt much better if the Eagles had completed their comeback from a 14-point deficit? Of course. Was Friesen up front about the Eagles needing to cut down on the 28 turnovers they committed against the Cyclones? Definitely. But with the Eagles relying heavily on sophomores Gina Favero, Elle Bergerhofer, Aaliyah Buckner and Anita Eckhardt, Friesen was delighted to see signs of progress in the loss to Ward.
"I'm really proud of my team tonight," Friesen said. "We really worked hard and put in a lot of effort tonight and honestly it's one of the first games that I feel like we've worked as a team."
Friesen was a force on the offensive end for the Eagles as she scored a game-high 30 points. The 5-foot-11 senior made 14 of her 23 shots from the field, but deflected the credit to her teammates for good post feeds to put her in position to score. Favero's unselfishness was on full display from the opening tip as she fed Friesen down low on the Eagles' first possession for the first of her seven assists.
"Gina controls a lot of our game. The more confident she is and the more she's in the game working her butt off — because that's what she did tonight — the better we're going to get," Favero said. "There's no way that I can get a ball down low without Gina going against these hard point guards."
Favero — who transferred to Maranatha after spending her freshman year at Immaculata — has slid into the point guard role that was long-occupied by Kayla Crowder. The sophomore floor general frequently went over to talk to Maranatha coach Reggie Hines whenever there was a brief break in the action to figure out a good plan of attack.
"Not only is it her first year here, but I don't know if she started playing point guard last year at Immaculata. It's a learning curve and she's growing," Hines said. "She's getting better and we're excited that she's here. We'll just keep getting better and get ready for our postseason."
Friesen wasn't the only forward who benefited from Favero's entry passes. Buckner joined Friesen in double figures with 10 points and also added four assists.
"Aaliyah has a good basketball mentality. She's able to see all of these backdoors (cuts)," Friesen said. "She's just able to see where the open floor is and she just pushes it. She's grown a ton this season — especially as a sophomore.
"She making all-tournament (at the McLouth Invitational last week) is huge. I'm really proud of how we're working together and I can see her bringing up the rest of the team."
Maranatha was able to cut the deficit to 51-48 with just under three minutes left, but the Eagles' offense fizzled late with Buckner fouling out and Friesen saddled with four fouls.
The Eagles fell to 4-7 on the season following the loss to Ward, while the Cyclones garnered their second victory to improve to 2-10. Friesen felt that the Eagles improved a lot with having four consecutive days of practice before Friday's game against Ward, and believes that will start showing more in games during the second half of the season. The Maranatha senior expects that the Eagles will focus on a lot of fundamentals in practice on Monday before they play host to Sherwood at 6 p.m. Tuesday.
"The team with the least turnovers is going to be the team that wins. But I feel like right now, a lot of that is just going to be our passing and our dribbling," Friesen said. "We'll probably be working on a lot of ball-handling and working on getting out of traps — that sort of thing.
"We had a full week of practice this week. We didn't have any games. Tonight was our first game. I've just seen so much improvement even from like four practices. These girls are coming into the gym and they're working hard and they're focusing. That's really what we need to be successful."
MARANATHA (53)
Phoebe Hines 0-1 0-0 0, Gina Favero 0-3 2-5 2, Elle Bergerhofer 3-4 0-0 6, Alyssa Buettner 0-2 0-0 0, Meggie Abebe 0-1 1-2 1, Anita Eckhardt 0-2 1-2 1, Allison Dighton 0-0 0-0 0, Aaliyah Buckner 4-6 2-6 10, Morgan Wilcox 1-7 1-3 3, Maggie Friesen 14-23 2-5 30. Totals 22-49 9-23 53.
BISHOP WARD (60) Perla Frayre-Delgado 4-9 2-3 13, Marissa Brennan 2-10 2-2 6, Jimena Lopez 5-14 3-4 17, Estephania Tapia 2-8 3-10 7, Yaneli Jacinto 1-5 0-0 3, Ashley Stitzer 0-2 0-0 0, Vanessa Otero 3-11 8-12 14, Billie Pridey 0-7 0-0 0. Totals 17-66 18-31 60.
MCA 10 13 15 15 — 53
Ward 16 18 13 13 — 60
3-point goals: MCA 0-4; Ward 4-12 (Frayre-Delgado 3, Jacinto). Fouled out: Aaliyah Buckner, MCA. Turnovers: MCA 28, Ward 16.