West powers Maranatha boys hoops past Bishop Ward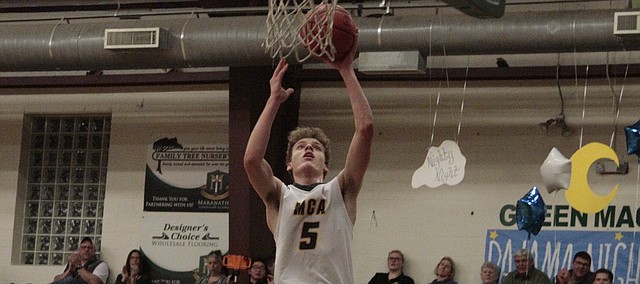 Maranatha Christian Academy sophomore Brock West was feeling it from 3-point range in the first quarter of the Eagles' 79-47 win over Bishop Ward on Friday, but the 6-foot-1 guard has wanted to prove this season that he has much more to his game than a silky-smooth jump shot.
After knocking down three 3-pointers in the first quarter, West showcased his ability to get to the rim for the rest of the night. The Maranatha sophomore poured in a game-high 27 points to lead the Eagles to their sixth straight victory.
"He's such a dynamic player. He shoots the ball well, he has a great first step and he attacks hard in penetration," said Maranatha coach Travis Thompson of West. "It's really neat to see him kind of owning that and not settling for jump shots because that's what we've been working with him on. It's really nice to see how much his game is growing and not just being a stand-still shooter."
West nailed five triples and converted on two traditional 3-point plays as he shot 9 for 17 from the field and made all four of his attempts from the free-throw line. While West felt good about his all-around performance, he said he had plenty of help with putting up his big numbers.
"I'd say it's 100 percent my teammates," West said. "They're getting me the options and getting me open. It's just really cool to see how we work together like that."
The sharp-shooting sophomore opened the game with a 3-pointer off an assist from Jonathan Jackson. West then returned the favor by dropping a dime that led to a bucket by Jackson, and the Eagles led 5-0. The Cyclones answered with a 10-3 run to take a brief lead, but West and Jackson went back to work to end the first quarter on an 11-0 surge. Jackson drilled a 3-pointer and two free throws to account for five consecutive points before West drained back-to-back treys.
Jackson scored 23 points to follow up his 30-point outing from the McLouth Invitational championship game. Jason Friesen and Andrew Fortin added 11 points apiece to give the Eagles four players in double figures. Thompson was happy to see another balanced performance while one of his top offensive threats, junior Jax Holland, remained sidelined with an ankle injury that he suffered in the McLouth Invitational.
"It's really awesome to see Brock and Mitch (Peacher) and Jason be the next man up. That's what we preach," Thompson said. "It's awesome to see all that come together. Our ball movement is exceptional with them looking for each other."
The win over the Cyclones was the Eagles' fifth game with at least 70 points, but Thompson believes that his team even has another gear that it can reach. However, that hinges off of how the Eagles can play on the defensive end.
"We've got to lock in defensively. We've definitely got to contain the ball and have got to know where the shooters are because when we get stops, we can get out and run," Thompson said. "But when we lackadaisically play defense, we can't get out and run and we're a half-court team. That's not really our strong suit."
The Eagles (9-2, No. 10 in Class 2A) are undefeated against teams in the state of Kansas this year. Next up for the Eagles, though, will be one of their Crossroads Conference opponents from the Show-Me State. Maranatha will play host to a 10-4 Sherwood squad at 7:30 p.m. Tuesday.
MARANATHA (79)
Drew Utech 0-0 0-0 0, Nate Raydo 0-0 0-0 0, Brock West 9-17 4-4 27, Mitchell Peacher 0-1 1-2 1, Jonathan Jackson 8-15 6-7 23, Roland Hou 2-4 0-0 4, Aaron Bowlin 0-0 0-0 0, Andrew Fortin 3-4 4-4 11, Cooper Hartwick 1-1 0-0 2, Jason Friesen 3-5 5-7 11. Totals 26-47 20-24 79.
BISHOP WARD (47)
Samuel Alexander 1-3 0-0 3, Quincy Tabron 2-10 0-0 5, Clarence Johnson IV 3-12 0-2 7, Pedro Galvez 3-6 0-0 8, Javier Torres-Osuna 0-1 0-0 0, Andre Bush 1-3 0-4 2, Isaiah Rosales 0-0 0-0 0, Jordan Dominguez-Jones 3-6 0-0 6, Andres Torres 0-1 0-0 0, Ja'Ron Byrd 3-14 4-9 10, Andrew Dominguez 2-5 0-0 6. Totals 18-60 4-15 47.
MCA 19 15 25 20 — 79
Ward 10 6 15 16 — 47
3-point goals: MCA 7-13 (West 5, Fortin, Jackson); Ward 9-23 (Dominguez 2, Dominguez-Jones 2, Galvez 2, Johnson IV, Alexander, Tabron). Fouled out: None. Turnovers: MCA 9, Ward 13.