Mayor honors Good Samaritan for saving Shawnee couple during December fire
Council also approves city vehicle purchases, stormwater services contract at Jan. 22 meeting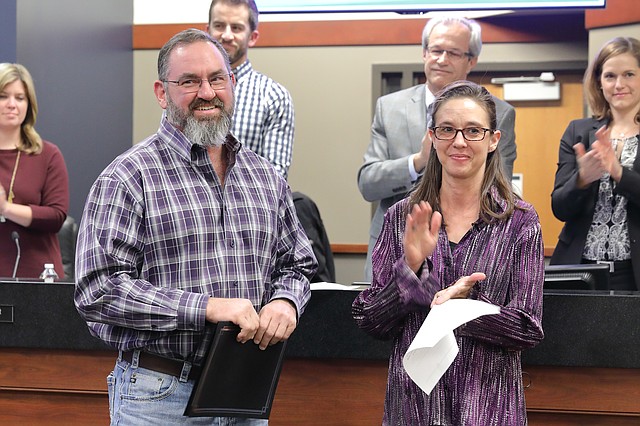 Two days before Christmas, Shawnee resident Craig Christopher was driving home from work at 3 a.m. when he smelled smoke.
After searching the area, he found a house on fire. He called 911 and ran upstairs to alert the family. Thanks to his bravery, the couple sleeping inside escaped safely.
And on Monday, Christopher was honored for his quick-thinking and selfless act.
During the city council meeting, Mayor Michelle Distler recognized him for being a Good Samaritan and "true Shawnee hero."
She presented him with a service coin.
"If you hadn't done what you did that night, this could have been a very different story, one that ended in tragedy," she told him.
She also emphasized the importance of fire safety.
"Just as a reminder for everyone here, we urge you to check your smoke alarms and make sure they are working and if they're not or if you don't have any, please call the Shawnee fire department and they will give you a smoke alarm for free," she told the audience.
Also at the council meeting, the following action was taken:
Council approves new vehicle purchases
The council approved the purchase of numerous city vehicles.
It approved the mayor to sign a purchase agreement with Conrad Fire Equipment, Inc. for a 2018 Pierce Velocity Tractor Chassis Aerial and additional loose equipment from various vendors in the amount of $1,179,574.50.
The purchase of this fire department vehicle will allow Truck 71, a 2010 110' aerial, to become a reserve.
The anticipated delivery of this massive new apparatus is twelve to fourteen months.
The council also approved the purchase of nine vehicles from Shawnee Mission Ford, one vehicle from Overland Park Jeep/Dodge and one motorcycle from Worth Harley Davidson in the amount of $314,772. These vehicles will be replacements for the police department's patrol division.
The council approved the parks and recreation department vehicle replacement purchase of two vehicles from Shawnee Mission Ford in the amount of $93,218.
These new trucks will also be equipped with a snow plow and equipment to aid in snow removal operations.
The council also approved the public works department vehicle replacement purchase of two new dump trucks from Summit Truck Group, corresponding equipment from American Equipment, one tractor from Heritage Tracor and one set of mobile vehicle lifts from Stertil-Koni in the amount of $348,037.57.
At the meeting, city staff told the council vehicle and equipment replacements are based on manufacturer recommendations.
Staff looks at usefulness, the mileage and hours, the condition and maintenance costs, when making a decision.
Council approves stormwater services
The council approved a contract with Olsson Associates to provide staffing and engineering services for the 2018 Stormwater Management program in the amount of $214,080. These services include video inspection analysis and construction engineering.
For the past several years, the city's stormwater division has utilized outside engineering services to perform the many tasks necessary for the stormwater programs.
The stormwater infrastructure asset management program includes pipe repair and maintenance, as well as video inspection which allows the city to keep on track with its stormwater maintenance.
Council reviews use of community grant funds
The council accepted the 2017 Consolidated Annual Performance and Evaluation Report which covers activities undertaken with the Community Development Block Grant Funds.
According to Shawnee city staff, the funds are required to be used to provide benefits to low or moderate income Shawnee residents.
Three types of activities are funded: human services (which can't exceed 15 percent of the total funding), infrastructure and housing.
During 2017, reimbursements to human service providers totaled $23,651.02 as follows:
YMCA of Greater Kansas City provided after school care for 7 families. They used $5,503.20 of the $12,265 allocated to them in 2017. Additionally, they utilized the remainder of their 2016 funds, $2,936.90.
Johnson County Parks and Recreation District provided scholarships for their summer day camp program. 4 families, including 7 children, were served using $4,180 of the $10,860 allocated to them.
The Salvation Army had was awarded $7,360 in 2017. $6,454.52 was spent providing rent and utility emergency assistance to 72 low income residents.
Catholic Charities of Northeast Kansas also provided rent and utility assistance to Shawnee residents. They had $21.40 remaining from 2016 and were awarded $4,555 in 2017. They spent $4,576.40 during 2017 by serving 42 residents.
Also in 2017, the City of Shawnee completed a street and stormwater improvement project on Barton Street between 66th Terrace and 67th Street.
The improvements included upgrading the street to city standards with the addition of curbs, gutters, stormwater improvements and sidewalk.
The project directly serves Shawnee Community Services and approximately 25 low-moderate income households. The low-moderate income percentage for the block group is 51 percent.
A total of $205,350.11 of CDBG funds were expended on this project.
The 2017 CDBG infrastructure project will not be completed until 2018.
The 59th Terrace between King Street and Barton Street improvement project includes upgrading 59th Terrace to current City standards with curbs, gutters, stormwater improvements and a sidewalk. The project will serve approximately 75 low-moderate income households. -Johnson County Housing Services utilized their entire $25,000 allocation of 2016 CDBG funds in 2017 for the Minor Home Repair and Revitalization programs. $9,174.86 of FY2017 CDBG funds were also spent in 2017.
These funds were spent on repair work on 12 homes in Shawnee.
Several properties are currently under review and pending repair work.