Bierbaum leads St. James girls bowling to first place at Park Lanes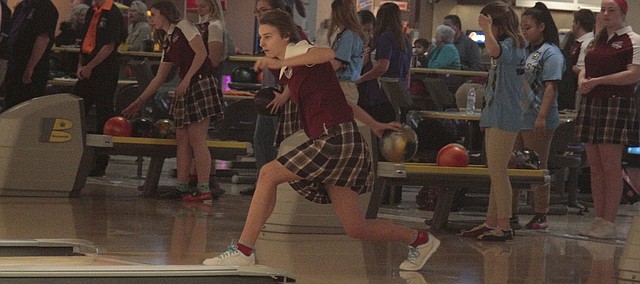 Whenever St. James Academy senior Meredith Bierbaum left a frame open at Monday's triangular at Park Lanes, she didn't let it get her down.
Bierbaum's focus was always geared toward the next frame, which helped her to a first-place series of 523. Carey Lawrence followed in second with a series of 428, and Marion Farnet took fourth with a 401 series to help the Thunder win the triangular by 188 pins over Shawnee Mission East. Piper finished 12 pins back of SM East in third.
"I didn't think I was doing as good. I saw the score and I was kind of surprised," Bierbaum said. "The most important part is the last four frames and just closing those out, so that's what I really concentrated on."
Bierbaum's ability to bounce back late in each game led consistent scores of 175, 172 and 176. The St. James senior said the mind-set of the team as a whole has been positive this season, regardless of if the Thunder are posting high scores.
"The first meet was a little rough, but after that it's been good," Bierbaum said. "We have Carey to get us pumped. She's kind of our cheerleader, so that's always appreciated."
Lawrence wasn't too far off of matching Bierbaum's scores in the first two games, and has been the Thunder's top bowler for most of the season.
"She's been really good and consistent," said Bierbaum of Lawrence. "She's the motivator on the team, so we all strive to be at her level. She's the most-experienced and skilled."
Bierbaum, Lawrence and Farnet all have at least one year of varsity experience under their belts, so they've been trying to help along varsity newcomers Alicia Koehler (14th place, 322 series), Alyssa Wilkes (15th, 321) and Lucia Koehler (18th, 244), as well as the JV squad.
"They're good. Coach (Alan) Dierking has really been working with them a lot, so it's going to be nice to see how they turn out by the end of the season," Bierbaum said.
Schreiner paces SJA boys to 2nd
While Lawrence keeps the St. James girls bowlers relaxed, all one needed to do was watch the Thunder's pre-meet huddle to see who does the same for the boys squad.
Burk Schreiner had the whole team smiling as he broke the huddle before rolling a seventh-place series of 538 to lead the Thunder to second place. Piper won the triangular on the boys side by more than 350 pins. St. James edged SM East by nine pins for second.
"I love it. I love pumping up the guys. I like to do some rapping back and forth," Schreiner said. "We like to spit our favorite rap songs to each other and just hang out and have some fun. I like to keep it really loose because I just don't do as well if I put a lot of pressure on myself. So I'm just helping me at the same time."
Schreiner found his rhythm in the second game with a score of 203. He had a turkey late in the game with strikes on Frames 7, 8 and 9, and picked up spares on every other frame.
"I was more comfortable than when you slip into your bed on that cold night and you get into that blanket and you're just excited to go to bed," Schreiner said. "I just fell into that rhythm like a sleeping baby."
Games 1 and 3 had some bright spots for Schreiner as well, but he didn't close them out as strong as he would have liked. Schreiner posted scores of 156 and 179 in Games 1 and 3, but wasn't able to pick up spares on the 10th frame of each game.
"You've got to pick up your spares. I just get nerves," Schreiner said. "I've got to stay cool to make sure I hit my mark and follow through right at the right time. If I stay under control, I should do well."
There has been a new top bowler in just about each meet for the Thunder this season. Schreiner said that it's encouraging that each bowler on the team has the capability of stepping up with a high game or high series. St. James had a solid pack behind Schreiner with Grant Huerter (eighth place, 512 series), Tanner Nelson (10th, 478), Thomas Reece (11th, 474), Christian Kaufman (12th, 467) and Max Petty (17th, 406) rounding out the Thunder's second-place finish.
"Christian is the most consistent bowler on the team. He's been on varsity since he was a freshman," Schreiner said. "He's amazing. I wish I was as cool and as calm as him. He's so good.
"And Grant is obviously probably the best bowler on our team. He's really good. I think we're in good hands. They're really consistent but for us to do good at regionals, everybody is going to have to have really good games — not just them. The rest of us have got to pick it up, too."
Next up for the Thunder will be a meet at 3 today at College Lanes.
More like this story