Russell leads St. James in loss to Aquinas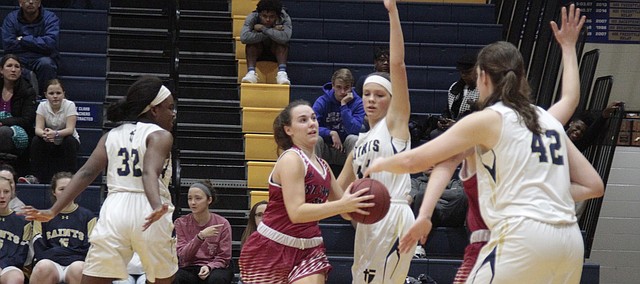 OVERLAND PARK — For the first seven minutes of its 64-40 loss to St. Thomas Aquinas on Monday, St. James Academy's girls basketball team hung right with the top-ranked Saints.
After a Mary Goetz 3-pointer, the Thunder trailed, 12-10, but the St. James senior had to head to the bench just a few seconds later after picking up her second foul. The Saints' lead quickly bloomed to nine over the final minute of the first following two Alayna Townsell free throws, an Allison Thomas layup and Blythe Pearson 3-pointer, and the Saints never looked back.
St. James coach and Aquinas alumna Samantha (Paradise) O'Malley knew it wouldn't be easy to contain the Saints' offensive firepower, and having Goetz, Torri Kempf, Brianna Streeter and Claire Kearney all picking up two first-half fouls didn't make it any easier for the Thunder to keep pace with Aquinas. The first-year St. James coach gave credit to the Saints for not letting up, and hopes that the Thunder can learn from the adversity they had to face.
"That was actually an interesting first quarter. We're not really known for fouling, so it's kind of one of those things where you adjust as a coach and you adjust as a team and you adjust to how the officials are officiating," O'Malley said. "We went into halftime and talked about it. We came back out and I thought we did a much better job in the second half."
The Saints (11-2, No. 1 in Class 5A) went on to double their lead to 18 as they took a 32-14 advantage into the locker room. The Thunder (4-9) whittled the deficit back to 11 in the third with Claudia Russell serving as the Thunder's main spark. Russell scored the first six points of the second half and led the Thunder with 16 points.
Russell hit her first 3-pointer of the game before missing her next five attempts from behind the arc. The St. James junior served as a jack-of-all-trades in the second half, though, as she knocked down two triples and converted a traditional 3-point play.
"I'm starting to feel more comfortable," Russell said. "In the first half, it wasn't really falling for me, but coming into the second half I really felt more confident with my shot."
In the Thunder's first matchup against the Saints — a 51-29 loss on Dec. 20 — most of St. James' shots came from long distance. The Thunder went into Monday's rematch knowing that they needed to attack the basket even with the Saints having a clear height advantage down low with Thomas and Sereena Weledji standing at 6-foot-2 and 6-foot, respectively.
O'Malley has lauded Goetz for driving to the rack throughout the season, and she has seen much of the same so far from junior Jenna Wilkins — who transferred from Olathe Northwest at semester. Goetz and Wilkins netted 10 and eight points, respectively.
"The kid (Wilkins) is kind of like a smaller version of my Mary (Goetz). She really brings a different perspective on the notion of being able to drive in and see the floor," O'Malley said. "She hustles day-in and day-out when it comes to practice. So having Mary and her kind of going against each other or being the captains on both sides of the team really elevates every single person around them. Her competitiveness has been something so refreshing to see in our practices and has really given Mary a run for her money."
The Thunder were able to cut the Saints' lead to 33-22 after a bucket from Kempf with five minutes to go in the third, but never got back within single digits. Weledji went into takeover-mode late in the third, and she had plenty of motivation to do so. The Aquinas senior needed just 16 points against the Thunder to reach 1,000 for her career. Weledji was held to just five points in the first half, but scored the Saints' last nine points of the third to make reaching the milestone very attainable going into the fourth. She drilled a 3-pointer in the fourth for points 999, 1,000 and 1,001 of her standout career.
O'Malley had the chance to catch up with Weledji after the game to congratulate her on the milestone. Weledji and Townsell led the Saints with 17 points apiece. Thomas and Pearson also scored in double figures with 11 and 10 points, respectively.
The schedule won't get any easier for the Thunder this week as they prepare to play host to Mill Valley (12-2, No. 2 in 5A) at 6:30 p.m. Friday. The Jaguars also have a lot of size in their front court between Trinity Knapp and Evan Zars and athleticism on the perimeter with the trio of Claire Kaifes, Presley Barton and Adde Hinkle. The Thunder will be able to watch film from their 46-32 to the Jaguars on Jan. 3, but O'Malley said that the film from Monday will be just as valuable since it will be a similar matchup.
"I actually told the girls that we'll probably watch this film because going into Friday, I want nothing more than to come out and learn from what just happened. They run a lot of set plays and we've got to be able to stop those and get to that help side and take away a lot of opportunities from their shooting and their cutting," O'Malley said. "It was a fun game and Coach (Rick Hetzel), he's a fantastic coach and does a lot with this program. So I love learning from him and I love playing teams that he coaches."
ST. JAMES (40)
Claudia Russell 5-12 3-3 16, Jenna Wilkins 3-7 2-3 8, Claire Kearney 0-2 0-0 0, Torri Kempf 2-9 0-0 4, Mary Goetz 4-9 1-3 10, Brianna Streeter 1-2 0-0 2, Anna Feldkamp 0-2 0-0 0, Katelyn Hall 0-1 0-0 0, Regan Bruggeman 0-3 0-0 0, Maddie Russell 0-0 0-0 0. Totals 15-47 6-9 40.
AQUINAS (64)
Kyli Jackson 0-0 0-0 0, Molly Hartnett 2-5 1-1 6, Blythe Pearson 4-7 0-0 10, Alayna Townsell 6-12 4-5 17, Sereena Weledji 5-9 5-5 17, Allison Thomas 3-3 5-6 11, Madison Skelton 0-1 2-2 2, Grace Jacobs 0-2 0-0 0, Claire Thomas 0-1 1-2 1, Julia Elsener 0-0 0-0 0, Karla Navy 0-0 0-0 0. Totals 20-40 18-21 64.
St. James 10 4 12 14 — 40
Aquinas 19 13 14 18 — 64
3-point goals: St. James 4-19 (Claudia Russell 3, Goetz); Aquinas 6-16 (Pearson 2, Weledji 2, Hartnett, Townsell). Fouled out: None. Turnovers: St. James 9, Aquinas 5.