Aquinas holds off St. James boys hoops, 55-53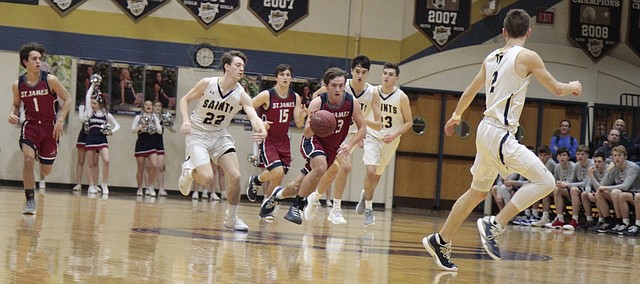 OVERLAND PARK — While facing an 11-point deficit early in the fourth quarter of Tuesday's rivalry matchup against St. Thomas Aquinas, the odds were stacked against the St. James Academy boys basketball team of giving the fans in attendance another thrilling overtime game like the one last season at STA.
The Thunder fought all the way back to tie it with 20.8 seconds left when sophomore Jack Moellers hit three consecutive free throws after being fouled while shooting a 3-pointer, but the Saints weren't in the mood for having to grind out another triple-overtime win like they did in December of 2016. T.J. Williams-Bey hit the game-winning jumper with five seconds remaining to lift the Saints to a 55-53 over the Thunder. The Saints weren't able to breathe easy, though, until they saw Moellers' heave from half-court go off the iron as the final buzzer sounded.
The loss to the Saints summed up the Thunder's season to this point in a nutshell according to coach Stan Dohm.
"At some point, we've got to win one of these close ones. This is our fifth one that we've lost in under three points," Dohm said. "I just keep telling them that we've had a string of bad luck or whatever and coming up short. Hopefully we just keep continuing to learn and when it really matters come postseason time, maybe we'll get a break or two."
While the end result was disappointing for Dohm and the Thunder, the St. James coach was far from upset about his team's effort during the comeback in the fourth.
"Our team has unbelievable heart and resiliency," St. James coach Stan Dohm said. "To be 3-9 and being down 11, I can't think of a team other than the group that's in our locker room that is going to come back like they did tonight. I'm just really proud of how they did and believed, fought, scratched."
St. James senior Casey Worley and Aquinas senior Drew Nusbaum did a bulk of the heavy-lifting for their respective through the first three quarters, and ended up being the top-two scorers at night's end. Nusbaum netted a game-high 26 points, while Worley poured in 18 for the Thunder.
"That kid loves scoring the ball more than anybody. What he's meant to this team is unbelievable," said senior Jake Dunsmore of Worley. "I've never met someone who hates losing more than him. He pushes everyone every day in practice to be their best and it shows on the court. He's always the one monitoring everything on defense. Even on offense, he's always getting to the rack no matter what. He's finishing layups over 6-foot-3, 6-foot-4 guys and he's only 6-feet tall."
With Worley picking up his fourth foul with 5:25 remaining, Moellers and Dunsmore picked up the slack for St. James. After a bucket from Nusbaum put the Saints up 46-36 midway through the third, Moellers drained back-to-back triples to cut the deficit to four.
"Jack is our leading scorer," Dohm said. "I tell him that he's going to be the best shooter that I've ever coached with three more years with him."
Nusbaum hit three of his next four free throws to extend the Saints' lead back to seven at 49-42 with 2:26 to play, but Dunsmore answered with one of his three 3-pointers in the fourth to pull the Thunder back within four. After Jorge Palazuelos made one of two from the charity stripe, Dunsmore drove in for two to make it a one-possession game at 50-47 with 1:40 to go.
The score remained unchanged for the next 45 seconds despite plenty of action — including two rare misses at the line from Nusbaum, a missed floater by Moellers and a turnover by each team. Palazuelos finally ended the scoring draught when he made one of two from the line again, but the Thunder were able to inch closer on the following possession after another trey from Dunsmore cut the Aquinas lead to 51-50.
"It was really great to see Jake hit shots. We've been in his ear the whole year to be aggressive with that 3-point shot," Dohm said. "We like him shooting that 3. I think he hit three big ones in the fourth. He kind of got us started."
Nusbaum atoned for his two previous misses at free-throw line by calmly knocking down both shots in the double bonus with 32.9 seconds remaining. That set the stage for Moellers to tie with his three free throws after getting fouled. Moellers drained the first two before Aquinas coach John Rost tried to ice him by calling a timeout before the third attempt, but Moellers still stepped up and knocked it down.
"He showed just huge toughness to do that," Dohm said. "I expected him to make all three with the kind of competitor he is."
After Williams-Bey drained the pull-up jumper to put the Saints back in front in the closing seconds, Moellers weaved through traffic before launching the desperation shot from half court. The shot was on line, but clanked off the front of the rim and the backboard before falling off.
Aquinas (7-7) swept the regular season series from St. James (3-10) between its victory on Tuesday and a 45-42 win at St. James on Dec. 20. The Thunder will try to avenge another close loss on Friday when they play host to Mill Valley (6-8) at 7:45 p.m. The Jaguars edged the Thunder, 43-41, on Jan. 3 at Mill Valley.
"This league is a tough league. Most teams around this time of year start to check out," Dunsmore said. "This pretty much shows that our team is not going to check out. We're here to stay. We're here to make a run in the postseason as long as we keep fighting, keep pushing."
ST. JAMES (53)
Josh Spradlin 0-2 0-0 0, Ryan Holton 1-5 0-0 3, Michael Cahill 0-3 0-0 0, Casey Worley 5-17 3-4 18, Reed Wilkinson 1-1 0-0 2, David Hornung 1-5 0-0 2, Jake Dunsmore 5-9 3-4 16, Jack Moellers 3-8 3-3 12. Totals 16-50 9-11 53.
AQUINAS (55)
Drew Nusbaum 7-11 12-15 26, Zac Genilo 1-3 1-2 4, Jorge Palazuelos 1-1 2-5 4, Jack Morrissey 0-0 0-0 0, T.J. Williams-Bey 3-3 0-1 7, Joe Rost 2-4 1-2 5, Kenny Gavin 3-4 0-1 7, Zarian Navy 1-3 0-0 2, Declan Connley 0-1 0-0 0. Totals 18-29 16-26 55.
St. James 5 19 13 22 — 53
Aquinas 14 17 6 18 — 55
3-point goals: St. James 10-21 (Moellers 3, Dunsmore 3, Worley 3, Holton); Aquinas 3-6 (Gavin, Williams-Bey, Genilo). Fouled out: David Hornung, St. James. Turnovers: St. James 10, Aquinas 17.