Mill Valley bowling sweeps meet at Park Lanes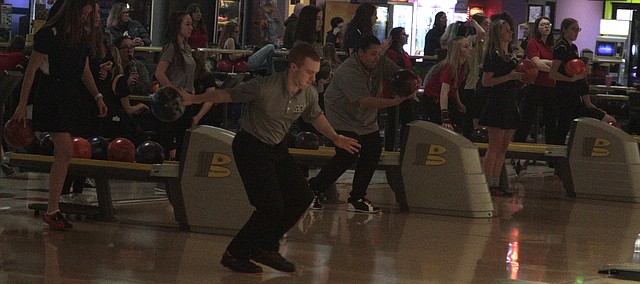 Mill Valley sophomore Bri Laluk knows it won't come easily, but she has set out the goal of eventually averaging a 600 series.
Laluk still has some work to do to get there, but made steps in the right direction while rolling a 528 series on Tuesday to win Tuesday's bowling meet at Park Lanes. Shortly after Laluk finished her third and final game, senior Kyle Hirner rounded out his first-place series of 549 to help the Jaguars sweep the meet.
Laluk and Hirner had very different paths en route to their first-place finishes. Picking up spares was the key to success for Laluk, as she stayed fairly steady with scores of 182, 188 and 158. Laluk only left two frames open in Games 1 and 2.
"Someone told me once that strikes are for show, spares are for dough," Laluk said. "It's just really hard to work for it and trying to get all of the spares."
The Mill Valley girls squad won the meet by nearly 200 pins with a team score of 1,878. St. Thomas Aquinas was second with 1,694 pins. Blue Valley West (1,495 pins) edged Blue Valley (1,481) for third.
The Jaguars packed four bowlers in the top five to coast to the girls team title. Emily Jackson (third place, 456 series), Tori Benson (fourth, 449) and Bri Davis (fifth, 434) rounded out the top five. Rylee McElroy and Abby Berner followed in eighth and 12th with respective series of 404 and 377.
While Laluk felt good about her own performance and was pleased about the Jaguars sweeping the meet, she said that there is still plenty of room for improvement with Tuesday's Eastern Kansas League Championships quickly approaching. The league meet is set for 11 a.m. Tuesday at Olathe Lanes East.
"I'm definitely getting closer," said Laluk of inching closer to averaging a 600 series. "I feel like if I practice more, maybe some day I'll get there."
While picking up spares was a big factor for Laluk, Hirner strung together long streaks of strikes to post two 200-plus games.
"It felt good compared to my last couple of meets where I hadn't been bowling as well," Hirner said.
Hirner recorded six strikes in Game 1 — including four straight on Frames 3 through 6. The Mill Valley senior also had two turkeys in Game 3.
While Hirner was in a grove for long stretches in Games 1 and 3, he knows his scores couldn't been even higher had it not been for a couple of missed spare pick-ups.
"Getting spares and just not leaving opens in general," said Hirner of what he plans to work on going forward. "Stacking strikes instead of having strikes-spare-strike. Having three strikes is a big difference also."
Hirner posted respective scores of 208 and 203, but dipped down to 138 in Game 2. Despite falling off pace for most of the second game, Hirner notched his only two strikes of the game on the 10th frame to get some momentum heading into the third. Consistency is something that Hirner and his teammates are all looking to develop over the next few meets.
"I'm hoping by the end of the season, we can all get those numbers that we are looking for for regionals and state," Hirner said.
Jack Matchette went stride for stride with Hirner in Game 3 to finish as the runner-up with a 492 series. Matchette saved his best game for last — posting scores of 166, 119 and 207.
Brad Teasley has been one of the more consistent bowlers for the Jaguars this season, and finished with a 474 series. Clark Harris (ninth place, 404 series), Brent Stevenson (10th, 400) and Luke Guiliford (11th, 388) completed the Jaguars' first-place squad.
Mill Valley and Aquinas were the only boys teams in action. The Jaguars edged the Saints, 1,974-1,865.