Students celebrate national Kindness Challenge with #BrokenArrowRocks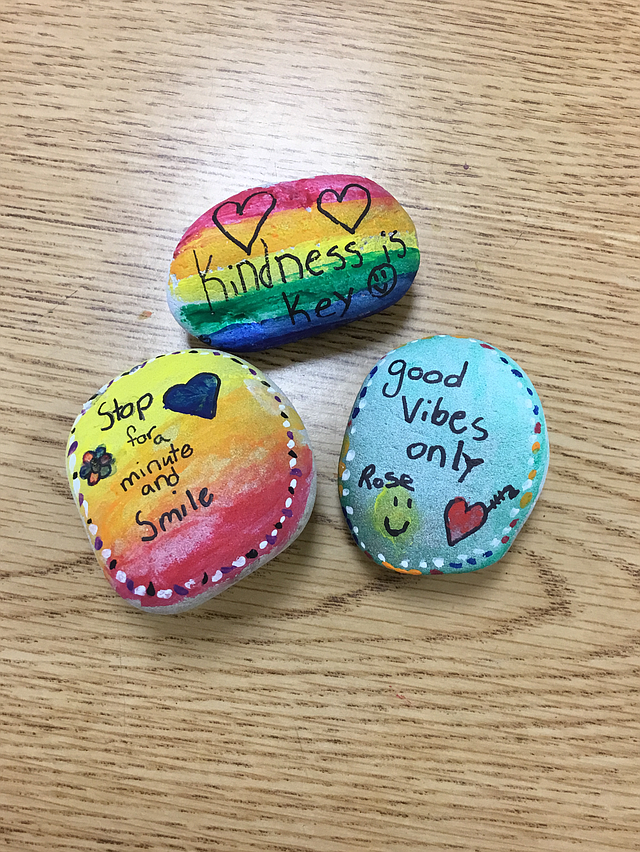 Look around, you may just find a glimmer of positivity around you in the most unexpected place.
At least, that's what students at Broken Arrow Elementary School hope will happen.
For an art project last week, students decorated pond rocks with colorful illustrations and uplifting sayings. They left these rocks all over the Shawnee area, with the goal to brighten people's days.
Broken Arrow art teacher Laura Porras created the project for her students as a way to celebrate the Great Kindness Challenge, which is part of a national campaign focused on encouraging people to engage in specific acts of kindness for a week in January.
Shawnee Mission schools have been participating in the challenge in different ways.
Porras was inspired for the idea when she was out with her children and they saw painted rocks with inspirational words on them. They went home, grabbed some rocks from their own garden, and started decorating.
They left the rocks around a church and along a hiking trail.
"I thought, if we could reach a couple people, that would be great, but how could I get my kids at school to reach even more?" Porras told the Dispatch.
When she approached her students with the idea, they loved it.
Some of her sixth graders even helped interview other students and create an iMovie about the project to show the entire school during a school assembly kicking off Kindness Week.
On the back of each rock, the students wrote #BrokenArrowRocks with the hopes people in the community will take a photo and use the hashtag on social media.
"My hope is that having our Broken Arrow students participate in the Kindness Rock project will (help them) feel that the Great Kindness Challenge isn't just a week, it's a way of life," said Porras.