Making a splash: Shawnee water garden featured on tour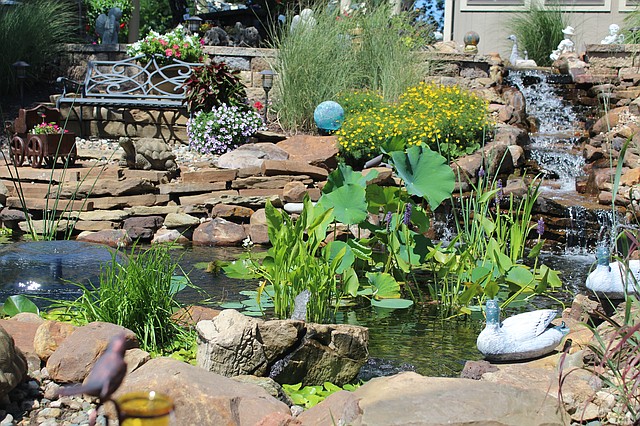 When Janice Dearinger and her husband built their Shawnee home in 1992, she envisioned their backyard with a pond and waterfall, surrounded by a lush garden landscape.
As someone who loved being near water, and hearing the sound of it, she dreamed of creating an outdoor space which could be her family's miniature resort to enjoy steps away from their back porch.
She spent many weekends over the years attending water garden tours, taking pictures and asking questions.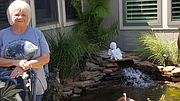 "Going on the tour always makes for a fun weekend and for us, it was a chance to meet great people who were more than happy to share their dreams with us," Dearinger said. "The water garden community is very tight-knit and helpful to one another."
Now nearly 30 years later, the Dearinger water garden is going to be featured on the 25th annual Water Garden Tour, which will be held this weekend.
The tour, themed "The Wonderful World of Water Gardens," will feature 47 water gardens, some featuring trains or fairies or sculptures.
Each year, the proceeds from the tour benefit construction and maintenance of educational and restorative water gardens and other educational programs in the Kansas City metropolitan area. To date, the KC Water Garden Society has built over 60 ponds for schools and other nonprofits.
It is that aspect of giving back that encouraged Dearinger to join the water garden tour for the third time.
It's also a chance for her to share her passion with like-minded people, many who go on the tour to learn tips for their own future gardens.
"If you don't love gardening, it's not for you, because it takes a lot of hard work," said Dearinger, who has lived in Shawnee for 35 years. "It's a deeper calling. For me, it's a way to give back to others and share what God has blessed us with."
The Dearinger garden features a small pond with a waterfall, with a larger pond and waterfall beneath it, sprinkled with several varieties of lotus and lilies. Boulders, grasses, colorful flowers and quaint garden decor frame the landscape.
Several beautiful fish, such as koi and goldfish, call the water garden home.
"We enjoy it as a family," Dearinger said. "We spend so many evenings visiting, sitting around the fire pit and listening to the waterfall and the sounds of nature. We just cherish the prettiness of it all."
The gorgeous scenery has made her quite popular among family members who adore spending time at her home.
Her cousin's daughter recently used the water garden as a stunning backdrop for her wedding ceremony; her grandchildren enjoy running around, trying to catch frogs and she often hosts holidays and parties.
And while the lush landscape may seem effortless, Dearinger emphasizes that beauty requires a lot of hard work, and it comes at a hefty price.
"With what I've spent, I could have diamonds, but instead I have boulders," she said, with a laugh.
The investment of time and money is just another reason why the water garden tour is so important to up-and-comers, she pointed out.
"If you want to do it, ask questions," she said. "There's people who want to help you."
This year, the Dearinger garden will be one of 13 on the tour to feature a unique fusion of the arts. A local stone carver from Shawnee, Ailene Banks, will be demonstrating her artistic talents at the garden, plus displaying and selling her work.
Dearinger told the Dispatch she wants to thank all of the hardworking organizers behind the water garden tour who work tirelessly to make sure it runs smoothly.
And, of course, she wants to thank the people around her who have helped her water garden flourish.
"Without the Good Lord and my amazing family, the water garden wouldn't be here," she said. "They all worked so hard helping us build it and maintain it."
Tickets for the two-day tour will be available at all garden centers in the Kansas City area, including Family Tree Nursery, 7036 Nieman Road, and Westlake, 12230 W. 63rd St.
Prices for the self-directed driving tour is $10 for both days. Children under 14 are free with an adult.
For more information, visit kcwatergardens.com.
More like this story