Women's panel to feature Constance, other elected officials
What happens behind the scenes in a political campaign?
Get a firsthand look at what it takes to run—and win—local elections from three newly elected members of area city councils: Sollie Flora, Mission City Council; Logan Heley, Overland Park City Council and Lindsey Constance, Shawnee City Council.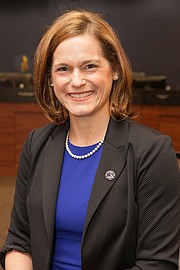 The League of Women Voters of Johnson County invites you to attend this event, "Lessons from the local campaign trail: What I've Learned Running for Office," which is free and open to the public.
Dr. Ann Sanders, an accomplished educator and community leader, will lead the nonpartisan panel as they share their experiences and answer questions.
The event will be held from 7-8:30 p.m. on July 19 at Matt Ross Community Center, 8101 Marty Street in Overland Park.
To learn more, or RSVP, visit lwvjoco.org.