Enjoy sweet treats at Sheridan's this summer (and all seasons)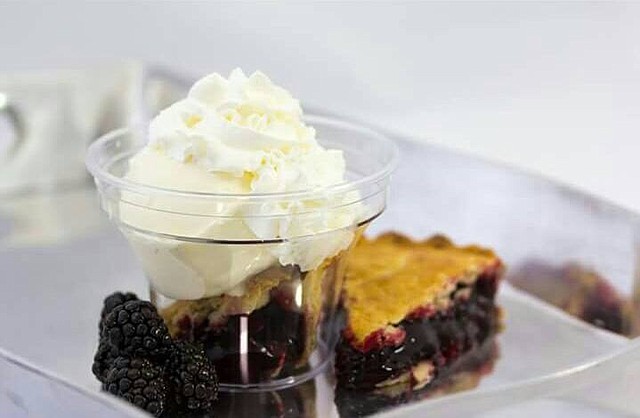 Sheridan's Latte's & Frozen Custard has been putting smiles on the faces of Shawnee residents of all ages for more than a decade.
The sweet treat shop, 13655 W 63rd Street, offers a large, inviting patio for customers to enjoy sundaes, shakes, cones, smoothies and it's most popular dessert, the concrete.
Other popular menu items include lattes and Wowieccinnos, an iced, blended coffee treat featuring creamy custard.
As for toppings, there are too many to list here, but the possibilities are endless.
"What we can say is that the only limit to the desserts we serve is your imagination," said John Hart, co-owner. "If you can dream it up, we can make it. We always have your favorites, such as the Royal Turtle Sundae, the Dirt and Worms Concrete, and the Strawberry Cheesecake Concrete."
He encourages custard-lovers to check out Sheridan's July specials, such as Strawberry Shortcake Sundae, Key Lime Pie Concrete and the Mexican Chocolate Concrete.
It is also serving a Blackberry Cobbler Sundae topped with our smooth Vanilla Custard and plenty of whipped cream.
Hart and co-owner John Wohletz, both Shawnee residents, opened Sheridan's, near Shawnee Mission Parkway and Pflumm Road, in July 2007 and they appreciate the community's support.
"At Sheridan's we pride ourselves in using the the highest quality ingredients to serve you the finest desserts in Shawnee," said Hart. "We look forward to serving you throughout the summer months and well into the winter months. With our drive up window, you can enjoy your favorite desserts all year long."
He wants to reminds customers their favorite custard is available for purchase in pints and quarts and frozen pies are always available for special, or everyday, occasions.
"So, be a hero to someone close to you by taking them to Sheridan's," Hart said. "Celebrate a big win or console someone special after a tough loss. Make up a reason to celebrate and head on over. Enjoy a warm afternoon or a pleasant summer evening right here in Shawnee."
Sheridan's store summer hours are 11 a.m. to 11 p.m., Monday through Saturday and noon through 11 p.m. on Sunday.
Visit its Facebook page at facebook.com/shawneesheridans.