Mill Valley senior Ben Trauernicht gears up for Down Under Sports International Games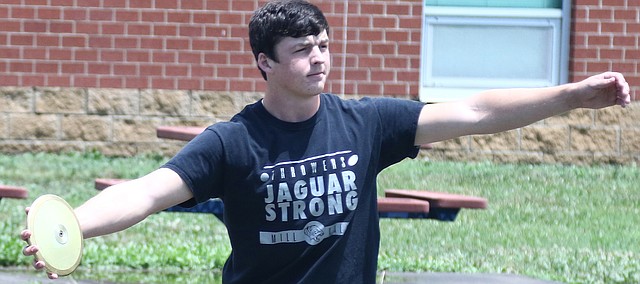 After finishing his junior year as a state medalist in the discus throw, Mill Valley senior Ben Trauernicht's love for track and field throwing events has continued to blossom.
Fortunately, he won't have to wait until next spring to compete again.
Trauernicht's talents will be on display next week as he competes for the United States team in the Down Under Sports International Games, which will take place from July 13-15 in Australia.
"I'm really excited," Trauernicht said. "Obviously it's not something that most people get to do. I'm really looking forward to it."
The discus has been Trauernicht's strongest event, as he placed fifth at the state meet with a mark of 154 feet, 9 inches. Trauernicht realizes that a new personal record might not be in the cards at the Down Under Sports International Games with only practicing three times a week during the summer, but that's perfectly fine with the Mill Valley senior. The international meet will give Trauernicht the opportunity to compete in all four throwing events — the discus, shot put, javelin and hammer throw.
The discus, shot put and javelin are events offered at high school meets throughout the state of Kansas, but competing in the hammer throw will be a first for Trauernicht.
"It's new to me. It's really new," Trauernicht said. "It's not something that I'm going to be able to compete with other kids in for a while, but I think if I got after it, that's something that I can do in college."
Track and field scholarship offers are something the Trauernicht said he'll definitely be intrigued by during his senior year. Trauernicht previously played football in the fall for the Jaguars, but track and field is now his main focus when it comes to athletics.
"I've started to enjoy throwing as a sport — just any kind of throwing event," Trauernicht said. "It's just something I enjoy doing."
The teammates Trauernicht has had the pleasure of spending the last three years with have added to his passion of throwing. Trauernicht was a part of a Mill Valley boys squad that went from worst to first at the Eastern Kansas League meet from 2017 to 2018. The Jaguars also finished as Class 5A regional runners-up and fourth at state.
Fellow throwers Trey Callahan (fourth at state and regionals and seventh in the EKL in the discus), Christian Roth (third at regionals and EKL and fourth at state in the shot put), Thomas Babcock (fifth at EKL and regionals in discus), Blake Eaton (second at regionals and third in the EKL in the javelin) and Nolan Leiniger (third in the EKL in the javelin) joined Trauernicht (second at regionals, third in the EKL and fifth at state in the discus) in scoring points for the Jaguars in postseason meets.
"We have a great group of people there. Everyone is really nice to each other," Trauernicht said. "Everyone is cheering each other on when they're doing good. Everyone is there for everyone else."
Trauernicht's teammates are eager to hear about his experience at the international meet. Eaton said that the bond of the throwers has helped breed success.
"We go to team dinners. Every year we have a Buffalo Wild Wings team dinner. We kind of bond there and all of the coaches come," Eaton said. "We eat the hottest wing and see how that goes. We just bond there and hang out outside of school sometimes."
As a two-time state qualifier, Trauernicht has made sure to give credit where it's due. Chris Dunback has coached Trauernicht in the discus, and even lent him a hammer to practice with to prepare for the Down Under Sports International Games.
"He's someone I look up to just immensely," said Trauernicht of Dunback. "He's one of my biggest role models and he really pushes us to have good character skills and being a good person in general."
The countless hours that Trauernicht has spent with Dunback perfecting his throwing form and time in the weight room has paid off. Trauernicht's best throw in the discus at the 2018 state meet went nearly 30 feet further than his top mark from the 2017 state meet.
"Obviously working my form, but strength has helped me a lot," Trauernicht said. "I've always been kind of a strong person. It's really kept me up there coming with everybody."
Trauernicht added, "Lately I've been dropping my knee out of the back of the ring, and that really helps me get some speed throughout the throw."
When Trauernicht received his invite to the Down Under Sports International Games in the mail he wasn't dead set on going at first, but after doing some research on the competition and getting the OK from his parents he became more excited about the opportunity.
"From what I understand, it's really big," Trauernicht said. "Some of the best throwers have gone there. Some people have gone to the Olympics."
Along with track and field, football, cross country, golf, basketball and volleyball will be a part of the Down Under Sports International Games. The track and field portion of the event has been held annually since 2000. Nearly 700 athletes competed in the 2017 meet.
Other than going up against some stiff competition, Trauernicht doesn't know much about the other athletes who will be at the meet.
He is meeting a few of them at KCI for the first flight to Australia, however. The unknown about the meet is part of what has Trauernicht looking forward to it.
"I'm excited to meet new like-minded friends with the same goals and same passions as me," Trauernicht said.
Trauernicht's journey to Australia will begin on Saturday. The 10-day trip will include three days of competition, three days of practice and much more — including sight-seeing, visiting kangaroo fields, going to a wildlife sanctuary and a free day around the great barrier reef.
The Mill Valley senior doesn't have any expectations for the meet or the trip other than to enjoy every minute of it.
"Have fun," Trauernucht said. "Obviously it's going to be a great place in Australia."
More like this story