Letter to the editor: Lenexa resident disappointed with City of Lenexa for allowing Kobach parade float featuring replica gun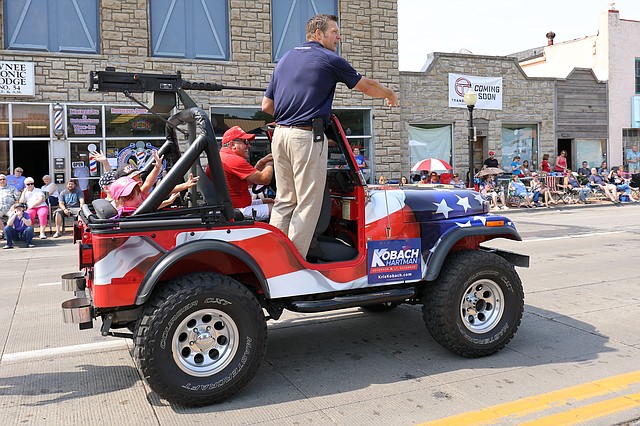 Editor's note: The following letter to the editor was sent to the Dispatch on July 4.
To the editor:
I am ashamed of my city today.
One month after the city of Shawnee promised better after Kris Kobach rode in their parade with a large replica gun on a jeep, my city, Lenexa, knowingly allowed it to happen.
Today, we should be excited for our freedom, solemn for the sacrifice of those who brought us that freedom and diligent about creating a welcoming community long into the future because of that freedom.
My city chose to allow someone to divide us instead.
Kobach absolutely has the freedom to try to ride in the parade with a replica machine gun hanging off a jeep.
Freedom of speech has consequences. And, my city had the opportunity to stop this divisive action before it started. Lenexa, you had a month's warning. You did nothing. My assumption is you were worried about the backlash of saying 'NO!"
Kobach could say that Lenexa was anti-free speech. So what! You answer to all your citizens. And, your answer is simple. On a day we come together to celebrate freedom, we don't believe our city needs a giant gun traveling down the street!
It's that simple to do the right thing.
Guns are legal, but they don't symbolize freedom. You missed the opportunity to differentiate the two for your citizens.
I'm not surprised Kobach did it again. It's great publicity for him. He's loving the angry tweets right now, because no publicity is bad publicity.
I'm not one of the angry ones. I'm simply disappointed.
A city that stands for parks, trees and community spaces, knowingly allowed this man to overtake our safe spaces.
And, all the while he was yelling, "Cheer for freedom," with a giant gun behind him. Is that a threat or a request? Cheering for freedom with a large gun behind you feels instead like a demand to, "cheer or else!"
It's a bad look. Not for Kobach, because he's made it apparent he doesn't care. It's a bad look for our city.
You all sacrifice so much to serve this city. I can't imagine the amount of time and energy you spend representing all of us. Let me say thank you for all that you do.
And, on this occasion, please consider a policy change or a policy enforcement moving forward.
D.J. Whetter
Lenexa resident