She said yes to the family dress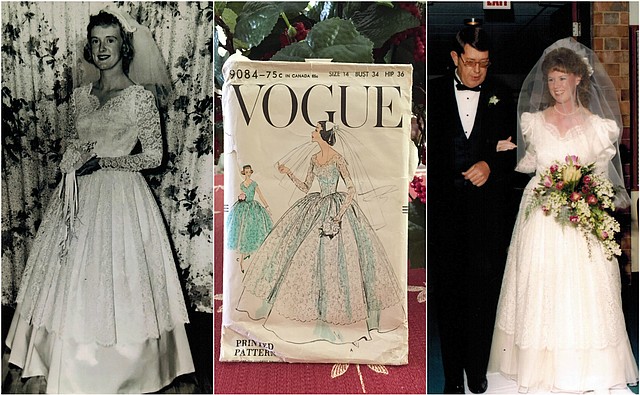 One Shawnee family is proving there's no such thing as an outdated wedding dress.
Sixty years ago, Mary Harmon hand-stitched an elegant lace-detailed gown, featuring a tight bodice and full skirt, reminiscent of the glamorous fashion icon, Grace Kelly.
She wore the dress during her 1958 wedding to the love of her life, a dashing Airman stationed near her family's farm. Later that year, her sister got married in the same dress.
Thirty years ago, Harmon's daughter, Terri West, put her own spin on the dress for her big day, adding big puffy sleeves, a large bow and a train in the back, a style celebrated by her generation in the late 1980s.
Next month, Shawnee native Jess West will follow in the footsteps of her grandmother and mother by wearing the same wedding gown when she exchanges vows with her college sweetheart.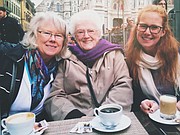 She's having the dress tailored to be sleeveless and more sleek, a nod to the current trend.
"I knew I had to wear it when I found out the story," said Jess, a 23-year-old who now lives in Little Rock, Ark. "I felt like it would be very special to be the fourth woman in the family to wear it. I love how every bride put her own touch on it over the years."
Her mom and grandma, who both live in Shawnee, are touched and thrilled that West decided to embrace the tradition.
After all, the gown represents the love stories which built and fostered their family.
Harmon was a 20-year-old waitress at a drive-thru restaurant in Sedalia, Mo. when she met her future husband, Bob.
The Airman, stationed at Whiteman Air Force Base in Knob Noster, often swung by with his friends.
"He was cute," Harmon recalled. "Tall and lanky. I was drawn to his sense of humor."
The two raised four kids in Johnson County and they were married for 59 years.
They would have celebrated their 60th wedding anniversary in November, but Bob passed away in April.
After all these decades, Harmon still vividly recalls buying her wedding dress pattern for 75 cents, although she doesn't remember the exact store. She adored the buttons down the back of the dress and the lace detail.
"It was the style back then," she pointed out.
In 1988, West wore her mom's dress for a few reasons: she loved the sentiment, she was fond of vintage fashion and she wanted to save money.
She was delighted to discover her mom's wedding gown had been kept in pristine condition over the decades.
When she walked down the aisle, next to her dad's side, she wore the gown on the beginning of her own happy journey.
West wed her husband, Jack, on Valentine's Day that year.
The two had met through church and bonded over a love of outdoor sports, such as skiing and softball.
In fact, West said, their first date was spent playing volleyball.
Once they wed, the two almost immediately started their own business, a driver's ed school, together.
Thirty years and two kids later, they're still going strong as man and wife, and as business partners.
While most couples would balk at the idea of working together, West insists their business actually strengthened their bond.
"It was awesome because our schedule allowed him to be a more active dad," she told the Dispatch. "It's hard working with your spouse, but we make it work because we play to our individual strengths. He's more of a business manager and I'm more of a teacher."
Both mother and daughter know they are lucky to have had successful and happy unions.
"We've all had very good marriages," Harmon mused. "We're all very blessed."
They are thrilled Jess has found her special someone, a middle-school English teacher named JP Baker.
Jess and Baker met four years ago through mutual friends and started dating three years ago.
"I love his sense of humor," Jess told the Dispatch.
In April, Baker set up an elaborate escape room in her house, complete with clues and puzzles, with the end result being him on one knee in her backyard with lights all around and their favorite song playing.
When she told Baker she wanted to wear her mom's dress at their wedding, he was supportive, since both of them are into sustainability.
"Neither one of us likes the idea of paying thousands of dollars on a dress I'll only wear once," Jess said. "So recycling the dress fits our relationship."
After their July 22 wedding in a Little Rock suburb, Jess and Baker will jet off to Denver for their honeymoon.
In September, they will leave Arkansas to settle in Nashville where Jess is going to graduate school to be a physician's assistant.
And yes, the dress will be going to Nashville too.
"I'm going to get it preserved after the wedding, so I can pass it down," Jess said.