Nick and Jake's to open in western Shawnee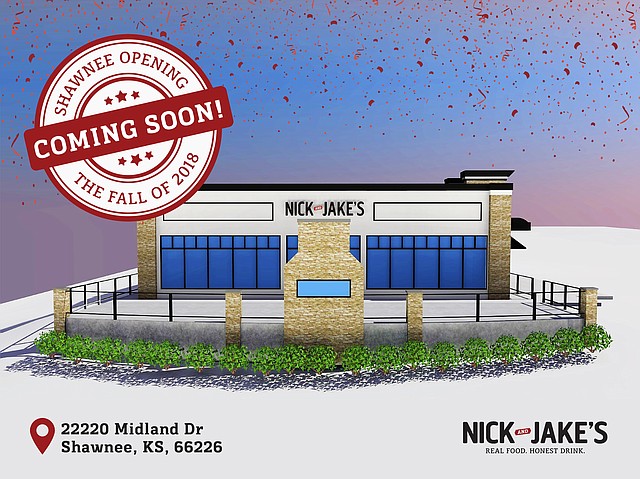 A popular local restaurant is opening its fourth location in Shawnee.
Founded in 2001, Nick and Jake's has grown from its original Overland Park landmark to include locations in both Parkville, Mo. and south Plaza.
Its newest restaurant will soon take over the former Ruby Tuesday site, 22220 Midland Dr.
"We've been looking at western Shawnee for years," said owner Doug Watkins. "Our kids' sporting events introduced us to the area from their youth all the way through high school."
Nick and Jake's restaurant is actually named after the two sons of Watkins and his business partner, Kevin Timmons, and it will continue its motto of "Real Food, Honest Drink."
The family food joint provides chef-driven American cuisine.
In addition to their diverse menu, which ranges from burgers/sandwiches/salads to fresh daily seafood to hand-cut steaks, a creative culinary team is always developing new seasonal specials.
Their Sunday brunch has been voted the best in Kansas City numerous times.
An extensive drink menu includes beer and wine lists, and of course, specialty cocktails.
"We feel the Nick and Jake's brand travels well," said Timmons. "Our growth model is based on great locations and great people. We felt like we have surrounded ourselves with a talented young management team and the time was right to give them an opportunity to grow."
While an exact date has not been set for the opening, the Nick and Jake's team is hoping to be ready by the end of fall 2018 and is excited to become a member of the Shawnee community.
Job opportunities will be coming soon as they begin their hiring process at the end of the summer.
For more information, visit the Nick and Jake website.