Two Kansas City area theaters present regional premiere of Disney's Newsies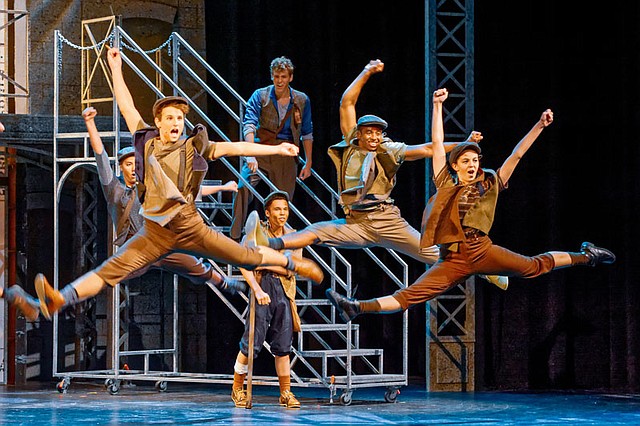 It's one of the hottest Broadway musicals from the past decade and now, it's being featured in Overland Park.
The Coterie Theatre and the White Theatre at the Jewish Community Center of Greater Kansas City have "seized the day" by co-producing Disney's "Newsies," which is playing at the White Theatre through July 29.
The show marks the two theaters' first collaboration, as well as the Kansas City region's first production of "Newsies" that is being locally produced.
Before now, the only other time "Newsies" was brought to Kansas City was through a Broadway touring company.
By collaborating together, the theaters were able to bring the Newsies to the Kansas City stage years before it would be available to community theater.
The partnership, it turns out, stemmed from a happy coincidence, said Keith Wiedenkeller, the director of arts and culture for the White Theatre.
He told the Dispatch that Coterie Theatre artistic director Jeff Church was looking for a way to feature "Newsies" and at the same time, the White Theatre was facing a last-minute need for a summer musical when its initial show fell through.
"It was serendipitous," Wiedenkeller said. "We share the expenses and revenue. It's a true partnership is every sense of the term."
It's also represents a win-win for both theaters.
The Coterie Theatre, named "one of the best five theaters for young audiences" in the U.S. by Time Magazine, brings a wealth of valuable high-end resources to the table, but its stage at Crown Center Plaza is much too small for such a large-scale production.
The White Theatre, meanwhile, offers a 500-seat state-of-the-art auditorium in the heart of Johnson County.
Merging urban and suburban audiences has also been beneficial, because theater-lovers from both sides of the state line are being introduced to a theater they may not have known about before, Wiedenkeller pointed out.
"As theaters, we all compete for the same entertainment dollar, but it's important for the community to support each other," he said. "It's been a great partnership. You don't get an opportunity like this very often and I'm thrilled to be a part of a show and collaboration of this caliber."
This "Newsies" production features a cast of all-local professional and non-professional adult and youth actors.
The dance numbers are nothing short of stunning, emphasized Wiedenkeller
"People have been walking out of the theater and saying this exceeded anything they've seen in professional theater," he said.
"Newsies" features music by eight-time Academy Award winner Alan Menkin, who is best known for Disney's Beauty and the Beast and Aladdin.
Originally written for the 1992 feature film musical, Menken's stirring score is often credited for the cult following "Newsies" has developed since its initial release.
The multiple Tony Award-winning stage production of Newsies, which ran on Broadway from 2012-2014, adapts many of Menken's memorable melodies, including "Carrying the Banner," "King of New York," "Santa Fe," and "Seize the Day."
Set in New York City at the turn of the century, Disney's "Newsies" tells the rousing tale of Jack Kelly, a charismatic newsboy and leader of a ragged band of teenaged newsies, who dreams only of a better life far from the hardship of the streets.
But when publishing titans Joseph Pulitzer and William Randolph Hearst raise distribution prices at the newsboys' expense, Jack finds a cause to fight for and rallies newsies from across the city to strike for what's right.
The plot is based on the inspiring real-life story of the Newsboy Strike of 1899 when newsboy Kid Blink led a band of orphan and runaway newsies on a two-week-long action against Pulitzer, Hearst and other powerful newspaper publishers.
The current Overland Park production features a few Shawnee teenagers as the driven newsies. They are Mandy Dulny, Fisher Stewart and Jackson Tomlin.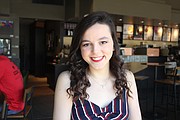 Dulny, a 2018 Shawnee Mission Northwest High School graduate, told the Dispatch the show lives up to its hype.
"This is a dream show I never imagined I would get to be in," she said. "We have a fun, amazingly talented cast and what we've created together is insane. It's theater magic."
Her favorite aspect of the show is that its message is relevant today.
"There are songs I feel people could be singing about today at protests," said Dulny, who will be studying theater and dance at Millikin University in the fall. "It's about kids standing up for what they believe, like the Parkland kids have been doing. Sometimes when young people voice their opinion, adults aren't willing to listen. Just like the newsies, we're a young generation who wants to make a change in the world."
Wiedenkeller agrees the show's message is timely.
"It's about a group of young people who are standing up and saying 'no more' to the injustices going on in the world," he said. "It doesn't take a lot of imagination to see the parallel between what is going on today."
He points out that the musical takes place during a time when there were no child labor laws yet and young people were heavily exploited, with children working from dusk until dawn.
"It's not a typical Disney musical and it's not a fairytale or children's story; it's about standing up for what's right and the power change can bring," he said. "It's a powerful story with powerful music that resonates with people of all ages."
Tickets for the production are selling quickly.
Tickets for Disney's "Newsies" are $25 for the general public, $18 for J Members and $14 for students.
To purchase tickets and see a schedule of upcoming shows, visit TheWhiteTheatre.org or contact The White Theatre Box Office at 913-327-8054 or by email at boxoffice@thejkc.org.
The White Theatre is located at 5801 W. 115th Street in Overland Park.