A
STEM

-ulating summer: Camp Invention inspires young students to become future innovators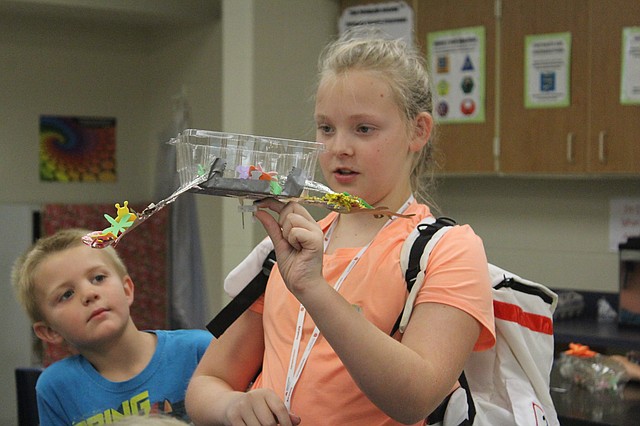 For nearly a decade, one summer camp in Shawnee has been showing kids that all it takes is a little ingenuity to make a big difference.
Camp Invention wrapped up last week at Good Shepherd Catholic School and 10 other sites in the Kansas City area.
Using fun hands-on activities, the program promotes science, technology, engineering and mathematics learning, builds resourcefulness and problem-solving skills and encourages entrepreneurship.
During the week-long camp, campers participate in four different modules: Optibot, Robotic Pet Vet, Mod My Mini Mansion and Stick To It.
In Obtibot, campers launch into the future with a small, self-driving robot.
Throughout the Robotic Pet Vet module, campers nurse their own robotic puppy back to health and design and build dog parks.
In Mod My Mini Mansion, campers dream up and design their own futuristic smart home filled with gadgets, LEDs, and other technology.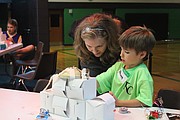 The Stick To It module allows them to study how items, such as slime and tape, stick.
At Good Shepherd last week, 86 kids from all over the Kansas City area invented something new every day as they explored what it was like to be a physicist, engineer and entrepreneur.
Sue Schmidt, a seventh and eighth grade science teacher at Good Shepherd, told the Dispatch she has helped teach the program for nine years.
Her favorite aspect of Camp Invention is that it promotes creativity and problem-solving.
"As a teacher, I love that with this camp, the kids don't have to follow a script," she said. "We encourage them to come up with their own ideas, which helps them develop confidence and their own style of learning. It allows them to become independent thinkers."
Plus, she added, there is no right or wrong answer; it's about finding unique solutions to problems and puzzles.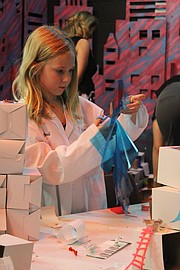 Schmidt is one of numerous Good Shepherd teachers who help with the camp every summer. High school students also volunteer their time to assist at the camp and middle-schoolers are invited to act as helpers, too.
One of those middle school counselors in training was Abigail Snell, a 12-year-old from Shawnee.
She's been attending the camp since first grade because she's passionate about science. She even wants to be an astronaut when she grows up.
"I just love this camp--it's great," she said. "I encourage everyone to come here."
Helping at the camp this year was a big responsibility for the soon-to-be seventh grader, but she was up for the challenge.
"I like helping out with the kids because it's fun to see their creativity go into action," said Abigail, who will attend Trailridge Middle School in the fall. "It's exciting for them to come up with ideas that become a reality."
Her goal is to be a high school volunteer for the program one day.
Many of the high school volunteers are past campers themselves.
The camp's curriculum is designed for all kindergarten through sixth grade levels, from kids with special needs to those in gifted programs.
And while the activities are tailored to promote innovation and creativity, they are also designed to encourage teamwork.
At each module, campers also learn about various inventors from across the world.
"These inventors were kids once just like them," said Laura Leibman, a regional program manager for Camp Invention. "We're teaching them you can grow up to invent the next big thing."
She has even see the camp raise her own young son's confidence level, which was cool to witness as a mom.
She believes kids keep coming back to the camp because it inspires a new passion in them.
"We don't want their passion for STEM to end after five days," Leibman said. "We want them to pay attention to these skills in school and they do."
And it's a positive effect occurring across the nation.
Since 1990, its educational programs have served more than 1.3 million children and 125,000 teachers and high school leadership interns.