FBI

investigates black Kansan's death as possible hate crime
The FBI has opened a hate crime investigation into the stabbing death of a Kansas woman whose relatives allege the suspect is a white supremacist.
Ronald Lee Kidwell, 47, is charged with second-degree murder in the slaying of 43-year-old MeShon Cooper, who was missing for a week until her body was found July 14 at Kidwell's home in Shawnee.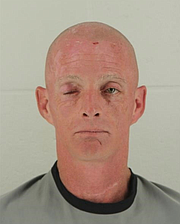 Kidwell's estranged daughter and a cousin told The Kansas City Star that Cooper's death was likely a hate crime because Kidwell was an avowed white supremacist. Cooper was black.
FBI spokeswoman Bridget Patton confirmed Tuesday that the agency was investigating whether Cooper's death was a hate crime.
According to a police affidavit, Kidwell told police Cooper attacked him at his home and threatened to tell everyone that he is HIV positive. He said he "flipped out" when Cooper hit him in the hand with a knife, which he grabbed before stabbing and killing her.
A joint investigation by Shawnee, Lenexa and Kansas City police led officers to Kidwell's home after phone records showed that Cooper visited Kidwell's house July 6, the last day she was seen alive, the affidavit said. A search warrant was requested after police found "an overwhelming smell of bleach" at the home. Kidwell at first denied knowing where Cooper was but eventually told police that Cooper's body was wrapped in trash bags and inside of a trashcan in his garage, according to the affidavit.
Kidwell's estranged daughter Carolyn Foster told The Star that Kidwell was a "monster" white supremacist who enjoyed targeting and assaulting black people. She said he often showed off his swastika tattoo and bragged about belonging to the Ku Klux Klan. Forster said he pretended to befriend minorities and then harmed them.
"He's been a monster his whole life," she said. "He's the true definition of evil."
His cousin, Shana Turner, said most of Kidwell's family had disowned him because of his racist views.
"Whenever I was around him, he'd talk about white power," she said. When she heard about the murder allegation, "it didn't surprise me that she (the victim) was black."
Kidwell has spent 15 years in prison on various assault charges. In 2011, Kidwell was convicted of second-degree assault in Clay County after attacking and sexually assaulting a black woman. He did so without a condom, he told detectives at the time, despite knowing he was HIV positive.
Kidwell is jailed on $1 million bail.
More like this story