New city manager discusses what's next for Shawnee
Sunderman hopes to maintain city's positive momentum, inspire innovative improvements within city departments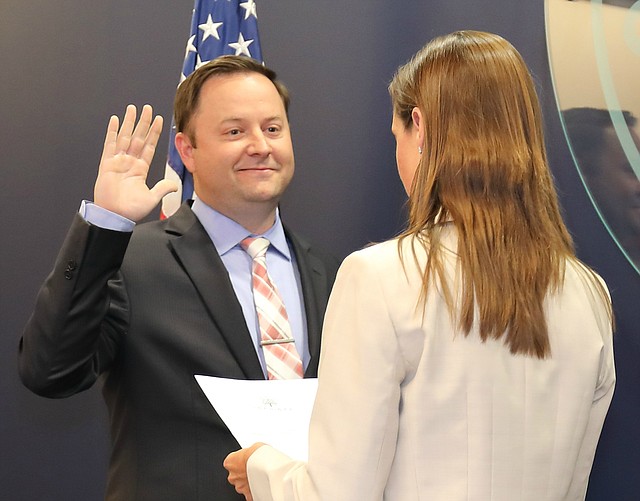 It's a new era for the city of Shawnee as Nolan Sunderman takes over the reins.
Without much of a breather, the good-natured 34-year-old has spent the past few weeks jumping into his duties as the new city manager ever since he was named Carol Gonzales' successor last month.
Being in charge of the city's operations, as well as implementing policies adopted by the council, are not easy tasks, but Sunderman, the former assistant city manager, loves the challenge.
After all, his passion for city government stems back nearly two decades when he was an ambitious high school student longing to be more involved in his community on a deeper level.
The Republic, Mo., native started working for his hometown's parks and recreation department when he was only 15; part-time work soon turned into internship opportunities, and he worked his way up the chain through college.
"Making a difference and knowing at a young age that you can have a significant role in your community was eye-opening for me," Sunderman said. "City government is the government closest to people. You can have such an impact on residents and help them and engage with them, and it's a great feeling when they appreciate it."
Sunderman holds a Bachelor of Science degree in political science and a Master's degree in public administration from Missouri State University.
In the past decade he has held roles as the assistant to the city administrator for Prairie Village and the economic development director for Lansing.
Two years ago, he joined Shawnee city staff as the assistant city manager.
Now that he's in the city's top administrative leadership role, his main priority will be making sure Shawnee stays heading in the right direction, he emphasized.
On his first month on the job, Sunderman recently sat down with the Dispatch to discuss his upcoming goals for the city, his leadership style and why he thinks Shawnee has that "small-town feel."
Focusing on the future
When asked about his immediate goals for the city, Sunderman told the Dispatch he wants to help maintain Shawnee's positive momentum.
There are several significant projects coming up he wants to help cross the finish line, he pointed out.
One of those is the "Nieman Now!" plan, which encompasses four stormwater projects and a major enhancement to Nieman Road, between Shawnee Mission Parkway and 55th Street, as well as Flint Street, from Johnson Drive to 62nd Terrace.
The plan addresses flooding issues, enhances development opportunities along the downtown corridor and improves aesthetics.
Nieman Road improvements, from Shawnee Mission Parkway to 55th Street, include turning it into a three-way roadway, constructing a 10-foot multi-use side path on the east side and a 5-foot sidewalk on the west side, landscaping and park elements and other pedestrian-friendly amenities.
It will be the first major renovation to Nieman Road since it was constructed more than 50 years ago.
With the Aztec Theatre renovation, new brewery coming soon and the Stag's Creek office building recently opening, Sunderman said the future is looking bright for Shawnee's historic downtown.
"We're seeing a big investment downtown, which is very exciting," Sunderman said. "It's the gateway into the community. Over the next year, we should really be focusing on our downtown amenities and revitalization."
Other upcoming projects include the new Fire Station 74 in western Shawnee scheduled to be constructed by the end of the year, and soon, the city will be discussing a potential renovation for Station 71, which sits near Shawnee Mission Parkway and Quivira Road.
Next month, Sunderman added, city staff will also be looking for direction from the council on the potential for a new community center for western Shawnee.
Two well-attended public meetings were held earlier this year, with residents providing city staff with feedback on what they wanted out of a new community center, which could potentially sit on city land near 61st and Woodland.
Back in March, Shawnee Parks and Recreation director Neil Holman told the Dispatch if the city's governing body gives the green light, there could be a ballot question regarding the financing of the community center for the November election.
Facing unique challenges
Most cities have a "north and south" or "east and west." But Shawnee's east and west geographic divide often feels disjointed to residents.
Finding a way to bridge that gap is an issue Sunderman wants to address head on.
He agrees that with Interstate-435 and Kansas Highway 7 dividing the city's landscape, it might be easy for residents to feel disconnected from other parts of town.
He told the Dispatch he wants the city to continue making investments to improve pedestrian connections over both the interstate and highway.
"It can be a difficult path to cross certain areas," he said. "We want to minimize some of those physical barriers in the community to connect both sides. Sometimes we forget that we're a 42-square-mile city with 65,000-plus people. We have such a small-town feel and so many people know each other, yet we're a pretty large community."
While the geographic divide is tricky, he said one of his favorite aspects of Shawnee is that it offers the best of both worlds.
"Some cities are landlocked or they don't have the opportunity to revitalize," he said. "Here, we have the opportunity to both develop and redevelop. We have the chance to attract newer development out by K-7, for instance, and also the opportunity to redevelop our historic core."
Another challenge facing Shawnee in the near future is that there will be a number of retirements among city staff.
For instance, the city's planning director Paul Chaffee will be retiring in September and deputy city manager Vicki Charlesworth, who also served as interim city manager, plans to retire later this year.
"We'll have a number of people with 25, 30 years of experience retiring," Sunderman pointed out. "That's a lot of institutional knowledge and a lot of history that will be retiring along with them."
Thinking 'outside the box'
As an administrative leader, Sunderman is helping to promote a more innovative culture among city staff.
Representatives from each city department meet monthly to brainstorm ways to bring new ideas to the city, such as pilot projects, new forms for the website and new processes, for example.
"We're looking at new ways of doing things," Sunderman said. "We're trying to get away from 'oh, well this is how we've always done it.' We want to increase efficiencies in the organization, enhance our communication and take a more innovative approach to working with businesses and the public."
By making positive changes, the city hopes to attract the best and brightest employees, making sure residents are more engaged and informed than before and improve city operations to provide the best service, Sunderman said.
He told the Dispatch he's grateful the city has both a staff and governing body open to new ideas.
"They (staff and elected officials) want to make a difference and help people," he said. "That's one of the reasons I love Shawnee. We've got a great team."
Another way Sunderman wants to "think outside the box" is by looking for unique partnership opportunities.
Sometimes partnering with other cities or organizations, such as the city's two school districts or even one of the local sporting venues, can be a beneficial boost to both parties, he said.
The city of Shawnee regularly partners with the city of Merriam on its recycling event, and the city's parks and recreation department often partners with the Johnson County Parks and Recreation District on successful ventures.
"It has a small town feel"
It's one of the most common sentiments verbalized by Shawnee residents and business owners, and Sunderman often finds himself uttering the phrase every so often.
So, why do so many people say Shawnee feels like a small town?
Well, he answered, with a laugh, that's because it's true.
Sunderman and his wife, Natalie, moved to western Shawnee in 2009, long before he joined city staff. They have a 6-year old son, Connor.
They were attracted to the city because they saw it as a great place to raise a family.
And now, Sunderman is proud to be a part of the community as both a resident and its city manager.
"Just living here, I saw a great side of Shawnee," Sunderman said. "There's a sense of community everywhere you turn, whether it's going to Old Shawnee Days or the Scarecrow Festival, or smiling and waving back to the friendly snowplow driver going down the street. It's those little things that show us there's more to a city than what happens in a newsletter. We have people who engage in the community and they're the ones who create that small town feel."