And the award goes to…
Shawnee Economic Development Council names 2018 business honorees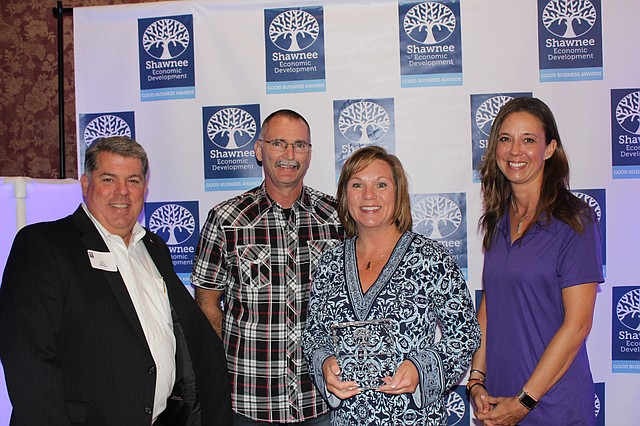 When developer Kevin Tubbesing learned 45,000 cars drive each day down Shawnee Mission Parkway, through the city's eastern corridor, he knew there was an opportunity for a successful project.
As his mixed use concept became a reality, however, it grew from a simple business venture into the promise of a new era for downtown Shawnee.
His development, Stag's Creek, features Raising Cane's, Andy's Frozen Custard and a new modern-style office building, all which have opened at the northwest intersection of Shawnee Mission Parkway and Goddard within the past year.
Through a partnership with the city, the nearby creek was moved to allow the development to be constructed.
Tubbesing's faith and investment in Shawnee's eastern gateway encouraged the city to invest millions into the "Nieman Now!" stormwater and roadway plan, plus his project paved the way for future commercial development.
The momentum also earned his Stag's Creek development team the prestigious Downtown Revitalization Award from the Shawnee Economic Development Council last week.
On Thursday afternoon, more than a dozen Shawnee businesses were recognized during the Good Business Awards luncheon at Shawnee Town Hall.
The annual event, hosted by the SEDC, recognizes positive economic growth and developments from the past year.
This year's award recipients have invested nearly $90 million dollars into Shawnee and collectively created more than 350 full-time jobs.
The Downtown Revitalization Award honors businesses which have made the most significant improvement to the appearance to the entry of Shawnee.
"We're very proud to receive this award," said Tubbesing, owner of The Land Source and Stag Commercial development, in a video acceptance speech. "I think it recognizes the major impact of the project on the downtown area, the Nieman corridor in particular. The project itself really is the start of something; I think it's going to bring more and more good (development) down the road."
Tubbesing, a long-time Shawnee resident, also confirmed his company has acquired the O.K. garage at Johnson Drive and Nieman Road, and they hope to revive the vacant building into something iconic for the city.
From western Shawnee, a much different type of business, Pinnacle Gymnastics, was awarded the Expansion Award.
Former competitive gymnast-turned-coach Morgan Kuchynka opened Pinnacle Gymnastics in Shawnee 13 years ago.
This winter, Pinnacle opened a new custom-built facility off K-7 Highway and 83rd Street.
"Morgan strives to make Pinnacle a place for children of all ages and abilities to learn and love the sport of gymnastics," said Ann Smith-Tate, president and CEO of the Shawnee Chamber of Commerce and executive director of the EDC.
The third honor, the Destination Award, was given to Music Theatre Kansas City, which is located in the B&B Shawnee 18 movie complex.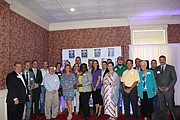 The following businesses were honored with Good Business Awards:
Aldi

Andy's Frozen Custard

Complete Construction Service

Dollar Tree

Highlands Development

Johnson County Library

KCAS Bio

O'Reilly Auto Parts

Raising Cane's

Spira Care

St. Joseph Catholic Church

TonerCycle/InkCycle

Vision Care Associates

Westlink Business Center
The Good Business Awards are a non-competitive award recognizing projects that were completed between July 2017 and June 2018 that resulted in capital investment greater than $1 million or creation of 15 or more jobs.
"To all the award winners here today, thank you for making Shawnee a better place, whether it be by creating jobs at family sustaining wages, providing quality health care, inspiring youth through performing arts or gymnastics, or providing delicious treats on a Saturday afternoon," Smith-Tate said. "The investment you all are making and opportunity you are creating is what makes a community like Shawnee good—some might even say great."
And with statistics showing 120 percent increase in job creation in Shawnee over the past year, she added that companies and real estate developers are taking notice.
The city is currently managing a full pipeline of projects with unprecedented potential for new job creation, payroll numbers and capital investment, she pointed out.
And with that, she had one simple sentiment: "Business is good in Shawnee."